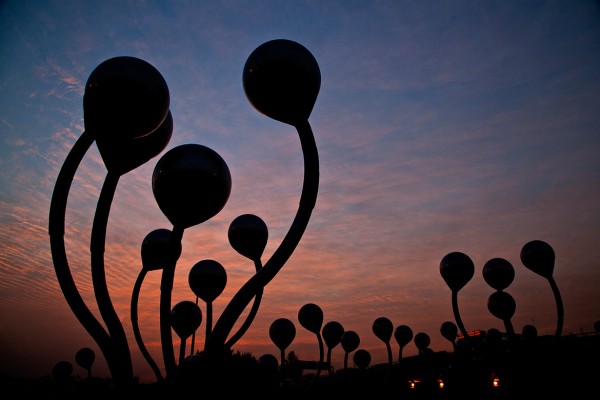 Art not only reflects culture but also represents the aspirations of a civilisation. Public art installations have been used since the very beginning as the representative of such aspirations, hopes and achievements. In recent years, we are seeing an increasing importance being given to public art in India. From roundabouts to public gardens and travel hubs like airports and railway stations, public art is once again finding its place amongst ordinary Indians. It tells the world that a New India is in the making.
Sprouts Art Installation in Delhi is one such display of public art that has become a landmark in itself. Created by famous Indian steel artist, Vibhor Sogani, the Sprouts Garden is the biggest public art installation in India. The artist is known for taking inspiration from nature in his artworks, and Sprouts is a great example of his intuitive work.
The Sprouts Art Installation represents the budding hopes of a nation that is 1.3 billion strong and an economy that has recently become the 5th largest in the world. As India continues its growth story, such examples become a reminder and representative of continuous progress towards something far greater.
About Sprouts Art Installation
India's largest site-specific public art installation – 'Sprouts', a 40 feet high installation was a Delhi government initiative towards the beautification of the capital. It is spread over 6 acres of greens surrounding the AIIMS flyover in the heart of Delhi.
'From walled city to world city' was the one-line brief given to Vibhor Sogani by Sheila Dixit, the Chief Minister of Delhi, more than 10 years ago. Following the brief, the Sprouts project was initiated with the idea 'when the seeds begin to sprout'. The intent was to depict India as a growing nation with the new age material Stainless steel representing contemporary thought.
Designed to showcase New Delhi as a 'world city', 'Sprouts' are symbolic of the feeling that India is rising after 60 years of independence. They powerfully convey the message of growth and have defined the contemporary image of the city for almost a decade now. Together with the landscape, they have reflected upon the myriad moods of Delhi's weather to create one of the most inclusive and motivating public memories the capital has to offer.
Vibhor Sogani – Indian Sculptor and Steel Artist
The mind behind Sprouts, Vibhor Sogani, is a senior Installation Artist based in India. A graduate from NID, specializing in Indus-trial Design, Vibhor finds inspiration in Steel as his primary material to manifest his ideas.
Media Contact
Company Name: Digital Obsession Communication Pvt Ltd
Contact Person: Ashish
Email: Send Email
Phone: 0124 – 4009490
Country: India
Website: https://www.digitalobsession.in/