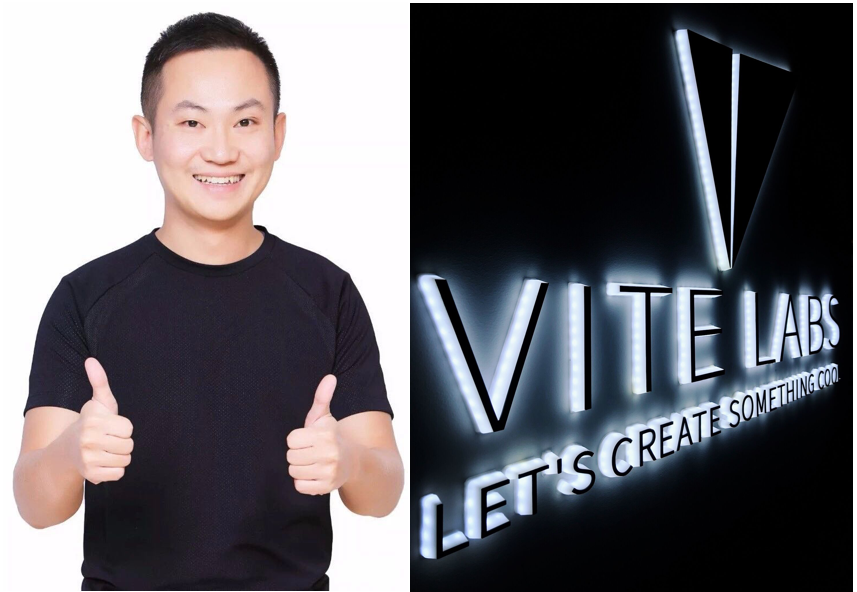 Dear Developers, Customers, Investors, and Enthusiasts of the Vite Network:
As we enter the end of the year, I would like to share with you my thinking about Vite, by recapping our past milestones and describing our future vision. This is especially opportune given the oncoming Binance community vote, which itself is a strong accomplishment. Because I haven't written to you for so long, this letter will be a long one. And I hope you will get to the end, as I think it will be worth your while.
To set the context for the letter, I would like to tell you the origin story of Vite. Since 2014, Vite's co-founder Leo Zhang and I had been crypto enthusiasts and entrepreneurs. We were on the founding team of Coinport, building one of the earliest altcoin exchanges and one of the first bitcoin payment gateways for e-commerce. It was an exciting time for us, as we learned a lot about crypto tech and business, and built a strong network of engineers and investors. As it happens to startups, Coinport's initial success was hard to maintain for many reasons, such as timing and regulatory uncertainty.
After a hiatus from the crypto space, in late 2017, Leo and I started noticing all kinds of innovations emerging, and as we delved deeper into each fascinating new coin, we found room for improvement in all of them. We thought to ourselves, if only this coin could have this feature, or if only that coin was designed differently. Then in early 2018, we decided to make our own project — a network that is fast, fee-less, secure, and robust. We wanted appropriate decentralization within the constraints of the scalability trilemma. We wanted attractive token economy for investors. We wanted Turing-complete and high-performance smart contract language. And we envisioned a network sufficiently powerful to bolster applications with super-frequent transactions, like a DEX.

My two co-founders and I, in May 2018 as we launched Vite. How young we looked then!
We named this project Vite (pronounced Veeet), which means fast in French, spent three months writing and re-writing our whitepaper, and got started. After securing a private round of funds, we recruited a talented and committed engineering team of 30+ at breakneck speed, thanks to my strong network of developers and hopefully some proven credibility that convinced their joining. We were also fortunate to have met Richard, and convinced him to join as a co-founder. With his background in both high finance and tech startups, Richard led our silicon valley headquarters to help Vite attain global reach.
In the last 18 months since founding, thanks to the drive and commitment of our developers, product and operation teams, countless late night meetings where debates of system architecture and community outreach escalated into near shouting matches, and many many cups of coffee, we were able to hit all, if not all of our key milestones ahead of schedule. We started from scratch, and within six months delivered the three main components of Vite core: smart-contract-compatible DAG ledger plus snapshot chain, Hierarchical DPOS (HDPOS) consensus algorithm, and Virtual Machine for Solidity++ designed for asynchronous architecture.
Engineering All-Hands | Pair Programming | Pair … Testing?
These technologies laid the groundwork for user-facing applications. Our product philosophy has always been focusing on what users want, or making a blockchain that is "useful and usable," beyond the fancy consensus algos and complex ledgers (although they remain foundationally important). At the current stage of our nascent industry, the best product-market fit of blockchain is the handling of monetary value represented by digital assets. And our product decisions have very much reflected this line of thinking: The handling of value can be subcategorized to: storage of value (Vite wallet: Non-custodial, user-friendly, multi-chain support, lightning fast settlement), speculation of value (DEX: completely decentralized with on-chain order book matching engine, offering user experience comparable or exceeding centralized exchanges), and transfer of value (VitePay: Fast, multi-token payment network, with adoption by real world merchants thanks to partnership with Alchemy; and integration with popular e-commerce plugin Opencart).
Vite Engineering and Operations team signaling VX, as we launched ViteX — the first world's DAG based DEX.
Unlike other smart contract platforms, we opted not to run expensive hackathons where many concept dApps get built, but few users stick around. Our strategy of focusing on staying close to monetary value has proven correct. Today, we boast about 20,000 DAU on our wallets, and see 200 daily BTC peaking on our DEX, with a number of well-known merchants (Singapore's Ce La Vi Sky Bar and taxi services under the Midwest Global network) now using POS machines featuring VitePay.
Guided by the philosophy of staying close to customer demand, we also discovered an under-served area: Blockchain for government. The technology holds promise for public financing to become more cost-effective and seamless, for governmental operations to become more efficient and transparent. In our pilot program with the American city of Syracuse, we developed a testing SyraCoin app to empower the issuance of blockchain-based coupons. Donors to a city fund receive coupons to be redeemed with participating merchants within city bounds. This program further incentivizes donation, contains capital within city limits and helps local businesses. Expanding this concept further, we began conversation with American state of Rhode Island, American city of Berkeley, UNICEF, West African Monetary Institute and so on. Recently, we were invited to New York State Assembly Member Ron Kim's office in New York City, where we discussed implementing his signature proposal of a localized currency (termed "Inclusive Value Ledger") on Vite.
Vite CMO Luke Kim discussing project SyraCoin with the City of Syracuse (New York state, USA)
Having enumerated our major milestones above, I'd like to express a personal belief in evaluations of projects: Try their products. This is a straightforward and yet rarely followed tenet in our industry. Therefore, I invite you to try trading on our DEX, store coins on our wallet, and try our payment services (for an online experience, visit https://global.vite.store). For this last part, look out for campaigns to get Vite Community Points (VCP), the currency to redeem Vite merchandise on said store.
Looking forward, I am incredibly excited about our vision of making VITE even more useful and usable. Besides continual product upgrades and customer acquisition, we will tackle a number of exciting new ideas on 2020. Let me share some of them with you:
Vite 2.0: Businesses and organizations that want to use blockchain have varying needs and therefore seek different design trade-offs. But how do we make sure assets on these chains can be exchanged in a decentralized manner? Vite 2.0 is our answer to this question. Vite-based public blockchains can be easily created and be fully inter-operable. Each contract has its own chain, where transactions within a chain reach consensus via delegate consensus group, and cross-chain transactions reach consensus via snapshot chain.
DeFi (or ViteFi, rather): Wallet users will be able to derive income with their idle VITE in a non-custodial manner. An initial use case works like this: VITE holders can lend their coins to others for interest denominated in VITE, paid by the borrower who in turn earn VX by staking this borrowed VITE. This benefits long-term VITE holders and reduces unwanted exposure to VITE for VX enthusiasts.
VitePlus: Building on our existing success with governments such as the U.S. City of Syracuse, and responding to China political leadership's call for blockchain uses for governments and large-and-medium enterprises, we will launch a comprehensive Blockchain as a Service program for these institutions. We are already in talks with several Chinese provincial officials and local accelerator programs.
As mentioned, we will ride our current momentum in increasing adoption for existing products. For instance, ViteX will find other high quality operators for autonomous listing; our wallet will continue to integrate with new chains, such as BNB; VitePay will increase its distribution via Alchemy's continual business development.
Silicon Valley team and their blockchain salon in San Francisco called "Value Coin Club"
One lesson I've learned is the need for better and more frequent external communication. This includes interaction with both the community and other industry leaders. I will be more active and available on social media, and don't be surprised to start seeing our leadership's appearance at more industry convenings; and Richard will be launching a podcast entitled "The Blockchain Debate Podcast," to network with global thought leaders in our space, expand the Vite brand, and evangelize our visions to more enthusiasts.
Of course, without your support, we couldn't have achieved our current status, or dream of achieving more from this point on. For that, I am deeply grateful. In addition, I am and will always be all ears for your criticism, caveats and suggestions.
I wish you and your loved ones a peaceful and joyous end of the year. I look forward to continuing this exciting journey with you all, for many years to come.
Together, #LetsCreateSomethingCool!
– Charles Liu
Official: https://www.vite.org/
Media Contact
Company Name: BestPR
Contact Person: Media Relations
Email: Send Email
Country: HongKong
Website: bestpr.io