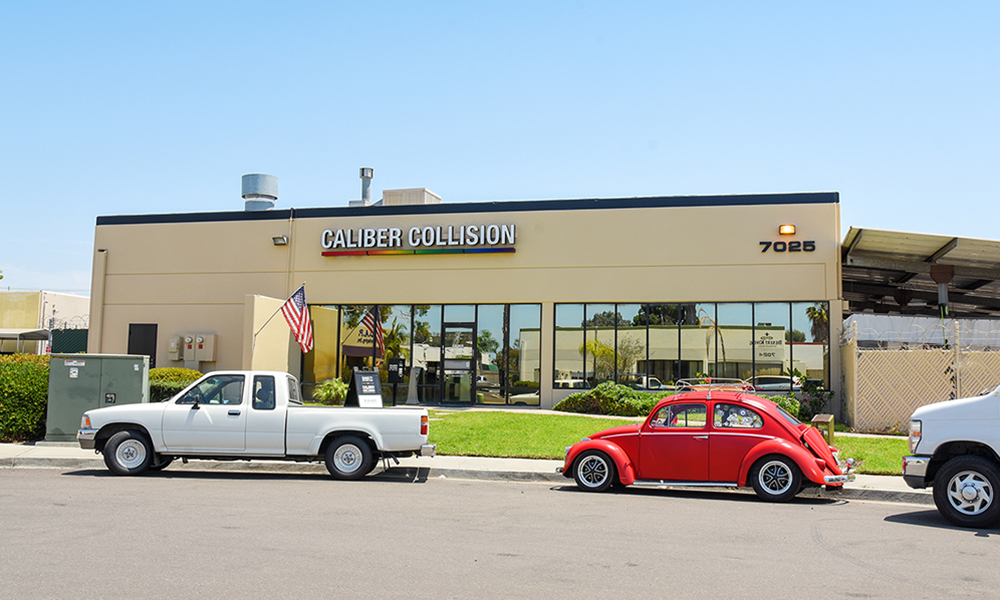 SAN DIEGO – Hanley Investment Group Real Estate Advisors, a nationally recognized real estate brokerage and advisory firm specializing in retail property sales, announced today that the firm has arranged the sale of a single-tenant, two-building property in San Diego occupied by Caliber Collision, the nation's largest collision repair company with over 1,000 locations across 37 states. The sale price was $3,625,000, representing an effective cap rate of 5% (once solar income was removed), the lowest-recorded cap rate in the western U.S. for the sale of a Caliber Collision property.
Hanley Investment Group's Executive Vice Presidents Jeff Lefko and Bill Asher represented the seller, a private investor from San Diego, California. The buyer, a private investor from Orange County, California, was represented by Joe Miller of CBRE in Newport Beach, California.
Located on 0.92 acres at 7025 Manya Circle and 170 Hollister Street in San Diego, Caliber Collision had recently purchased an existing business that had operated at the property for over 25 years. Caliber Collision had a brand-new, long-term, triple-net lease with annual increases and was guaranteed by corporate. Built in 1982, the buildings had recently undergone a major exterior and interior renovations. The buildings run largely on solar power which was installed in 2016.
The 14,244-square-foot property is located in the South Bay market, the industrial and logistics hub of San Diego County, and is less than ½ mile from Interstate 5 freeway (157,000 cars per day), which runs south from the Canadian border and ends at the San Ysidro international border. There are 314,000 people within a five-mile radius of the property.
According to Lefko, "Caliber Collision purchased the business in order to keep up with growing demand in the South San Diego market; the South Bay has limited available space with vacancy rates of approximately 3.5%."
Lefko adds, "Buildings leased to tenants in the automotive repair industry become particularly good investments when the rents are replaceable. In the case of this property, the rent was at or very close to market value since the tenant invested so much of their own money into the space."
"Hanley Investment Group procured a buyer that understood the value of this property and its excellent fundamentals with a best-in-class tenant that is internet-resistant and part of a multi-billion-dollar industry," said Asher.
"The automotive repair industry in North America is projected to grow at a CAGR (compound annual growth rates) of 5.8% (2017-2021)," said Lefko. "There were 276.1 million registered vehicles in the U.S. in 2018, according to Hedges & Company, and approximately 44% of those were cars. In the past decade, the average length of time new and used automobiles are owned has increased by 60% and the average age of the U.S. vehicle fleet has increased by 17%."
Lefko added, "Most important, the auto repair industry tends to do better during recessions when consumers elect to repair older cars as opposed to buying new cars."
About Hanley Investment Group
Hanley Investment Group Real Estate Advisors is a retail investment advisory firm with a $6+ billion transaction track record nationwide, who works closely with individual investors, lending institutions, developers, and institutional property owners in every facet of the transaction to ensure that the highest value is achieved. For more information, visit www.hanleyinvestment.com.
Media Contact
Company Name: Hanley Investment Group Real Estate Advisors
Contact Person: Jeff Lefko, Executive Vice President
Email: Send Email
Phone: 949.585.7682
Address:3500 E. Coast Highway, Suite 100
City: Corona del Mar
State: California
Country: United States
Website: http://www.hanleyinvestment.com/