Minister Nakita Davis, the Founder & CEO of Jesus, Coffee, and Prayer Christian Publishing House, and her diverse team of inspired writers have hit another milestone with the Pre-Order Release of its latest Best-Selling anthology: Pray, Slay, & Collect and The Pain Behind the Smile on International Women's Day (March 8th).
It is the team's 27th Best-Selling Author in an incredible 10 short months as the publishing house continues to create unparalleled impact by inspiring Women of Faith around the globe to soar in Christ!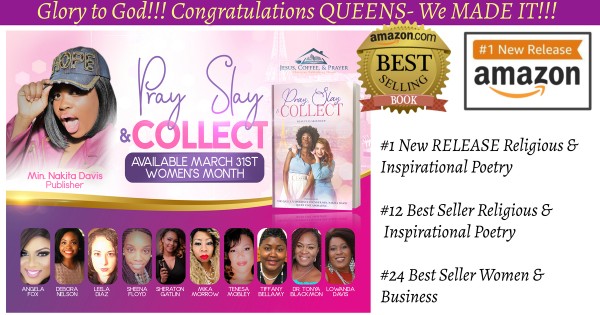 With its debut as the #1 New Release on Amazon and Best-Selling category for Women & Business; Pray, Slay, & Collect is a Queen anthology that includes gifted writers such as CEO & Founder – Min. Nakita Davis, media personality – Angela Foxworth, fashion designer – Debora R. Nelson, corporate professional Sheena Floyd, entrepreneur Leela Diaz, professional MUA Sheraton Gatlin, Inspirational recording artist – Tamika Morrow, business professional Tenesa Mobley, Reverend Tiffany Bellamy-Lyles, business consultant – Dr. Tonya Blackmon, & entrepreneur – LoWanda Dee Davis.
The Pain Behind the Smile, authored by Talk Show Host, Angela Foxworth, became a Best-Selling book from the Jesus, Coffee, and Prayer camp on the same day – Making her the 1st author within the rising star publishing house to achieve 2x Best-Selling Author Status on the SAME DAY!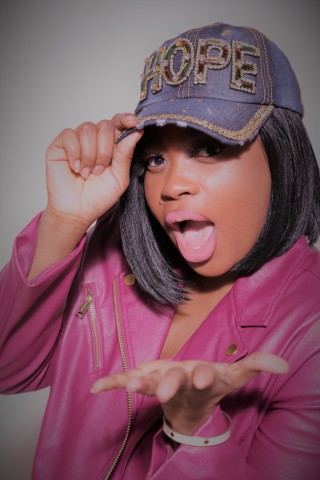 The book, which is the first of a 3-book series that chronicles the life of the author from elementary to the end of her high school years and the tough times she endured and overcame, is an absolute must-read for today's Glow-Getter Woman of Faith!
As they push to make an IMPACT, Jesus, Coffee, and Prayer and their Sister Company The Q.U.E.E.N Xperience will be going global with Min. Nakita Davis, as an International Speaker at the 2020 Women of Influence and Leadership Summit in Accra, Ghana – Hosted by Lara Odebiyi of Dabira Magazine – this spring.
The theme of her talks being a "Woman on Assignment!" She's set to address over 200+ women in attendance, as well as host a workshop to aid each woman entrepreneur to Play Their Royal Position.
If that's not enough, this trailblazing Queen will be hosting her very own Q.U.E.E.N Xperience Royal Business and Leadership event In November 2020 on the beautiful island of Montego Bay, Jamaica. It's an event you don't want to miss.
Aspiring to jumpstart your book & speaking platform?
On March 27th, Jesus, Coffee, and Prayer Christian Publishing House will also host an Exclusive MasterClass for aspiring authors, speakers, and Queens who want to make an IMPACT by strategically leveraging a Best-Selling Book and Signature talk: Glean, Grow and Glow from 27x Best-Selling Publisher & Q.U.E.E.N Xperience CEO Min. Nakita Davis!
Become a Best-Selling Author – Apply Now –
TEXT: PublishMe to 31996
Text message/data rates may apply – US only
Media Contact
Company Name: Jesus, Coffee, and Prayer Christian Publishing House LLC. & The Q.U.E.E.N Xperience
Contact Person: Min. Nakita Davis
Email: Send Email
Phone: 1.833.333.0733
Address:400 W Peachtree St. NW, STE 4-5055
City: Atlanta
State: GA
Country: United States
Website: linktr.ee/q.u.e.e.nxperience