TMG was given an opportunity to branch into demolition and to work with Paul Lynn. The collaboration and partnership with Paul provided an avenue to broaden the scope of services that TMG provides as a company.
Mystic CT is known as on a tourist destination for its quant downtown, great restaurants, the aquarium and so much more. The Mystic area has also been a hotbed for young entrepreneurs aspiring to become successful business men and women. At the local Mystic Chamber of Commerce networking event you find seasoned professionals and aspiring entrepreneurs looking to become successful business men and women. One of those entrepreneurs is 26-year-old Tyler Gonzales of TMG Companies. He is the President of TMG Companies and in three short years he has been able to grow his business into one of the premier cleaning companies in Connecticut. We were able to spend some time with him recently and were struck by his passion for his employees, his passion for his business and his passion to give back to the community.
He grew up working fat his parents' company and it was hard work. He was shoveling driveways and working long days after school. His father struggled with addiction and went through rehab. This time in his life was very difficult for him and on him. It placed a lot of responsibility on him that most kids his age aren't ready for. What kept his mind occupied and him focused were thoughts of owning his own business one day.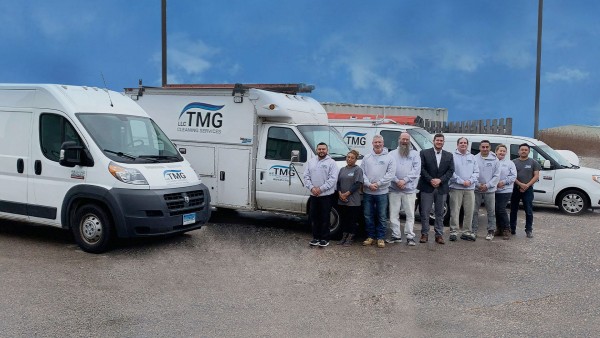 He continued working after high school in the HVAC industry but one day in June 2016 he was inspired and called a friend that was able to be of tremendous help. "We came up with TMG concept in 24 hours and had someone make a logo. We had an early opportunity with post-construction cleaning and started there." Through word of mouth and a few opportunities, he branched out and began commercial janitorial services and was able to leave the HVAC industry and focus full time on TMG.
"I've had some great mentors and people that I work with that provided me a lot of guidance. John Duncklee, of Duncklee Cooling & Heating, a friend and professional mentor, pushes and holds me to a higher standard. Chris Calkins helped me form and start the business and provided back end support. Demi Penaloza was a shop mom. She took care of staff and aided with operations. Steve Bibby, of Stratedia, continues to provide me a solid online presence and helps me grow my brand. Paul Lynn's partnership provided the expansion opportunity that has brought a new level company and is the reason we recently rebranded our name from TMG Cleaning Services, LLC to TMG Companies, LLC. Habble Gaffers Virtual Assistants relieve day-to-day stress by handling back end operations and human resources. Teen Challenge for staffing and helping good people get a second chance at life.
The Coronavirus has recently taken over the news and our lives for the time being. Have you seen an increase in calls? "We have been taking a lot of calls about the virus and cleanings. We were proactive and created an area on our website which includes information describing what the virus is, frequently asked questions and ways to prevent the spread of the virus. We also reached out to our customers letting them know about the cleaning services we offer that can rid their home or office of the virus."
You referenced earlier you rebranded your company name. Why?. "TMG was given an opportunity to branch into demolition and to work with Paul Lynn. The collaboration and partnership with Paul provided an avenue to broaden the scope of services that TMG provides as a company. Renovations at the Coast Guard Academy afforded more opportunities that we were able to take advantage of. This eventually evolved to include property maintenance and repairs, demolition, and renovations."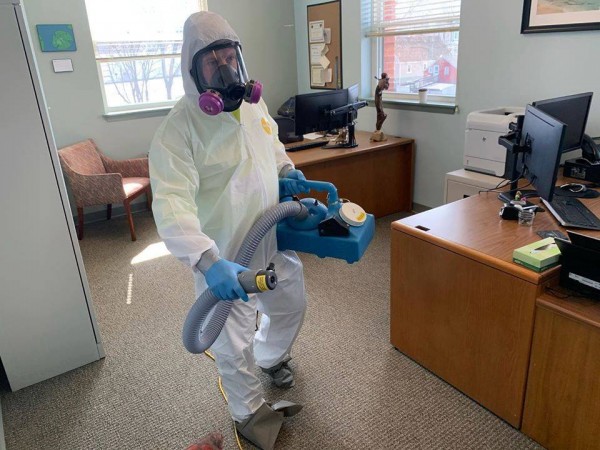 It's pretty amazing how TMG has grown in three short years but it's not surprising. It all goes back to Tyler's upbringing and the impact people have made on him. TMG Companies recently sponsored The Serenity Ball at Mystic Marriot. The Serenity Ball recognizes those who are in recovery, those struggling with addiction and those who have lost their lives. It will also recognize families affected by addiction. Giving back is something that means something Tyler. You can hear it in his voice as he talks about the things that matter to him. "Sponsoring this event goes back to Teen Challenge and my own experience of being exposed to my father's addiction during my childhood. These programs are doing great things, and I want to give back to the community."
Media Contact
Company Name: TMG Companies
Contact Person: Steven Michael
Email: Send Email
Phone: 860.629.0031
Address:800 Flanders Rd #7-4
City: Mystic
State: Connecticut
Country: United States
Website: https://tmgcompaniesllc.com/