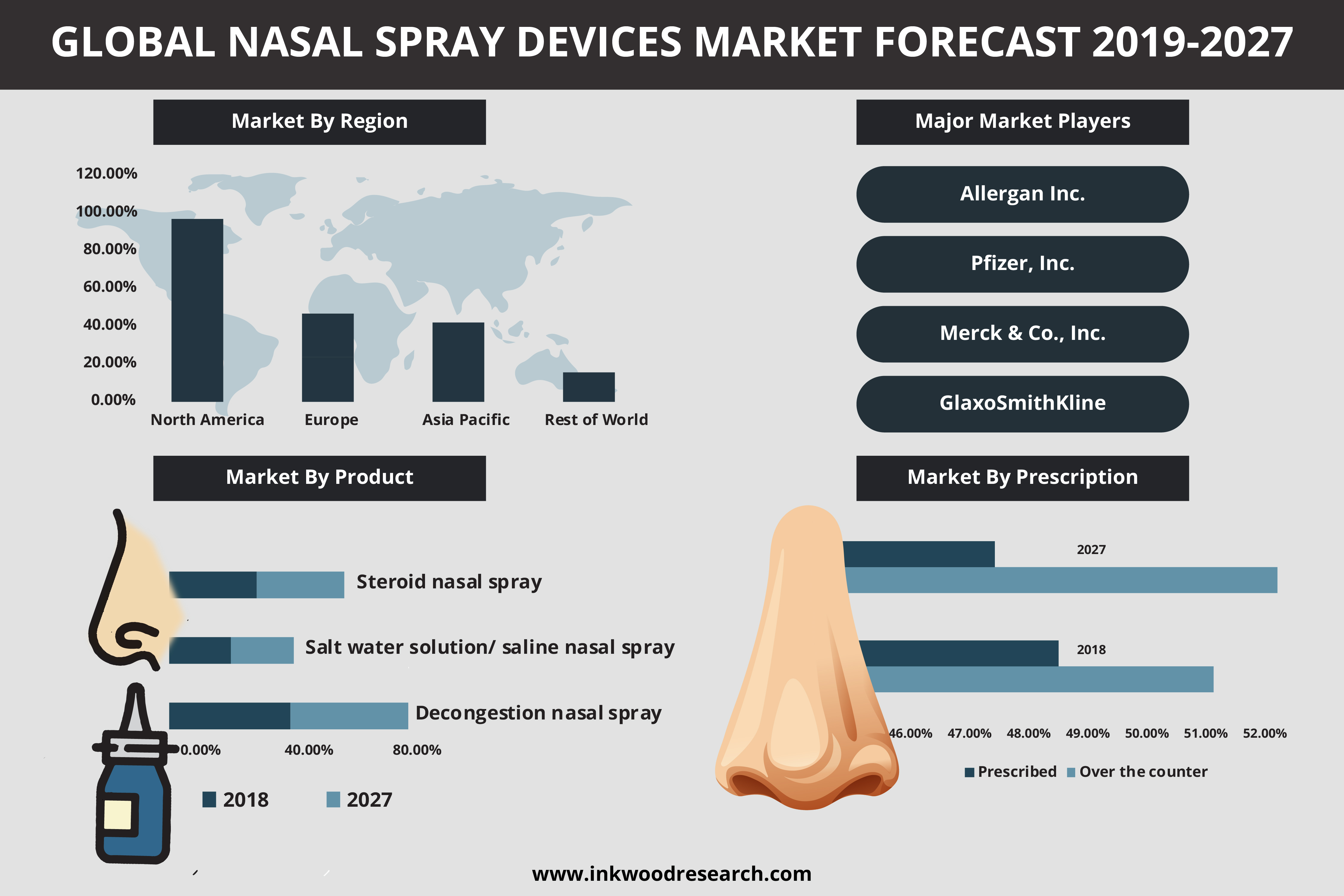 The global nasal spray devices market is anticipated to generate revenue of $24,264 million and to grow at a CAGR of 6.78% between 2019 and 2027.
According to a new market research report launched by Inkwood Research, the Global Nasal Spray Device Marketis propelling at 6.78% of CAGR during the forecast period. In terms of revenue, the market is expected to evolve at $24,264 million by 2027.
Browse 30 market data Tables and 47 figures spread over 160Pages, along with in-depth analysis on Global Nasal Spray Device Market by Product, Prescription, Therapeutic, Application, End-User & by Geography
This insightful market research report by Inkwood Research focuses on market trends, leading players, supply chain trends, technological innovations, key developments, and future strategies. The report covers all the aspects of this comprehensive market, by assessing major geographies, and is a valuable asset for the existing players, new entrants, and future investors. The study presents a detailed market analysis, with inputs derived from industry professionals across the value chain.
Global Nasal Spray Device Market Scenario
Nasal spray devices are used to deliver drugs through the nose. These spray contains therapeutically active ingredients in the form of a solution, suspension and others, and are mostly used to treat allergic conditions and nasal congestion. The growing incidence of respiratory diseases, such as chronic obstructive pulmonary diseases (COPD) and cost-effective generic drugs, are prime factors surging the growth of the market across the globe.
The strict regulations for nasal drug delivery assessment regulated by various agencies, such as the Food and Drug Administration (FDA) and the European Medicines Agency (EMA) and recalling of products that fail the quality standards set by the U.S. are some of the major challenges restraining the market growth globally. Nevertheless, the rising adoption of generic drugs in the healthcare industry by several countries across the globe due to the simplified FDA regulations regarding generic drug approval offer lucrative opportunities to the manufacturers.
The Global Nasal Spray Device Market report provides data tables and includes charts and graphs for visual analysis.
Request Free Sample Report for Global Nasal Spray Device Market by Product, Prescription, Therapeutic, Application, End-User & by Geography: https://www.inkwoodresearch.com/reports/global-nasal-spray-devices-market/#request-free-sample
Market Segmentation
Therapeutic is segmented into:
Anticholinergic
Nasal steroids
Mast cell inhibitor
Antihistamine
Product is segmented into:
Saltwater solution/ saline nasal spray
Steroid nasal spray
Decongestion nasal spray
Application is segmented into:
CNS disorders
Vaccination
Allergic and non-allergic rhinitis
Nasal congestion
Other applications
Prescription is segmented into:
Over the counter
Prescribed
End-user is segmented into:
Pharmacy
ASC/Clinics
Hospital
Home care setting
Other end-users
Report Highlights
– The report provides a detailed analysis of the current and future market trends, to identify the investment opportunities
– Market forecasts till 2027, using estimated market values as the base numbers
– Key market trends across the business segments, regions and countries
– Key developments and strategies observed in the market
– Market dynamics such as drivers, restraints, opportunities and other trends
– In-depth company profiles of key players and upcoming prominent players
– Growth prospects among the emerging nations through 2027
Companies Profiled
ALLERGAN INC
ADAPT PHARMA, INC (ACQUIRED BY EMERGENT BIOSOLUTIONS)
APOTEX
MYLAN NV
GLAXOSMITHKLINE
SANDOZ INTERNATIONAL GMBH (SUBSIDIARY OF NOVARTIS AG)
SUN PHARMACEUTICALS INDUSTRIES, LTD
MERCK & CO., INC
CIPLA
SANOFI-AVENTIS S.A.
HIKMA PHARMACEUTICALS PLC
BEXIMCO PHARMACEUTICALS
TEVA PHARMACEUTICAL INDUSTRIES LTD
BECTON DICKINSON AND COMPANY
PFIZER, INC
Media Contact
Company Name: Inkwood Research
Contact Person: Clive Cooper
Email: Send Email
Phone: +1 857-302-4704
City: Boston
State: MA
Country: United States
Website: https://www.inkwoodresearch.com/