"Beddy is a bedside organizer designed for modern life."
Brisbane, Australia – March 19, 2020 – Our bedroom was once only a place for rest and relaxation – today, for us creative beings, it is also a place to read, watch movies, surf the internet or even work. This means we need storage space for things like laptops and earphones, books and glasses, smartwatches, phones and chargers.
If you have a bedside table, you know how fast it gets cluttered making your room feel untidy. Or if you're like me, your stuff lies on the floor – and we all know how that ends *sound of a cracking screen*. It's interesting that the health website WebMD says by decluttering, you can reduce stress, feel happier and even sleep better. Benefits of being organised are quite clear.
I found that many existing bedroom storage solutions don't suit needs of a modern lifestyle, but when I saw Beddy bedside organiser, I knew it's perfect! It is a simple, yet smart solution – all my stuff can be tucked away but stay within easy reach too.
Meet Beddy – your best bed buddy!
Beddy makes your life much easier because you can declutter without really doing anything. Just slip your bedside stuff into Beddy and it's away but also right next to you too. You will never have to worry about a cluttered bedside table again – or stepping on your phone which you left on the floor.
We spoke to Violeta who together with her husband Sharas, designed Beddy.
"I got so frustrated always tidying my bedside but it felt cluttered anyway. Never mind Sharas had his charger draped on the floor all the time. We wanted to sort this and that's how we came up with the Beddy solution," says Violeta.
She also said she had not time for any complicated installations.
"Beddy is a pocket for your bed. It's so simple to install and fits any bed. You just lift your mattress, slide an flap underneath, release the mattress and voila, you just upgraded your bed. It also looks good," says Violeta, of mybeddy.com
Her husband Sharas says that he wanted to make sure that it was practical as he has quite a few gadgets he likes to keep at hand.
"Beddy has multiple pocketed compartments and can fit all commonly used items: books, tablets, magazines, TV remotes, glasses and even a 13" laptop. It's designed for modern life and has special cable holder loops, so you can charge your devices at night," says Sharas.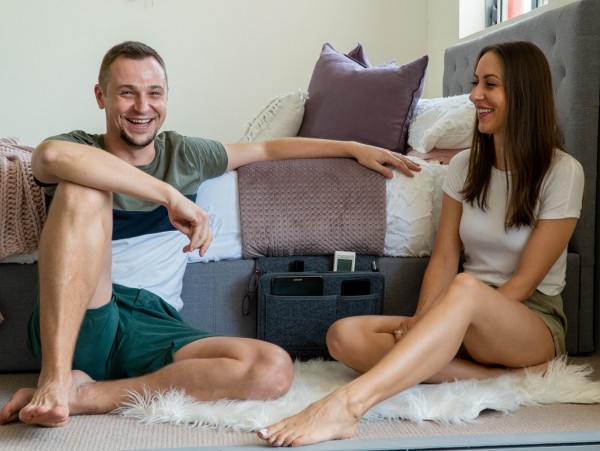 Designed in Brisbane
This ingenious organiser was designed by Brisbane locals Sharas and Violeta.
"We were fed up with clutter in our bedroom. I always had stuff lying on the floor and my bedside table was constantly cluttered. Not only it was annoying, but I would kept having to step over cords and devices," says Sharas.
"After searching the internet for a bedside table alternative, we found that options were either of poor quality, outdated design or did not have enough pockets to fit everything. So, we decided to design our own.
We went through several designs, testing them ourselves and asking friends to give us feedback. After many modifications we honed in on a design that worked perfectly."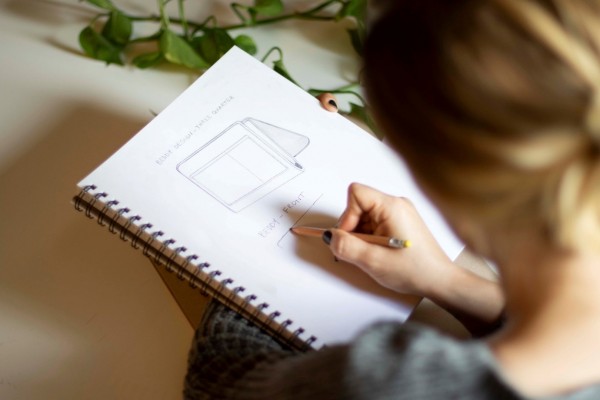 "The feedback from our customers has been overwhelming – they are so positive and everyone is happy with their Beddy," says Violeta.
What others are saying?
Beddy now lives in homes of thousands of people across Australia, and it racked up more than a hundred 5-star reviews like this:
"How can something so small fit so many things? I don't know how but this bedside caddy has transformed my bedside! I no longer have a cluttered bedside table and I love it!" – Sandy L.
"Best idea I have seen in ages. I always put my laptop on the floor when going to bed because there isn't enough room on the bedside table. Now it has a stylish, well made and safe bedside caddy for it to sit in." – Amy R.
"As we don't have bedside tables with storage, I was desperate to find a form of storage that was discrete yet allowed me to keep all my bedside necessities organised. My partner and I absolutely ADORE our bedside caddy's and the quality absolutely blew my mind! Thank you Violeta!" – Aleksia
Where can I get one?
You can buy online at mybeddy.com or on Instagram @my.beddy. There are three colours to choose from to suit any bedroom decor and you get free worldwide shipping if you buy two or more. If you want a tidy bedside table or bedside floor, Beddy will help you declutter – with ease.
Media Contact
Company Name: Beddy
Contact Person: Sharas Bandi
Email: Send Email
Phone: +61473758342
Country: Australia
Website: www.mybeddy.com