DelveInsight has launched a new report on Short Bowel Syndrome Market Insights, Epidemiology and Market Forecast-2030
DelveInsight's "Short Bowel Syndrome – Market Insights, Epidemiology, and Market Forecast-2030" report delivers an in-depth understanding of the Short Bowel Syndrome, historical and forecasted epidemiology as well as the Short Bowel Syndrome market trends in the United States, EU5 (Germany, Spain, Italy, France, and United Kingdom) and Japan.
Short bowel syndrome (SBS) is a complex disease that occurs due to the physical loss or the loss of function of a portion of the small and/or large intestine. SBS is generally broken down into individuals in whom the disorder is acquired during life and
newborns in which the disorder is present at birth (congenital). Acquired short bowelsyndrome is more common than the congenital form of the disorder. The specific symptoms and severity of SBS vary from one person to another. Diarrhea is common, often severe and can cause dehydration, which can even be life-threatening.
SBS can lead to malnutrition, unintended weight loss, and additional symptoms may be due to the loss of essential vitamins and minerals. SBS is most commonly associated with surgical removal (resection) of half or more of the small intestine. Such surgery is performed to treat intestinal diseases such as Crohn's disease, injury or trauma to the small bowel, or congenital birth defects. The disease also increases the chances of developing kidney stones, electrolyte abnormalities, vitamin and mineral deficiencies, acidosis, and gastric hypersecretion.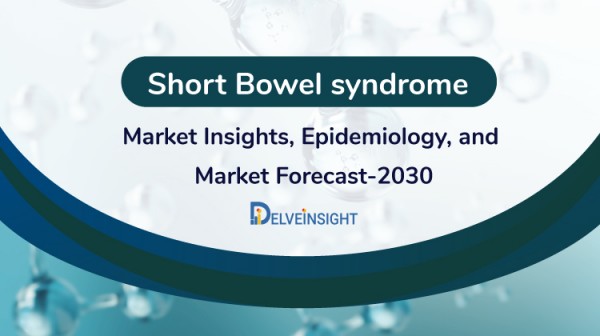 Request for:- Short Bowel Syndrome free sample page
Short Bowel Syndrome Epidemiology
The Short Bowel Syndrome epidemiology division provide insights about historical and current Short Bowel Syndrome patient pool and forecasted trend for every seven major countries. It helps to recognize the causes of current and forecasted trends by exploring numerous studies and views of key opinion leaders. This part of the DelveInsight report also provides the diagnosed patient pool and their trends along with assumptions undertaken.
Report Key Facts:-
1. As per the data published in Crohn's & Colitis Foundation of America, approximately 10,000–20,000 people suffer from Short Bowel Syndrome in the United States.
2. According to a retrospective study involving adult patients with SBS evaluated over a 20 years period, published by Thompson J.S. et al. (2005), several conditions requiring intestinal resection lead to SBS. These conditions include postoperative (25%), irradiation/cancer (24%), mesenteric vascular disease (22%), Crohn's disease (16%), and other benign causes (13%).
Report Key Benefits:-
1. Short Bowel Syndrome market report covers a descriptive overview and comprehensive insight of the Short Bowel Syndrome epidemiology Short Bowel Syndrome market in the 7 MM (United States, EU5 (Germany, Spain, France, Italy, UK) & Japan.)
2. Short Bowel Syndrome market report provides insights on the current and emerging therapies.
3. Short Bowel Syndrome market report offers a global historical and forecasted market covering drug outreach in 7 MM.
4. Short Bowel Syndrome market report provides an edge that will help in developing business strategies by understanding trends shaping and driving the Short Bowel Syndrome market
"According to the American Pediatric Surgical Association, the most common cause of SBS in infants and babies is necrotizing enterocolitis (NEC) which accounts for up to 40% of SBS patients"
Key companies working on Short Bowel Syndrome that are given below:-
1. NPS Pharmaceuticals
2. Zealand Pharma
3. Therachon AG
Name of covered drugs are given below:-
1. Gattex (teduglutide)

2. Glepaglutide
3. Apraglutide
1. Key Insights
2. Executive Summary of Short Bowel Syndrome
3. Competitive Intelligence Analysis for Short Bowel Syndrome
4. Short Bowel Syndrome: Market Overview at a Glance
5. Short Bowel Syndrome: Disease Background and Overview
6. Patient Journey
7. Short Bowel Syndrome Epidemiology and Patient Population
8. Treatment Algorithm, Current Treatment, and Medical Practices
9. Unmet Needs
10. Key Endpoints of Short Bowel Syndrome Treatment
11. Marketed Products
12. Emerging Therapies
13. Short Bowel Syndrome: Seven Major Market Analysis
14. Attribute analysis
15. 7MM: Market Outlook
16. Access and Reimbursement Overview of Short Bowel Syndrome
17. KOL Views
18. Market Drivers
19. Market Barriers
20. Appendix
20.1. Bibliography
20.2. Report Methodology
21. DelveInsight Capabilities
22. Disclaimer
23. About DelveInsight
Why should you buy this Short Bowerl Syndrome market report?
The report will help in developing business strategies by understanding trends shaping and driving the Short Bowel Syndrome market
To understand the future market competition in the Short Bowel Syndrome market and Insightful review of the key market drivers and barriers
Organize sales and marketing efforts by identifying the best opportunities for Short Bowel Syndrome in the US, Europe (Germany, Spain, Italy, France, and the United Kingdom) and Japan
Identification of strong upcoming players in the market will help in devising strategies that will help in getting ahead of competitors
Organize sales and marketing efforts by identifying the best opportunities for Short Bowel Syndrome market
To understand the future market competition in the Short Bowel Syndrome market
Related Report:-
1. Short Bowel Syndrome Epidemiology Forecast to 2030
Media Contact
Company Name: DelveInsight Business Research LLP
Contact Person: Yash Bhardwaj
Email: Send Email
Phone: 9193216187
Address:304 S. Jones Blvd #2432
City: Las Vegas
State: Nevada
Country: United States
Website: https://www.delveinsight.com/