DelveInsight has launched a new report on Heart Failure Market Insights, Epidemiology and Market Forecast-2030
"Acute Heart failure (AHF) – Market Insights, Epidemiology, and Market Forecast-2030″ report delivers an in-depth understanding of the Acute Heart failure (AHF), historical and forecasted epidemiology as well as the Acute Heart failure (AHF) market trends in the United States, EU5 (Germany, Spain, Italy, France, and United Kingdom) and Japan"
Heart Failure (HF) is also known as congestive HF. It is also bifurcated as left‐side HF (when the heart is unable to pump enough oxygen in the blood to the body) and right‐side HF (when the heart is unable to fill itself with enough blood). Another term for HF is cor pulmonale which means that right‐side HF is caused by high blood pressure in the pulmonary arteries and right ventricle. As the heart weakens, certain proteins and substances are released into the blood which leads to the toxic effect on the heart and blood flow which worsen HF. The causes of HF include.
Ischemic heart disease, diabetes, high blood pressure, life style and other heart conditions or diseases. The signs and symptoms of HF are subtle at the initial stage, and these are generally misguided for common signs of aging. The common symptoms of HF are because of the extra fluid or congestion which leads to blocking of the vessels. The starting of the congestion in the lungs is carry forwarded to the different parts of the body. At later stages of the disease, the cardiac output reduces. These symptoms are classified into three stages namely congestion of the lung and left side of the heart, congestion of the right heart and low cardiac output.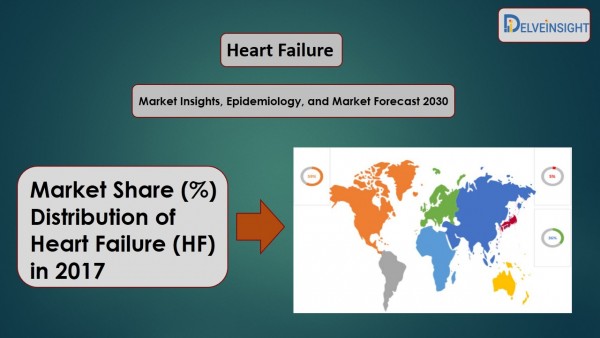 Request for:- Heart Failure free sample page
Heart Failure Epidemiology
The Acute Heart failure (AHF) epidemiology division provide insights about historical and current Acute Heart failure (AHF) patient pool and forecasted trend for every seven major countries. It helps to recognize the causes of current and forecasted trends by exploring numerous studies and views of key opinion leaders. This part of the DelveInsight report also provides the diagnosed patient pool and their trends along with assumptions undertaken.
Report key facts:-
1. As per the Delveinsight analysis, the total diagnosed prevalent cases of Heart Failure in 7MM was found to be 12,026,384 in 2017.
2. According to DelveInsight, it is estimated that the Gender‐specific prevalent cases of Heart Failure in France were 652,877 in males and 453,694 in females in 2017 respectively
3. In 2017, the NYHA class‐specific diagnosed prevalent cases in Japan as per the class I, class II, class III, and class IV cases were estimated to be 120,902, 328,956, 311,867 and 92,706 cases
Report Key Benefits:-
1. Heart Failure market report covers a descriptive overview and comprehensive insight of the Heart Failure epidemiology Heart Failure market in the 7 MM (United States, EU5 (Germany, Spain, France, Italy, UK) & Japan.)
2. Heart Failure market report provides insights on the current and emerging therapies.
3. Heart Failure market report offers a global historical and forecasted market covering drug outreach in 7 MM.
4. Heart Failure market report provides an edge that will help in developing business strategies by understanding trends shaping and driving the Heart Failure market
"As per the study by Ambrosy et al. (2014), HF is a global public health problem affecting an estimated 26 million worldwide. In the US alone, the prevalence is 5.7 million, and there are 670,000 new cases per year"
Key companies working on Heart Failure that are given below:-
1. Novartis Pharma Co.
2. Amgen Pharma Co.
3. Boehringer Ingelheim/Eli Lilly and Company
Drugs covered that are given below :-
1. Entresto (sacubitril and valsartan
2. Corlanor (ivabradine
3. Empagliflozin
1. Key Insights
2. Executive Summary of Acute Heart failure (AHF)
3. Competitive Intelligence Analysis for Acute Heart failure (AHF)
4. Acute Heart failure (AHF): Market Overview at a Glance
5. Acute Heart failure (AHF): Disease Background and Overview
6. Patient Journey
7. Acute Heart failure (AHF) Epidemiology and Patient Population
8. Treatment Algorithm, Current Treatment, and Medical Practices
9. Unmet Needs
10. Key Endpoints of Acute Heart failure (AHF) Treatment
11. Marketed Products
12. Emerging Therapies
13. Acute Heart failure (AHF): Seven Major Market Analysis
14. Attribute analysis
15. 7MM: Market Outlook
16. Access and Reimbursement Overview of Acute Heart failure (AHF)
17. KOL Views
18. Market Drivers
19. Market Barriers
20. Appendix
20.1. Bibliography
20.2. Report Methodology
21. DelveInsight Capabilities
22. Disclaimer
23. About DelveInsight
Why should you buy this Heart Failure market report?
The report will help in developing business strategies by understanding trends shaping and driving the Acute Heart failure (AHF) market
To understand the future market competition in the Acute Heart failure (AHF) market and Insightful review of the key market drivers and barriers
Organize sales and marketing efforts by identifying the best opportunities for Acute Heart failure (AHF) in the US, Europe (Germany, Spain, Italy, France, and the United Kingdom) and Japan
Identification of strong upcoming players in the market will help in devising strategies that will help in getting ahead of competitors
Organize sales and marketing efforts by identifying the best opportunities for Acute Heart failure (AHF) market
To understand the future market competition in the Acute Heart failure (AHF) market
Related Reports:-
1. Acute Kidney Injury(AKI) Market Insight, Epidemiology and Market Forecast-2030
2. Acute Pain Market Insight, Epiddemiology and Market Forecast-2030
Media Contact
Company Name: DelveInsight Business Research LLP
Contact Person: Yash Bhardwaj
Email: Send Email
Phone: 9193216187
Address:304 S. Jones Blvd #2432
City: Las Vegas
State: Nevada
Country: United States
Website: https://www.delveinsight.com/