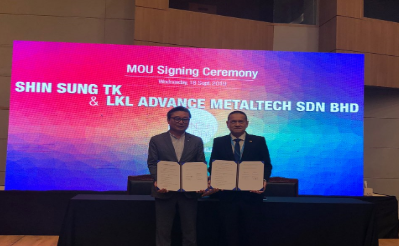 Shin Sung Tech Co., Ltd. is a logistics company that provides one-stop services such as semi-finished assembly, module assembly, delivery and inventory management for about 30 companies that provide parts and materials to automotive manufacturers including Kia Motors.
This company has established its subsidiary Shin Sung TK and is recently showing prominence in IoT business, which is a future innovation business.
The subsidiary has successfully developed the smart medical care monitoring system based on IoT (I ringer), which is a superior technology that provides medical staffs with alarm (sound and vibration) through smart call (automatic transmission) when patients have problems, along with the function to automatically calculate the medical fluid input amount and speed (cc/hr) through smartphone applications and PC web using a wireless network.
On September 18, 2019, Shin Sung TK signed ta total of $5.32 million export MOUs with the companies of the ASEAN members, including LKL Advance Metaltech Sdn Bhd in Malaysia. In January, they met at the Arab Health2020, an international medical exhibition and planned to jointly participate in the MEDICINE 4.0 conference held in Kuala Lumpur, Malaysia from February 28 to 29, but the schedule was postponed due to the spread of COVID-19.
From Jan. 27 to Jan. 30, 2019, Shin Sung TK participated in the Arab Health2020, an international medical exhibition participated by more than 159 countries and boasted its technological excellence of the smart medical fluid monitoring system based on IoT (I ringer).
"Based on the remote medical fluid monitoring technology developed through continuous technology investment and innovation, we plan to expand its technology into a smart healthcare platform that measures not only medical fluids but also the body temperature, pulse, humidity, and urine volume of patients," said the CEO Eun Suab Lim.
Media Contact
Company Name: Shin Sung TK Co. Ltd
Contact Person: Eun Suab Lim
Email: Send Email
Phone: +82-62-972-0629
Country: South Korea
Website: http://shinsungtk.com/en/