Miami, FL – Michel Thomann, a celebrity chef aboard the 126-foot charter yacht Vista Blue, has been providing luxury five-star dining experiences to clients and their guests from around the world for over 42 years. An accomplished and critically acclaimed chef, Thomann prepares five-star meals — breakfast, lunch, and dinner — for guests aboard Italian-built yacht VISTA BLUE.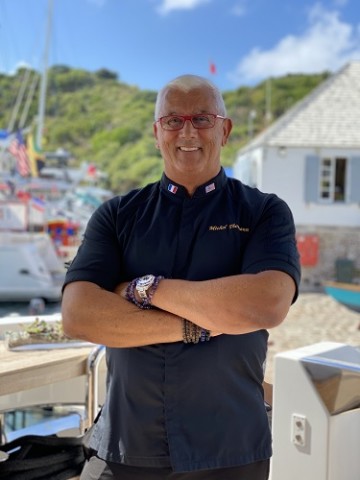 Committed to deliver five-star fine dining experiences every time, Thomann makes all meals from scratch, including bread and pastries, to provide exquisite taste and variety. With each meal resembling the very best offered in restaurants around the world, Thomann, a Michelin-trained chef, delivers guests a unique, premium experience on Vista Blue
"In a Yacht, the chef must be ready to cook all kinds of dishes in the world for a range of guests with different likes, allergies, and aversions," remarked Michel Thomann on the world of yachting. "They must be ready to do all the breakfasts, lunches, dinners and must make the customer's dreams come true. So much of the experience comes from that so part of my job is to be a magician!"
Throughout 42 years of professional career, Thomann has provided countless five-star dinner party and dining experiences while hosting personal and professional clients and catering to their specific needs. Handling preparation, serving, wine paring Thomann's guests enjoy five-star meals packed with luxury and expertise. In the last 42 years, Thomann's status as a world-renowned chef has taken him from a Paul Bocuse restaurant in Lyon, France to chef assignments for high-profile individuals, posh ski resorts in Switzerland, clubs in Monaco, and his restaurant in Hollywood, Florida.
About Michel Thomann
Michel Thomann grew up in Alsace in the eastern part of France. Spending time on his grandfather's farm learning to work with his hands while digging in the dirt, harvesting vegetables, and picking fruit, he developed a passion for food. From the age of 12, Thomann spent summers working in restaurants peeling potatoes and performing other kitchen chores, and at the age of 14 enrolled in the Forck Culinary Institute in Alsace, where he began his esteemed career trajectory over the last 42 years.
Please visit ChefMichelThomann.com. Additionally, connect with Celebrity Chef Michel Thomann on Facebook and Instagram.

Media Contact
Company Name: Celebrity chef Michel Thomann
Contact Person: Michel Thomann
Email: Send Email
City: Miami
State: FL
Country: United States
Website: www.chefmichelthomann.com