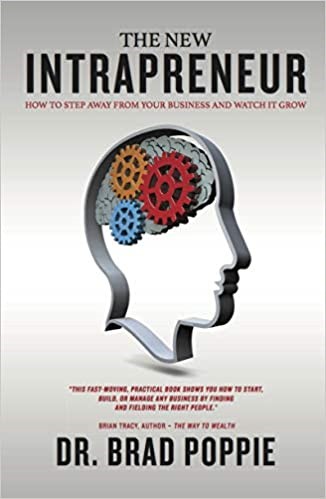 Book completes the Poppie Trilogy – a series of works aimed to help guide anyone through the world of business
Serial entrepreneur and renowned speaker and author Dr. Brad Poppie announced today the launch of The New Intrapreneur, a book he says contains numerous methodologies that can help any business grow with easy to follow guidelines.
"From the dreaming entrepreneur to mid-to-upper corporate management, The New Intrapenuer shows people how to work on their business rather than in their business," Dr. Poppie said.
The New Intrapreneur is Dr. Poppie's third published book, and expands upon teachings from his past works, The Poppie Factor and Creating and Sustaining Unstoppable Business Momentum. With over 30 years of experience in the business world, Dr. Poppie said he aims to arm readers with the knowledge of how to grow a business while not being married to it.
"The New Intrapreneur is a fast-moving, practical book that shows you how to start, build or manage any business by finding and fielding the right people," said Brian Tracy, a bestselling author and motivational speaker. "I recommend anyone in the business world to incorporate and share Dr. Poppie's algorithm for success."
In 2019, Dr. Poppie was selected to join the Forbes Councils based on his in-depth and diverse experience.
"I've dedicated my life to learning, educating and being involved in my community, and a lot of that comes from sharing my business experiences with as many people as possible," Dr. Poppie said.
To learn more on how to grow your business, the Poppie Trilogy, including The New Intrapreneur, can be found on Amazon's Kindle as well as at Audible.com, and paperback.
ABOUT POPPIE ENTERPRISES
Poppie Enterprises is the corporate umbrella company to Dr. Brad Poppie's business ventures including Physical Rehabilitation Specialists, Bradley Allen Apparel and Langston Press. Poppie Enterprises is dedicated to the success of its customers and employees, where honest business practices and ethical behavior are highly valued. Dr. Poppie is a renowned public speaker and author of The Poppie Factor trilogy, a series of books designed to help anyone gain momentum in the business world.
To learn more about Dr. Poppie, visit thenewintrapreneur.com
Media Contact
Company Name: Poppie Enterprises
Contact Person: Frankie Cervantes
Email: Send Email
Phone: 720-837-7421
Country: United States
Website: thenewintrapreneur.com/