Leading producer of sweet fresh MD-2 pineapples, Colorada Fresh Pineapples, donates free pineapples to the needy in Panama as part of its contribution to fighting the coronavirus pandemic
The position of Colorada Fresh Pineapples as a leading provider of premium quality and nutritious pineapple has recently been re-established as the company provides free pineapples to the needy as part of the fight against the coronavirus pandemic. Over the years, while the company has seemingly championed the growth of Panama's agriculture exports, and with the recent COVID-19 pandemic, the Colorada Fresh Pineapples has become the choice of consumers for their daily dose of Vitamin C.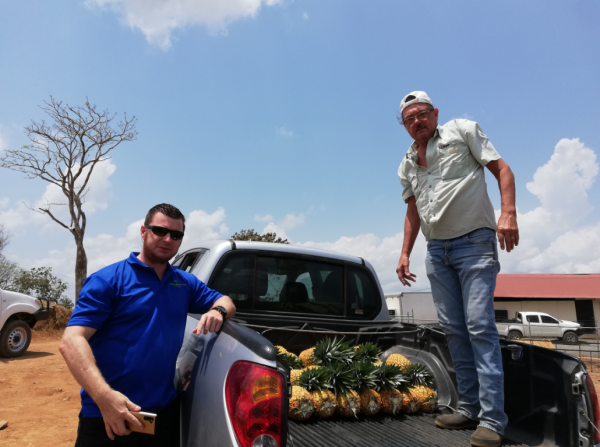 The Novel COVID-19 has continued to wreak havoc in several countries across the globe, with the WHO declaring the virus a pandemic due to its widespread and impact, with more than a million people already infected by the virus. While no vaccine has been discovered for the treatment of the virus, a strong immune system has been identified as a possible way of fighting the virus. Unfortunately, many people cannot afford the major sources of the likes of Vitamin C. This is where Colorada Fresh Pineapples is looking to make a difference by providing the needy in Panama with their nutritious pineapples to boost their immune system and help them stay safe even as COVID-19 continues to ravage the world.
"Colorada Fresh Pineapples farm co-founders, are friends of mine, James Gooden and Don Ewert. A few months back, they asked me if I had a way to distribute pineapples to friends, families in "need" that they would give them to me to take to the people free of charge," Gregory Alexander said. "Well, this gift today has taken on a whole new meaning!!! Not only have our travel times have been restricted, but our health is in danger, worldwide. The pineapple has one of the highest contents of vitamin "C" that can be grown. What a gift to people, that these young men have the insight in knowing, Bible scripture, Acts 20:35 "IT IS BETTER TO GIVE, THAN TO RECEIVE." I just am so happy in telling Colorada Fresh Pineapples, "A BIG THANK YOU," Gregory continued.
For more information about Colorada Fresh Pineapples and how the company is using pineapple to change the lives of millions, please visit – www.coloradafreshpineapples.com
About Colorada Fresh Pineapples
Colorada Fresh Pineapples is a pineapple farming company in Panama founded by an American/Panamanian, James Gooden, with a team of investors from around the world, including Canada, France, South Africa, and the USA.
Media Contact
Company Name: Colorada Fresh Pineapples
Contact Person: Esperanza Dr.
Email: Send Email
Phone: 1-713-900-8806 (USA)
Country: United States
Website: http://www.coloradafreshpineapples.com/