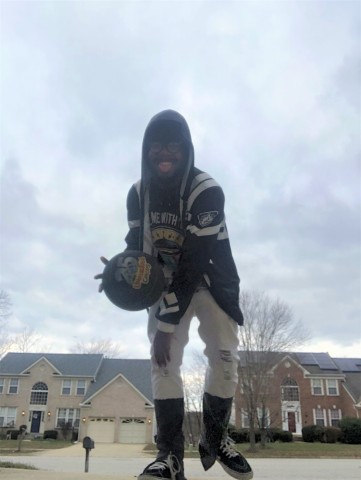 N.A.T.E Jones is a talented Hip Hop artist who is making music for over 9 years but only started releasing it professionally a few years back. Since then, he has garnered a solid fan base that is constantly growing with every new music project he releases. Known for his hard-working attitude and burning stride to make a mark in the industry, Jones is dedicated to making quality music that appeals to the listeners. He has several hit EPs and singles to name, and in 2020 alone, he has released two albums, namely "Hate" and "Vibez and Lofi Vol 1 EP" as well as the single called "Timesaving".
N.A.T.E. Jones' smooth flowing voice, refined music production, and impeccable songwriting skills shine through in his latest projects. Music has been an innate part of his life since his childhood, be it singing in the church choir or grade school events. His father playing in gogo bands and mother in the choir also fueled Jones' passion for music further. As a teenager, he developed an interest in Rap and Hip hop music and started listening to the likes of Biggie, Kendrick Lamar, and J Cole among others.
In addition to music, Jones is an avid fan of Anime and loves to watch various Anime shows in his free time. His first tryst with songwriting was basically, writing poems for his crush in school and as soon as his friends read it, they jumped in excitement and encouraged him to try his hands in the craft on a professional level. Fast forward to the present, N.A.T.E. Jones has established himself as a versatile Hip Hop artist, who sings in various styles. Sometimes, he would blend two or more styles to create unique sounds that make the song more captivating.
Some of the other notable projects by the artist include "Dad Jokes", "Sleep Emoji", and "Silk". He is currently working on his upcoming project "Without a parachute" based on his battle with depression and self-esteem issues.
Sending a message to his fans, the artist states, "Life has its ups its downs and its highs its lows. It can be devastating as it can be blissful and in times when everyone is willing to throw you off the cliff, make sure to find some friends that are willing to sit on the edge with you".
All music by N.A.T.E. Jones is available on various music platforms including Soundcloud and Spotify.
Media Contact
Company Name: N.A.T.E. Jones Music
Contact Person: Nathan Jones
Email: Send Email
Country: United States
Website: soundcloud.com/chenro1