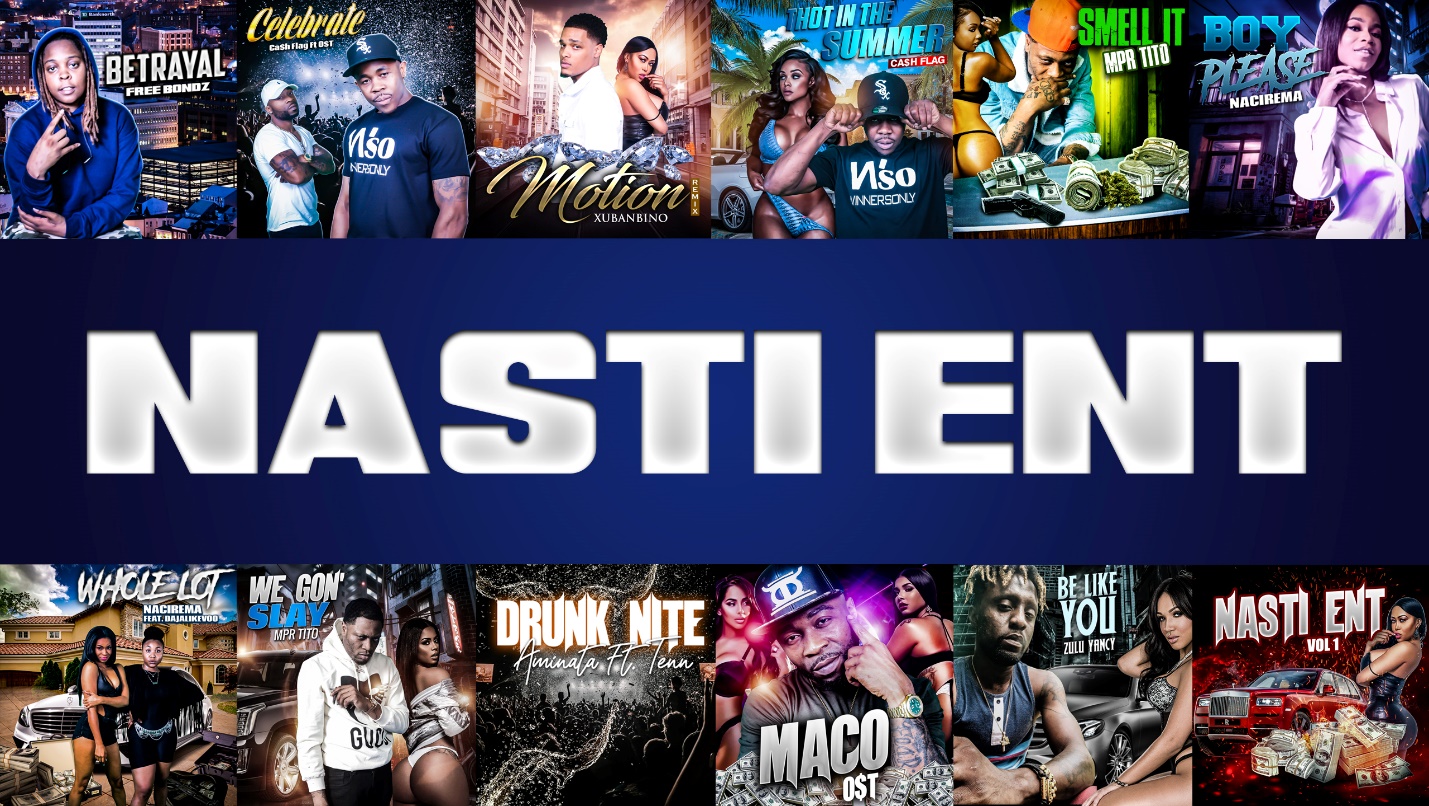 Nasti Putting Himself in The Realms of The Zaytoven's and Metrobooming's of The World
May 11, 2020 – Atlanta, GEORGIA – Nasti Entertainment is excited to declare the release of the new mixtape Nasti Ent Vol. 1, which is available worldwide as of May 01st. This hot new mixtape compilation features ten talented upcoming artists who are poised to take the world by storm in 2020. This collection of artists with a diverse selection of music from RnB to Afrobeat to the trap will have you rocking thru all 11 songs.
Executive produced by producer Nasti, Nasti Ent. Vol. 1 is a celebration and charismatic adventure. The album is a journey about the people's experience in the process of coming into their own.
A video joins the release for the first single from the album "Boy Please" featuring Nacirema. This upcoming female lyrist out of Atlanta, GA is featured twice on the mixtape with another hot record, "Whole Lot," featuring herself and Dajalikevoo. Mpr Tito also featured with two of his hit singles with "Smell it" and "We Gon' Slay" This mixtape will have you nonstop moving with O$T's "Maco" Zulu Yancy's "Be Like You" and Xuban Bino's "Motions."
Eric Mackey, aka Nasti, got his start early by teaching himself how to produce at the age of 15. Now, after producing for over ten years, Nasti has developed his own sound. He is working with MPR Tito, Nacirema, Xuban Bino, O$T, Free Bondz, Ca$h Flag, and more and touching everything from the production, vocals, songwriting, engineering, mixing, and mastering. Nasti's sound is unique and does not fit the mold of one genre. This is just the beginning of what music lovers can look forward to from the new artist.
Nasti Entertainment will be releasing future volumes of Nasti Ent throughout 2020 and beyond.
Nasti Ent Vol.1 Tracklist
1. Ca$h Flag – Celebrate ft. O$T
2. XubanBino – Motions remix
3. Ca$h flag – Thot in the summer
4. Nacirema – Boy Please
5. Mpr Tito – Smell it
6. Nacirema ft Dajalikevoo – Whole lot
7. Mpr Tito – We gon slay
8. Aminata ft Tenn – Drunk Nite
9. O$t – Maco
10. Zulu – Be like You
11. Free Bondz – Betrayal
Social Media:
IG: @nastient
Facebook: @nastient
Twitter: @nastient
Youtube: https://www.youtube.com/channel/UC6EX5tmlu6bHJWMJMQSyyMQ
Media Contact
Company Name: Nasti Entertainment
Contact Person: Eric Mackey
Email: Send Email
Phone: 404-500-9039
Country: United States
Website: http://nastient.com/