"Our core team is comprised of an experienced people holding graduate, post graduate and Ph.D. degrees in Finance, Marketing, Human Resource, Bio-Technology, Medicine, Information Technology, Environmental Science and many more. Our research helps to make the business decisions: on strategy, organization, operations, technology, mergers & acquisitions etc. We support many blue chip companies by providing them findings and perspectives across a wide range of markets."
Organic dairy remains a large market in the United States, but recent growth rates suggest it could start to mature, and new challenges, such as commoditization, arise with maturation. Australia's market share grew through China's organic dairy export channel. In the MEA region, Saudi Arabia is dominant due to the increased consumption of dairy products.
Organic Dairy Market Global Analysis by Region, Product, Channel Distribution, Companies (Arla Foods, China Shengmu Organic Milk Limited, Dairy Farmers of America (DFA), SunOpta Inc, Organic Valley) provides a complete analysis of the organic dairy market.
Pandemic COVID-19 effect on Organic Dairy Market
Coronavirus pandemic is causing a massive rethink; on what we eat or drink. According to our research, demand for organic food & beverages, especially vegetarian food & dairy, without a doubt going to rise exponentially in a world. We expect that there will be an uptick in the consumer purchasing patterns about organic dairy in the year 2020. The battles of the future will not be won by those who are with guns, but with those who are with food.
Market demand for organic dairy foods and drinks is witnessing a steady rise in daily life. The specific package of nutrients and benefits provided by dairy foods and beverages makes them an essential part of a consumer's life. The market is driven by the continuous launch of new organic dairy products such as flavored organic beverages and energy-based milk drinks. According to Renub Research by the end of the year 2025, the global Organic Dairy Market will be USD 54.4 Billion.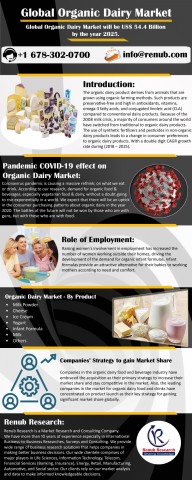 Growth Drivers & Challenges of Organic Dairy Industry
Awareness rising among consumers regarding health is one of the main driving factors for this sector. Besides, the other significant factors leading to the growth of this market are food safety, environmental protection, animal welfare, and increased use of natural and organic produce. Growing consumer purchasing power, increasing living standards, and rising government association's initiatives such as low-interest rates and loan facilities are also driving this market's growth in developing countries.
The increase in demand for organic milk and the availability of a range of organic dairy products, together with the development of new and innovative products in this segment provide enormous opportunities for the growth of the market for organic dairy foods and drinks.
High prices of organic dairy products, private labels that fake organic dairy product labels, lack of promotion, and higher R&D costs hamper this market growth.
Companies' Strategy to gain Market Share
Companies in the organic dairy food and beverage industry have embraced the acquisition as their primary strategy to increase their market share and stay competitive in the market. Also, the leading companies in the market for organic dairy food and drinks have concentrated on product launch as their key strategy for gaining significant market share globally.
Supermarkets are the largest segment since they attract more customers and are located in central parts of the city. They have gained popularity because of the availability of more shelf space, and a large number of products to choose from one another. The flexibility and longer shelf-life of processed dairy products encourage improvements for consumers, but macroeconomic headwinds put pressure on prices, which threatens the growth of packaged variants. The launch of products with innovative packaging is seen as one of the significant market trends by the international organic dairy industry.
Request a free Sample copy of the report: https://www.renub.com/request-sample-page.php?gturl=organic-dairy-market-p.php
Market Summary:
The organic dairy market is segmented by region/country into North America (the United States, Others), Europe (Netherlands, Germany, United Kingdom, France, Others), Asia Pacific (China, India, Others), Australia, Latin America, Middle East & Africa, Rest of the World.
The organic dairy market is categorized by product; milk powder, cheese, ice cream, yogurt, infant formula, meat, and others. Yogurt has the largest market share.
The market is fragmented by Retailers, Discounters, Supermarkets / Hypermarkets, Online Grocery Retailers, Internet Retailers, Others. Channel Distribution's supermarket/hypermarket demand is quite strong, and its sales are growing at a rapid pace.
Renub Research Blog: https://renubresearch.wixsite.com/report
If the information you seek is not included in the current scope of the study kindly share your specific requirements with our custom research team.
Browse Related Reports :
Global Cheese Market
Ready to Drink Tea & Coffee Market
Contact Us
Email: info@renub.com
Phone: +1-678-302-0700
Web: www.renub.com
Key Topics Covered :
1. Introduction
2. Research Methodology
3. Executive Summary
4. Standard for Organic Milk Production
5. Organic Milk – From Farm to Table
6. Market Dynamics
6.1 Growth Drivers
6.2 Challenges
6.3 Opportunities
7. Global Organic Dairy Market
8. Market Share – Global Organic Dairy
8.1 By Region
8.2 By Country
8.3 By Products
8.4 By Channel Distribution
9. Region/ Country Analysis – Global Organic Dairy
9.1 North America
9.2 Europe
9.3 Asia Pacific
9.4 Australia
9.5 Latin America
9.6 Middle East & Africa
9.7 Rest of World
10. Products Analysis – Global Organic Dairy
10.1 Milk
10.2 Cheese
10.3 Milk Powder
10.4 Ice Cream
10.5 Yogurt
10.6 Infant Formula
10.7 Others
11. Distribution Channel – Global Organic Dairy
11.1 Supermarkets/ Hypermarkets
11.2 Traditional Grocery Retailers
11.3 Internet Retailing
11.4 Convenient Store and Forecourt Retailers
11.5 Discounters
11.6 Other Dairy
12. Company Analysis – Global Organic Dairy
12.1 Arla Foods
12.2 China Shengmu Organic Milk Limited
12.3 Dairy Farmers of America (DFA)
12.4 SunOpta Inc
12.5 Organic Valley
About Us:
Renub Research is a Market Research and Consulting Company. We have more than 10 years of experience especially in international Business-to-Business Researches, Surveys and Consulting. We provide wide range of business research solutions that helps companies in making better business decisions. We partner with clients in all sectors and regions to identify their highest-value opportunities, address their most critical challenges, and transform their businesses. Our wide clientele comprises of major players in Life Sciences, Information Technology, Telecom, Financial Services (Banking, Insurance), Energy, Retail, Manufacturing, Automotive, and Social sector. Our clients rely on our market analysis and data to make informed knowledgeable decisions. We are regarded as one of the best providers of knowledge. Our pertinent analysis helps consultants, bankers and executives to make informed and correct decisions.
Media Contact
Company Name: Renub Research
Contact Person: Rajat Gupta
Email: Send Email
Phone: 16783020700
Address:225 Kristie Ln
City: Roswell
State: GA
Country: United States
Website: www.renub.com/food-and-beverage-25-c.php