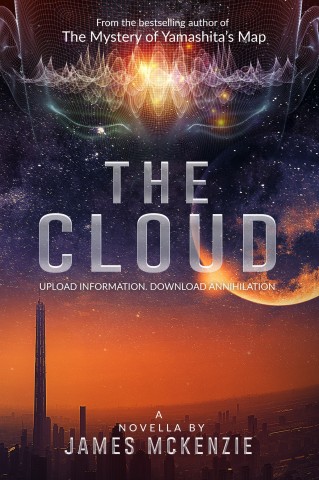 James McKenzie, author of the best-seller, "The Mystery of Yamashita's Map" has come up with another enthralling novella "The Cloud" that embroils readers in a world, possibly a dystopian future that shifts from normality to a place where 'The cloud' can think for itself. In today's world, where data privacy is almost a myth, and all our critical information is uploaded to the cloud, it isn't a far-fetched vision to imagine what it could lead to. The author creates a captivating storyline, in this 'frighteningly realistic' Sci-Fi drama, filled with frequent twists and turns, edge of the seat action, and heartwarming romance.
The storyline is set in a time where decisions are made without a hint of ethics, as every piece of information uploaded, results in 'the cloud' becoming sentient and able to think for itself. Decisions are now based purely on logarithms as 'the cloud' takes control of the whole population who now wear implants connecting them to the internet. The plot revolves around protagonists Cayden and Stella who must embark on a mission to save mankind, but they may have to leave Earth to do so.
"An engaging and realistic view of the future! I would definitely recommend this to anyone who loves Sci-Fi and has pondered what the future could look like", says one user in their review.
James came up with the idea for the novel while he was sitting at home with his wife, in their living room and chatting about taking their two sons on a holiday. They were planning a cruise, but couldn't decide where to go. Later that evening when James opened his computer, that had been in 'standby mode' all this time, he was shocked to see 'pop-up' advertisements of various cruises. Thinking it was a coincidence, but just to make sure, he deliberately started talking about cars with his wife, and soon after, several advertisements of cars popped up on his computer screen.
"I started to think that perhaps 'big brother' was real and that we are being monitored. This was the basic premise of the story, which is about the information we save and back-up to our computers and to 'the cloud'. I wondered, What if the cloud began to think for itself, as it has accrued all the technical knowledge to make it happen?"
James turned this idea into a Sci-Fi/romance novella and released it on Amazon in September 2019. Since then, the novel has received great reviews from readers all around the world and continues to create a buzz in the Sci-Fi novel category. Furthermore, he has ended the novel in such a way that a sequel could be possible.
In addition to being an author, James McKenzie is also an actor who has worked with many leading stars like Chuck Norris, Jacky Chan, Lou Ferrigno, George Takei, Linda Blair among others.
The Cloud is available on Amazon.com for purchase.
Media Contact
Contact Person: James McKenzie
Email: Send Email
Country: United Kingdom
Website: www.facebook.com/mckenzj8book/