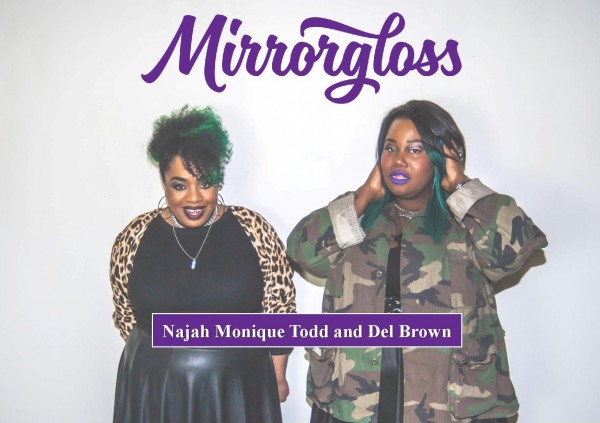 Formed in 2012 in Tacoma, Washington, Najah Monique Todd and Del Brown make up the dance-pop duo "Mirrorgloss". The unique vocal pairing of these two artists lay the foundation of their musical creation. The pair complements each other very beautifully. "The two have powerful voices that reach toward Beth Ditto and Aretha Franklin." – City Arts Magazine
The band "Mirrorglass" gives off as a refreshing vibe as their art, citing influences as eclectic as Jeff Buckley, Death From Above 1979, The Pretenders, and The Gossip. The ladies of Mirrorgloss believe that there is much more to sisterhood than just plain competition. It is all about helping, strengthening, and encouraging each other to do great things in life. As stylish plus-sized ladies, this band breaks the stereotype notion of beauty and promotes all types of style, and teaches people to embrace themselves, just the way they are. This band is considered as an epitome of confidence and self-love.
"The first time I heard "Brass in Pocket" by the Pretenders I knew it was what I wanted to do. I think I was like 7 or 8. But the music of Jeff Buckley is what brought us together", tells Najah Monique, explaining about her musical journey. Their music style is an amalgamation of many things and genres. They started with Electronic, dance, and pop, but they continue to evolve. "It's been an exercise in patience. Communication and creativity have always been at the forefront", she adds.
Having found a best friend and best music partner, in one person, the ladies of "Mirrogloss", Najah Monique, and Del, feel fortunate to be traveling on this journey of creativity and self-expression together. Their captivating friendship radiates love and light and is a majestic sight to experience. Their music is an inspiration to anyone who wants to feel liberated and wants to feel freedom and movement.
They motivate their listeners to do and be whatever they want to, and to stay happy even in difficult situations in life.
Listen to their music on Spotify.com
Instagram: https://instagram.com/mirrorgloss
Facebook: https://m.facebook.com/mirrorglossed
Spotify: Mirrorgloss
YouTube: Mirrorgloss
Media Contact
Company Name: Mirrorgloss Music
Contact Person: Press Executive
Email: Send Email
Phone: 253-359-4434
Country: United States
Website: www.mirrorglossmusic.com