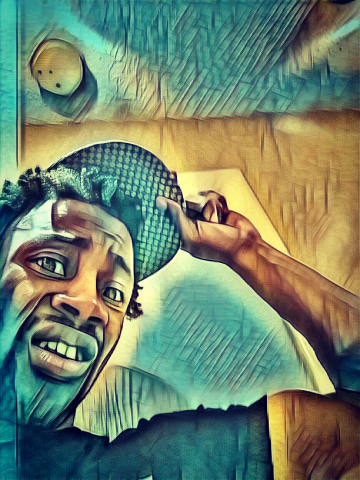 Born in America and now living in Canada, Rodney J. Rogers aka J-double-R is an independent music artist focused on the genres of hip-hop, rap, rock, and reggae. He proclaims that, wherever he goes, energy follows because of his endearing persona. He is a hard worker who is daily working with the non-profit companies, venus511inc/Venus 511, and Roster to push himself into growing more each day. He is unstoppable with his music and his innate capability to write lyrics.
J-double-R recently dropped his EPs "Vault Bags" and "Reskit". While in Vault Bags EP, he enters the world of EDM, Chop Screw and Electronica, in "Reskit" he presents a different view on life. His previously released EP "Mr Joe Suicide Monday" was directed at people attempting suicide and suicidal thoughts in general. Through this EP, he gives a positive message of lifting your energy and never giving up on life. His influences from 95-2000's Hip Hop era shines through in all of the music he creates.
J-double-R's upcoming project, "Baphomet" is a 'puzzle collection release' in which he comes up with a twist in his songs, with questions surrounding god, but no particular question directed to religion. The songs will be released in parts, through summer till winter this year. His music style is unorthodox and unique with a West Indies' flow, but he makes sure that the decency is maintained in the lyrics and no explicit words or phrases are used in the songs that he writes.
"During my music journey, I have been blessed to come in touch with and attended the live shows and back shows of great artists such as Jay-Z and Grath, I've also been on Radio interviews in New Jersey with Big7 and Time2Grind Radio. My journeys came from performing in San Francisco, Yukon Whitehorse, Sault Ste Marie at the Canadian Bar, Sydney, and many more places", adds J-double-R while discussing his musical journey.
Not just his music style, but his presentation of the songs is also different from others. Instead of the usual videos, he prefers animation and visual art so that the listeners stay captivated while listening to his music. This is indeed a raw technique that only a few artists follow.
Mixing creativity with class is what J-double-R is best known for. Going through ups and downs in his journey, J-double-R never gave up on his dream to create good music, and this zeal in him inspires all his listeners.
Listen to his music now on Spotify.com
Media Contact
Company Name: Venus 511
Contact Person: Rodney J. Rogers
Email: Send Email
Country: Canada
Website: venus511inc.com