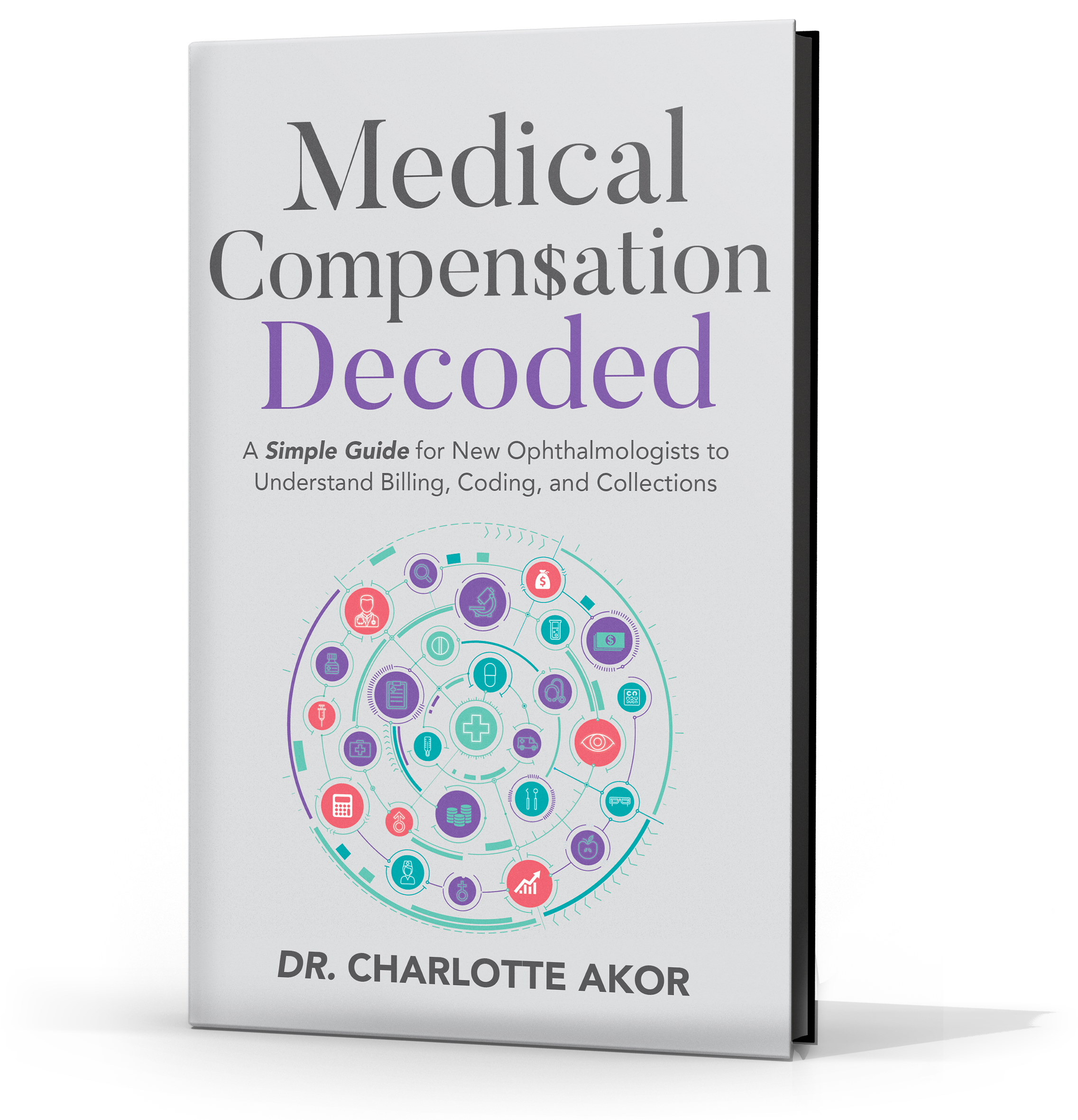 Practicing medicine has become more complicated due to constantly changing rules and regulations. Many young ophthalmologists are not prepared for what's ahead because they did not learn about the business side of medicine in their residency training. To empower those new physicians, Dr. Charlotte Akor has released Medical Compensation Decoded: A Simple Guide for New Ophthalmologists to Understand Billing, Coding, and Collections.
ABILENE, TX – May 14, 2020 – In Medical Compensation Decoded, bestselling author and ophthalmologist, Dr. Charlotte Akor, has teamed up with five contributing authors to share the wealth of information they have amassed from a variety of clinical practice settings. Their collective expertise will help ophthalmology newcomers comprehend how they get paid and determine how to increase their paycheck in order to build a financially stable business.
"You just finished your residency or fellowship program, or you are just off your guaranteed salary and you want to get paid. You are tired of being paid like a resident. If you are off your salary guarantee, you do not want to have your paycheck cut in half. Most of the things I will explain should be researched before you join a practice, but it is not too late to do these things now. You must understand what must occur behind the scenes," says Dr. Charlotte.
The topics covered in Medical Compensation Decoded will teach those starting out in the medical practice what seasoned physicians wish someone had taken the time to tell them. Abounding with tried-and-true insights and methods, sometimes learned the hard way, this instructive guide will help every novice ophthalmologist successfully navigate insurances, modifiers, telemedicine, money collection, and much more.
Medical Compensation Decoded is a comprehensive manual for young physicians who are committed to learning and understanding their craft. Overflowing with insight ranging from reference guides needed for billing, coding, and collections to overcoming the challenges of the traditional independent private practitioner to telemedicine codes, Dr. Charlotte and her colleagues provide the educational keys for collecting practice revenue.
Dr. Charlotte Akor is an ophthalmologist whose mission is to use her knowledge to make the world a better place. She completed her undergraduate degree in biology at Yale University, her MD and internal medicine internship at West Virginia University School of Medicine, her ophthalmology residency at State University of New York at Buffalo, her ocular pathology fellowship at Emory University, and her pediatric ophthalmology fellowship at Children's Health Care of Atlanta Hospital. She has also earned an Ophthalmic Coding Specialist designation.
Published by Purposely Created Publishing, Medical Compensation Decoded: A Simple Guide for New Ophthalmologists to Understand Billing, Coding, and Collections is now available for purchase at www.DrCharlotteMD.com.
Media Contact
Company Name: Purposely Created Publishing Group
Contact Person: Shani McIlwain
Email: Send Email
Phone: (888) 949-6228
Country: United States
Website: www.publishyourgift.com