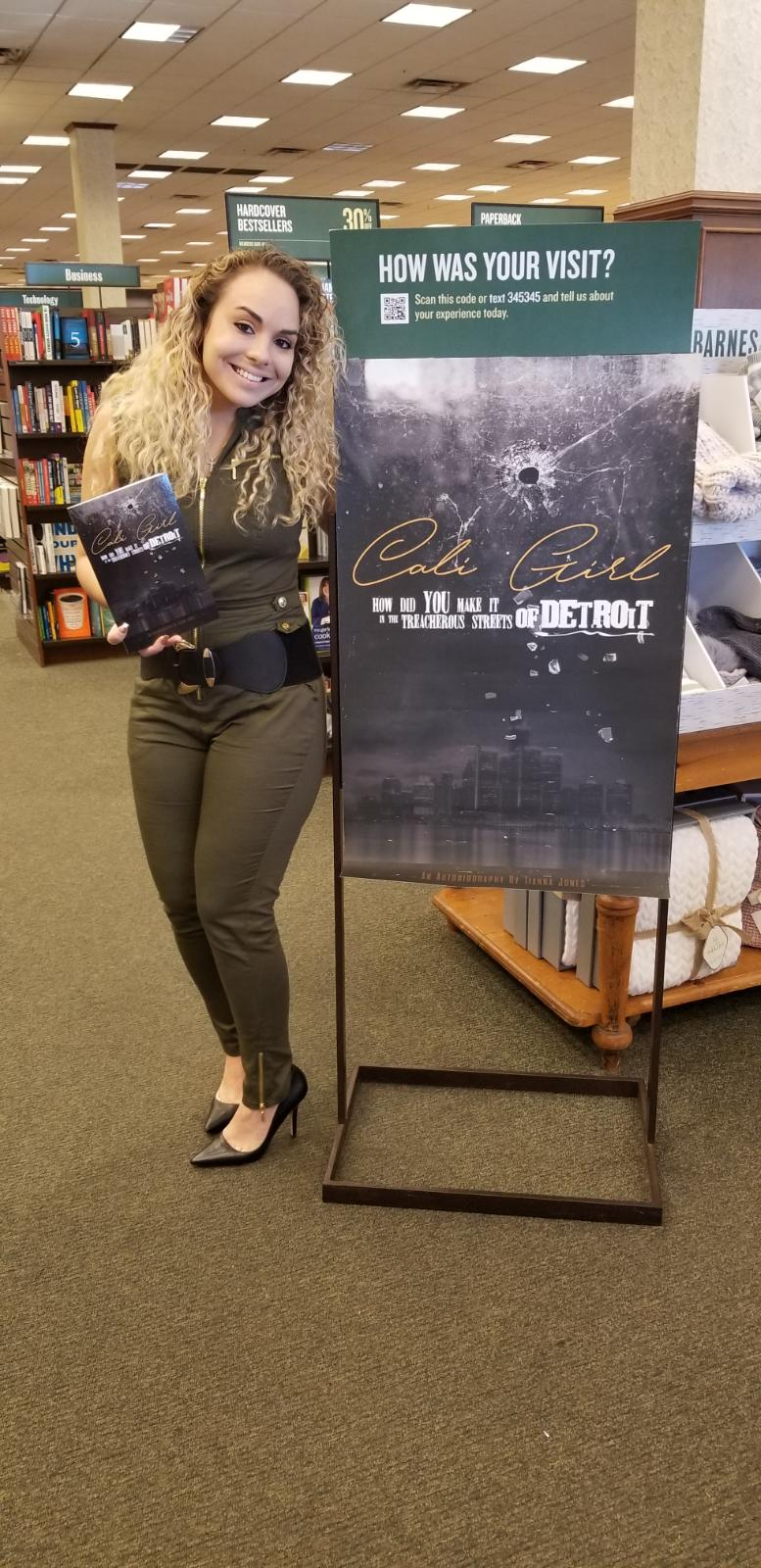 Tianna Jones, an American author, singer and mentor, is announcing the release of her new autobiography titled: "Cali Girl, How Did You Make it in the Treacherous Streets of Detroit?"
The book is a pulsating and terrific tale of how a young woman, against all odds, trials and tribulations, achieved a breakthrough in a menacing environment.
Speaking about the content of the book, Tianna said: "A young woman shares her journey with the world, to help them relate to her experience.
She took a chance and wore her heart on her sleeve. This stories unique twist involves a young woman who crosses the country as a "Cali Girl" and then steps in the treacherous streets of Detroit. There she finds herself living different lifestyles that are similar to millions of reader's stories. The similarity will help connects the world with this beautiful woman's testimony.
"At first, she couldn't see what her journey had in store for her. It wasn't until her life changed for the better, a young woman started to see the truth from her experiences. This woman's true story helps people heal from physical, mental, verbal abuse, as well as death loss, addiction issues, abandonment issues, and any transitional change that may affect a person."
Tianna Jones was born in Renton Washington but grew up in Texas until she was 9 years old. She has always had a keen interest in writing but never imagined the wonders of how stimulating the story of how she changed her life with positivity and optimism would become.
Tianna, an alumna of both Gilroy High School, as well as Westmont High School in the Sicilian Valley, revealed that it took her 9 years to complete the book. Reminiscing on what transpired within that period, she said: "seeking a vision of truth, I took up many different professions while focused on my dream as a writer. These positions are listed inside the storyline as part of a hard-working woman's struggle to survive."
Tianna, also known as 'Cali Girl', is as much a musician as she is a writer. She tirelessly worked to produce her debut music video. She showed her self-made talent and skills in the song called 'Im'a show you what the hustle did' where she doubled as both the singer and director of the music video. Jones stayed determined to succeed in both her writing and music production by spreading positive light and keeping her faith in God.
Below are the links to Tianna Jones's Memoir:
Available on Amazon: https://www.amazon.com/Cali-Girl-Treacherous-Streets-Detroit-ebook/dp/B078HF8QFL/ref=sr_1_fkmr1_3?ie=UTF8&qid=1522264007&sr=8-3-fkmr1&keywords=cali+fray+how
Available on Barnes & Noble: https://www.barnesandnoble.com/w/cali-girl-how-did-you-make-it-in-the-treacherous-streets-of-detroit-tianna-jones/1127685951?ean=9781640824744
Tianna Jones's has a very healthy social media presence
Follow Author Tianna Jones on Social Media:
Facebook: https://www.facebook.com/CaliGirlLLC.Net
Twitter: https://twitter.com/CaliFaeee
Youtube: https://www.youtube.com/channel/UC4sbk1PlXMtifJ49vqW3IZQ/videos
Instagram: https://www.instagram.com/cali.fae/
Media Contact
Company Name: Paramount Books Media LLC
Contact Person: Cali Fae aka Tianna Jones
Email: Send Email
Phone: (940) 442-4529
Country: United States
Website: www.cali-fae.com