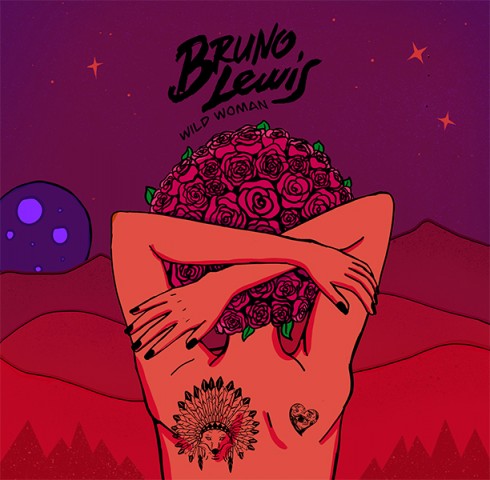 Originally from Johannesburg, South Africa, Bruno Lewis is a skillful songwriter and producer currently living in London. He studied audio engineering at Abbey Road Studios in London and has now decided to produce his songs for release. He finds himself very fortunate to be working with extremely talented artists like Josh Del, who is singing on this latest single "Wild Woman". Josh lives in Nashville and he brought a real southern flavor to this song. Bruno Lewis could not have found a better voice for this song. This is just the first of many songs that he will be releasing over the next few months.
Interviewer: Who do you consider to be your musical inspiration?
Bruno Lewis: My father plays the guitar, so growing up, I would always hear him play and I guess that's what got me interested first. My mother played the piano and when I was very small I would sit with her while she got piano lessons, so I guess I was always surrounded by music. And then when I was 13 and got my first electric guitar I did what every teenager does with a guitar in his hands, I dreamt of becoming a rock star!
Interviewer: How would you describe your music style?
Bruno Lewis: My songs vary between blues, rock, and country. I even have one or two songs coming out that are closer to pop. But I think they generally have their roots in blues.
Interviewer: What type of music according to you, do listeners want to listen to, these days?
Bruno Lewis: I grew up listening to so many different styles of music because of the internet and the kind of access we have these days, and I think listeners now days are far more eclectic and want a vast variety of sounds, and I want my music to reflect that.
Interviewer: Tell us a little more about your musical journey so far.
Bruno Lewis: The past 2 years have shaped my music. In 2018, I moved over to London to study audio engineering at Abbey Road Studios, which in my opinion is the most famous studio in the world! Just being surrounded by the history of The Beatles, Pink Floyd and so many other legends made me work hard on my music. I was also lucky enough to be surrounded by great musicians and mentors who pushed me to become far better than before.
Interviewer: Tell us about your latest project "Wild Woman" and the idea behind it?
Bruno Lewis: "Wild Woman" comes from a very special moment in my life. Shortly after moving to London, I went through a divorce which was a difficult time for me. But, as I have come to realize, life is constantly changing, and the worst thing you can do is resist that change. This song is about embracing change and finding solace in a new relationship.
Interviewer: What is the best part of music for you?
Bruno Lewis: My fans! I just want to say thank you! It's great to hear that people are finding some sort of solace or joy in my music, just like I did when I wrote it.
Interviewer: Any message for your fans?
Bruno Lewis: I have been receiving messages from all over the world, from Australia to Persia to Tennessee, and people keep telling me how much they enjoy the song. I love how you guys are responding to my music. You are my support system. So thank you for listening!
More information about the artist can be found on his official website brunolewis.com.
Media Contact
Contact Person: Bruno Lewis
Email: Send Email
Country: United Kingdom
Website: www.brunolewis.com