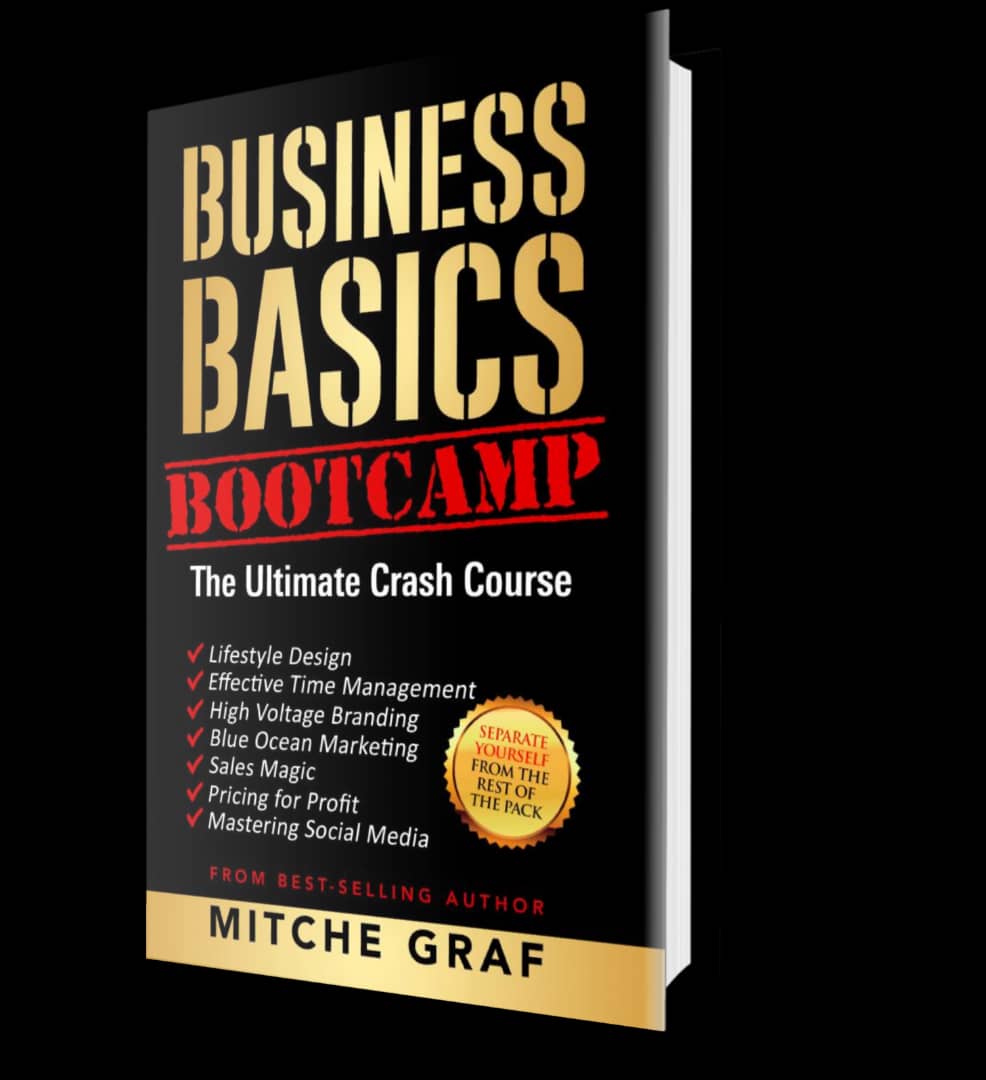 May 21, 2020 – Mitche Graf, a best-selling author and host of Business Edge Radio, has announced the launch of his 8th and long awaited book the 'Business Basics BootCamp – The Ultimate Crash Course', which was released on May 1st.
It's a book centered on developing what Graf calls the 7 Pillars of Business Success as well as crafting the proper balance between your personal and professional lives.
"My main message is we need to create our perfect lifestyle first, then reverse engineer our business blueprint from there. Too many people today have become chained to their business or their job, and it doesn't have to be that way. Life is too short to not do the things in life that are most important to us", said Mitche.
"If you are thinking about starting a business, have a new business, or have been around the block a few times, this comprehensive book will give you the tools needed to not only succeed in the daily battle but also to winning the war! Business Basics BootCamp — The Ultimate Crash Course will give you the 30,000-foot view of not only how to put together a vibrant business, but to create the lifestyle of your dreams.
"The book dives deep into lifestyle design, time management, sales, branding, marketing, pricing, and social media. It can be purchased at a variety of book stores around the country as well as on Amazon.com and other online retailers."
As an educator and motivational speaker, Mitche's high-voltage seminars and workshops have been delivered around the world to over 75,000 people in nine countries and nearly every state in the U.S. His cutting-edge articles and columns have appeared in the pages of business trade magazines such as Rangefinder, PPA Magazines, Limo Digest, Chauffer Driven, Image Maker and Fresh Cup as well as many online marketing sites and blogs.
Mitche believes that with the right perspective, every day can be a Saturday, and this inspires him to wake up with a sense of excitement and enthusiasm to live his life by design.
He is passionate about reading, listening to great music, laughing, cooking, eating, drinking great wine, spending time off to chill and most importantly spending time with his family.
Mitche will be available for interviews by outlets looking for experts in small business marketing, branding, time management, lifestyle design, or high-impact motivation.
For more information please call 888-719-4692 or send e-mail to info@powermarketing101.com
Media Contact
Company Name: PowerMarketing101
Contact Person: Mitche Graf
Email: Send Email
Phone: 888-719-4692
Address:P.O. Box 405
City: Aurora
State: Oregon 97013
Country: United States
Website: www.PowerMarketing101.com