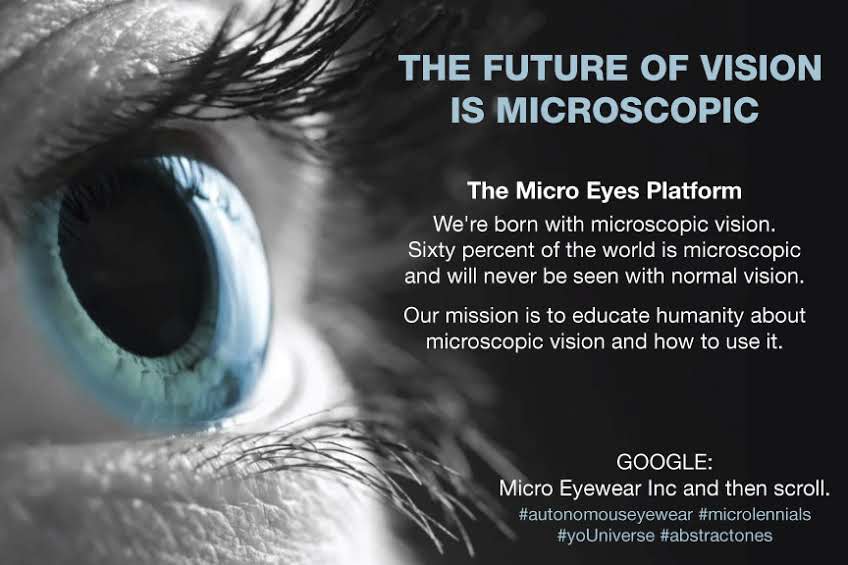 Innovative wearable technology solutions provider, Micro Eyewear Inc., introduces a line of hi-tech autonomous eyewear with microscopic vision
Micro Eyewear Inc. has seemingly taken the eyewear market into the future with the launch of the innovative Micro Eyewear Platform. The company is introducing disruptive wearable technology in the autonomous eyewear, providing people with microscopic vision regardless of their location. The hi-tech autonomous eyewear from the company offers microscopic vision, ultimately reinventing the microscope into wearable technology.
The eye is an important part of the body and is often regarded as the window to the human body. Unfortunately, studies have revealed that humans do not make the best use of the eyes due to no fault of theirs. Several reports have stated that the world is multi-dimensional and more than half, about 60% to be precise, cannot be seen with the naked eye. This led to the development of microscopes and other solutions to enhance the vision of users. However, the world continues to struggle with helping the general population to see the micro and nano worlds. This is where Micro Eyewear Inc. is looking to make a difference by educating humanity about microscopic vision and making it accessible to as many people as possible.
The platform aims to integrate the love for glasses into the use of microscopes. The company combines the two, for an out of this world in-depth visual experience. Micro Eyewear Inc. aims to make microscopes an everyday item that will be available for professionals and everyday use, allowing them to function optimally in a multidimensional world. With the technology, users can now see microorganisms and other tiny items that would have otherwise remained invisible.
Founded on ethics, space-age technology, and Universal culture, Micro Eyewear Inc. seems to be doing well in intimating the world on how to use microscopic vision to access the micro and nano worlds resources. The move by Micro Eyewear Inc. will greatly aid the adaptation to the commercialization of the micro and nano industries.
The Autonomous Eyewear from Micro Eyewear Inc. is more than just an innovation as it currently ranks as a revolution in vision evolution that will enhance visual engagement and allow humans to put their multi-dimensional, multifaceted and advanced vision into everyday use, far beyond man's primitive eye charts.
For more information about The Micro Eyewear Research please visit – www.researchgate.net. and to be a part of the autonomous eyewear revolution please visit www.microeyewearinc.com

Media Contact
Company Name: Micro Eyewear Inc
Contact Person: Boze Anderson
Email: Send Email
Phone: 1(310) 663-7919
Address:341 E. Cresent Ln
City: Detroit
State: MI, 48207-5002
Country: United States
Website: www.microeyewearinc.com