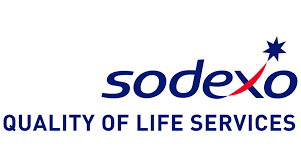 Stephanie Hertzog recently joined Jamie Elrod and Massiel Diez Melo for a Flipping The Barrel podcast to discuss her trip to the top in the oil and gas industry and how important it is for women to raise their hands and ask for those top jobs.
Houston, TX – May 25, 2020 – Sodexo Energy & Resources announced today that CEO Stephanie Hertzog is featured on the latest episode of Flipping The Barrel's podcast series. Hertzog joined hosts Massiel Diez and Jamie Elrod and discussed her journey to the top, imparting some wise advise for young women navigating the male dominate energy industry. The podcast titled "Girl, Raise Your Hand", can be heard at https://www.flippingthebarrel.com/podcast/stephanie
Hertzog joined Sodexo last year as CEO Energy & Resources North America. She is conscious of the role she can play to develop the leaders of tomorrow and is driving diversity and inclusion to develop a culture that attracts and inspires women and younger generations.
"According to research conducted by McKinsey & Company, only a third of entry-level employees in the oil and gas industry are female, which puts the industry last in female participation when compared to other sectors," said Stephanie Hertzog. "Once hired, entry-level young women look for role models in positions to which they aspire, but few higher up on the ladder look like them."
Founded in 2019 and hosted by Maissel Diez and Jamie Elrod, Flipping The Barrel is an empowering podcast series that provides insight into the current state of the energy industry, inviting industry leaders, both men and women, to discuss a variety of topics.
"Men still dominate the oil patch, but women continue to carve out their turf in the energy business, and Stephanie is a prime example as she has piloted her way to the top," said Flipping the Barrel hosts. "We were thrilled to have her join us to discuss her path to success."
Continued Hertzog, "Massiel and Jamie have created an impactful platform for industry experts to hear real stories and influences that are driving change in our industry. I enjoyed sharing my perspective, hopefully inspiring other women entering the field."
About Sodexo Energy & Resources North America
Sodexo Energy & Resources North America, based in Houston, Texas, is the trusted partner that enhances the Quality of Life for its customers' employees. We provide facilities management services, such as maintenance, food and catering, janitorial, security, and site management to Energy and Mining clients across all operating environments, including office buildings, remote camps, plant environments, and offshore. Sodexo Energy & Resources North America has a strong commitment to safety, an inclusive workplace environment and contributing to the social and economic development of the communities in which it operates. Sodexo Energy & Resources North America is part of the Sodexo Group, a Fortune 500 company operating in 67 countries and world leader in services that improve Quality of Life.
About Sodexo Group
Founded in Marseille in 1966 by Pierre Bellon, Sodexo is the global leader in services that improve Quality of Life, operating in 67 countries, Sodexo serves 100 million consumers each day through its unique combination of On-site Services, Benefits and Rewards Services and Personal and Home Services. Sodexo provides clients an integrated offering developed over more than 50 years of experience. Sodexo's success and performance are founded on its independence, its sustainable business model, and its ability to continuously develop and engage its 470,000 employees throughout the world.
About Flipping The Barrel Podcast
Flipping The Barrel is an empowering podcast that was created to shine a light on the oilfield by sharing the stories of successful individuals in the industry, their best advice and how they got there. The movement behind FTB will help the younger generation become more confident, learn from both women and men that drive the industry forward. With leaders from all segments of the oil industry discussing a wide variety of topics, there is sure to be something for every kind of person. Podcasters Maisy Diez Melo and Jamie Elrod use the platform to encourage and motivate younger women and men to try a career in oil and gas because for both, it has been an amazing successful ride.
Media Contact
Company Name: Sodexo E&R – NORAM
Contact Person: Patti Hill
Email: Send Email
Phone: 314-659-8430
Country: United States
Website: www.sodexo.com