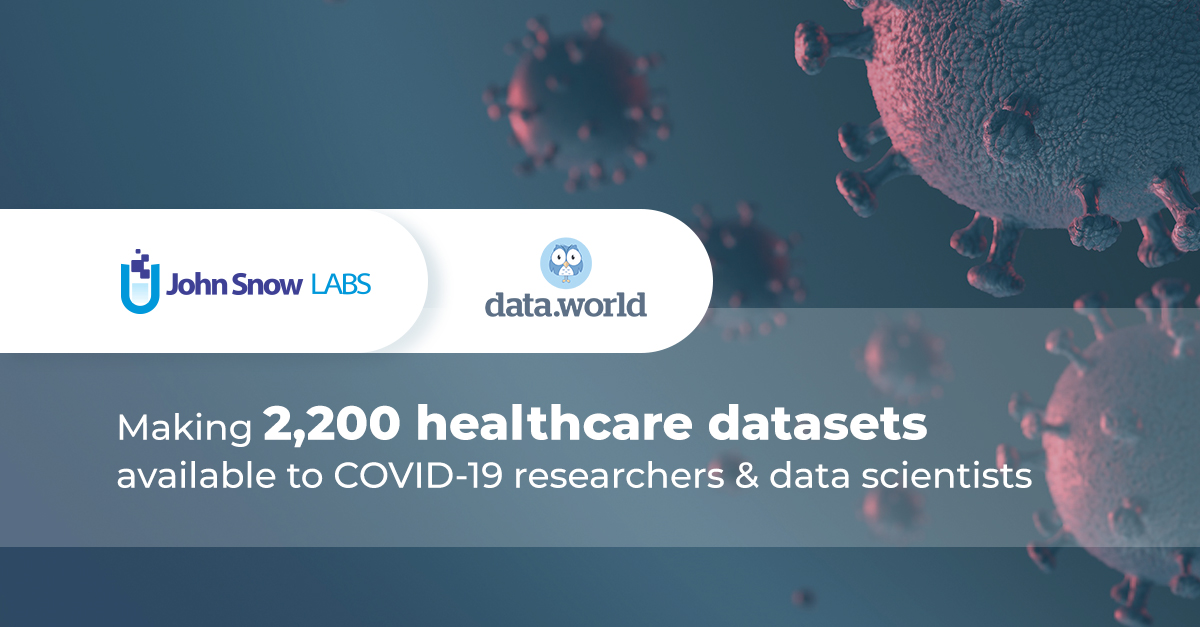 "David Talby, CTO of John Snow Labs, echoed the sentiment. "Healthcare data scientists & analysts need the right data and context to succeed, and we're committed to clearing the way to get them there. The combination of our medical domain expertise, three levels of quality reviews, and always-current data with data.world's discovery, community, and enrichment capabilities are a natural match to help accelerate the healthcare research community.""
Data.world, the cloud-native data catalog, and healthcare AI & NLP provider John Snow Labs are partnering to fight the global COVID-19 pandemic by sharing data and software for virus researchers.
In light of the current challenge, John Snow Labs is providing free access to datasets, natural language processing (NLP) software, and its AI platform for data scientists working on COVID-19 projects. In addition to supporting collaboration within its open data community, data.world has released a curated collection of open datasets that are crucial to understanding the disease via the Coronavirus Resource Hub.
This partnership is live and already provides researchers with a number of benefits:
John Snow Labs is now publishing its entire catalog of expert-curated datasets on data.world. A subset of them are freely accessible for query, download, and visualization
This includes 2,224 expert-curated healthcare datasets in 19 categories including medical terminology, guidelines, measures, outcomes, payments, costs, trials, devices, and safety.
The datasets are updated every month. Among 253 datasets updated in April 2020, John Snow Labs has integrated the latest SNOMED-CT and ICD-10 codes to include 24 new COVID-19 concepts and descriptions
data.world has extended its schema enrichment tool to make it easier for groups to connect public and private datasets to JSL data in a private data sandbox
"Our goal at data.world is to create the most meaningful, collaborative, and abundant data resource in the world," said Brett Hurt, CEO of data.world. "Scientists, analysts, researchers, entire businesses, and others all over the world are working together in data.world to track trends, find clues, and share insights around the pandemic. John Snow Labs' data and expertise are key contributions to this cause."
David Talby, CTO of John Snow Labs, echoed the sentiment. "Healthcare data scientists & analysts need the right data and context to succeed, and we're committed to clearing the way to get them there. The combination of our medical domain expertise, three levels of quality reviews, and always-current data with data.world's discovery, community, and enrichment capabilities are a natural match to help accelerate the healthcare research community."
Media Contact
Company Name: John Snow Labs
Contact Person: Ida Lucente
Email: Send Email
Phone: +1 (302) 786-5227
Address:16192 Coastal Highway
City: Lewes
State: Delaware 19958
Country: United States
Website: www.johnsnowlabs.com