Inspired by their amazing backyard barbeque experience with their friends and family members, JJ and his wife Regina started their restaurant "JJ's Grubb Shack" which soon became one of the most popular spots for hanging out with the locals, while eating mouth-watering food.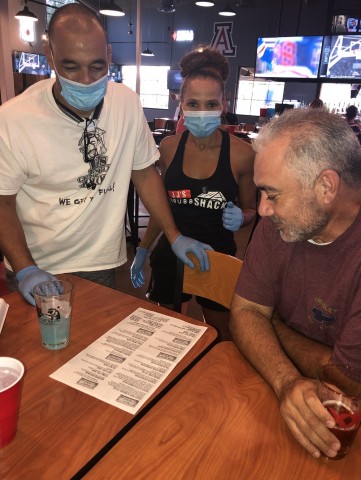 During the Coronavirus pandemic this year, like many other restaurant business owners they had to close their restaurant and lay off employees. With an inner drive and tenacity to keep the same sport enthusiast spirit they preserved and are planning to open the brand new JJs Grubb Shack in three locations in the Phoenix metro area. Staying true to the "Grubb" dining experience to their customers, they will be able to watch their favorite sports while eating delicious food. From burgers to freshly baked pizzas, juicy ribs to "hallelujah" hot wings, the restaurant offers a comprehensive menu that appeals to all kinds of customers.

In this exclusive interview, The duo team talks about their journey as restaurateurs, surviving the pandemic and next steps.
Grace Williams: Describe your journey as a restaurateur so far?
Regina Holmes: Well as you can imagine, navigating the COVID-19 environment has been quite challenging. Before our restaurants could even reopen, we had to do the necessary research on SBA stimulus relief loans, apply and then secure funding. Securing these loans was an essential part of our reopening business plan. Due to the volume of applicants attempting to gain access to the online application, the process took several days. After being locked out of the system to getting 75% of the application completed, to then getting kicked out, we were wiped out. Finally, my husband JJ and I had to set our alarm clock for 2:00 a.m. to complete the applications without the system shutting down. Waking up early and having all the necessary information we needed available to quickly provide the necessary information, worked for us, but without a doubt, the process was daunting! Once we secured the funding, along with our personal savings, we knew we could begin to move forward with reaching out to our employees to initiate the rehire process. Our onboarding with our team was focused on cleaning and sanitizing each of our restaurants and reviewing safety processes for both the front and back of the house. The safety of our employees as well as our guests, is and will continue to be our top priority as we resurrect our business during these uncertain times.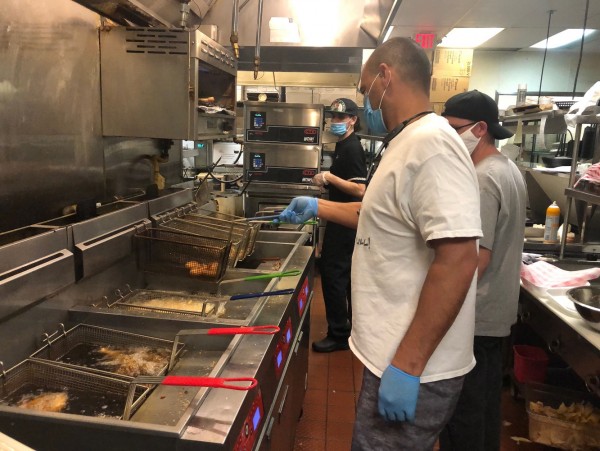 Grace Williams: How did Covid-19 impact you as restaurant owners?
Regina Holmes: COVID has brought both good and very difficult challenges. First, it goes without being said that the restrictions placed on restaurants directly impacted the revenue coming into each of our restaurants. Without being able to allow in restaurant dining or have our loyal customers come enjoy their bar favorites, we lost about 90% of revenue each day! While we understand and embrace the importance of the "to-go" model, that was not the primary model used for our business plan. Offering "to go" is a necessity to remain relevant for our customers that choose to do business in this manner, but for our type of dine in restaurant, simply offering to-go is not a long-term revenue sustainable model. As a result of the restrictions, we were forced to temporary shut down and furlough 125 of our employees. This was a very tough day for my husband and I.
Similarly, a significant challenge we have had to face is trying to rehire employees as our rehire offer is not being accepted because of their current unemployment weekly payments. In several cases we simply could not compete with what employees making from the government benefits.
Now, COVID-19 has also brought about some good changes. During this time, we were able review our business plan to determine what would work best long term for our family. We were given an opportunity with the franchisor we were associated with to de-franchise and pursue our own brand. Long live JJ's Grubb Shack!
Grace Williams: What are some of the immediate changes you've made as a result of Covid?
Regina Holmes: Having a clean and sanitized restaurant has always been a priority, however in light of COVID-19, we have a renewed and heightened focus on ensuring our restaurants are clean and sanitized. We have brought on a new touchless payment system, provide hand sanitizer to customers as they enter the restaurants, all our employees wear face masks and our kitchen staff wears both mask and gloves. We are adhering to 6 feet social distancing at the bar and in the dining area, where we only sit guests at every other table. We also have touchless paper towel dispensers and automatic toilet seat covers being installed in every restaurant. I believe our customers will be pleased with the changes.
Grace Williams: Tell us something about your restaurant's most popular items on the menu.
Regina Holmes: We have delicious Shack Po'boys – chicken, cat fish or shrimp, Rib Tips, hot dogs, hamburgers, wings and pizza. Since we just opened, it's hard to say what is going to big the big winner. Just come try it all, it's good "Grubb" as we like to say.
Grace Williams: What are your plans for the coming future?
Regina Holmes: To continuing providing a safe and inviting environment for our guests, give great customer service, provide food favorites, and be the first choice in the communities we serve. We are in this for the long haul and will make the necessary adjustments to not only survive, but thrive during our "new normal" environment.
More information about the restaurant can be found on its official website Jjsgrubbshack.com.
Media Contact
Company Name: Jjsgrubbshack.com
Contact Person: JJ and Regina Holmes
Email: Send Email
Country: United States
Website: jjsgrubbshack.com