One thing that has NOT been quarantined within the midst for COVID-19 pandemic is millennials' exploding interest in health-conscious eating. We are DIRECT so will cost less money at end.  Leberry Bakery is the perfect answer to millennial Americans with their 100% plant-based sweet sensation.
Now an award-winning bakery for two years in a row for their vegan and gluten-free donuts, including winner of the 2020 DonutFest Los Angeles, Lêberry Bakery envisions to grow their brand to reach millennials across the USA! From the requests of our avid fans in Chicago, Philadelphia, Boston and New York, we heard you! Using high-quality organic ingredients originating directly from plants cultivated with no to minimal chemicals, Lêberry makes fresh daily award-winning donuts, pastries, cookies and cakes that are loved by vegans and gluten-sensitive consumers of all ages. Customers are awed by our vegan donuts that taste like high-end, non-vegan donuts, and buttery vegan cupcakes made without any butter.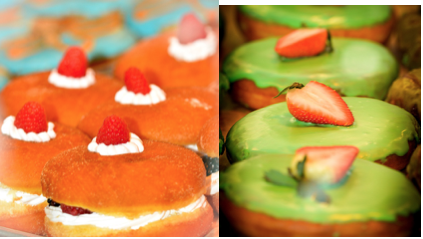 Lêberry – plant based sweets available now on Shopify
The owner of Lêberry's flagship store in Pasadena implemented "magnetized" water to enhance the taste of the products via its "softening" effect. Applying her health science doctoral and clinical research master degrees, Professor Dr. Jennifer Le hypothesizes that "sweets and coffee prepared with magnetized water may be better incorporated through its enhanced solubility with individual ingredients." She personally tastes the difference in both the organic coffee and vegan & gluten-free donuts when made with magnetized water⎯soft and smooth texture without any aftertaste and sweets that lasts for days without any alteration in taste! The process to generate magnetized water eliminates the use of chemicals, which aligns with her vision for specializing in sweets for a health-conscious lifestyle. More unequivocal research is needed to investigate the effects of magnetized water on human health as preliminary data show improvement in the water quality resulting from the change in pH and solubility.
Lêberry's operation is directed by partner Raynard Ivan Ledford III, former CEO/owner operator of Prime Restaurant Groups that supported franchises like Fatburger, Subway, Papa Johns and Popeyes (to name a few). With his extensive experience in the hospitality industry for over 30 years and well-sought after for his business acumen, Mr. Ledford is leading the charge to build and expand the brand nationwide. On the business side, bakery business performs extremely well during economic crisis according to the US Bureau of Economic Analysis. With a futuristic and health-conscious concept, Lêberry Bakery is expanding our brand by accepting investors, both domestic and international.
Lêberry proudly serves USDA-certified, organic and shade-grown coffee from that was conceived by futuristic mastermind and published author Jason Roe. His unique blend originates from rainforest-grown beans and undergoes a USA patented innovative roasting process that uses 4 times less gas, compared with coffee industry standard traditional drum roasting creating a greenhouse emission reduction of up to 79%. "Lêberry vision is health of people and the environment, to minimizes the carbon foot print and greenhouse emissions is in the interest of us all" says Dr. Jeniffer Le. If caffeine is not your thing, Lêberry offers the option of pairing sweets with mimosas or unique selection of local craft beers.
Media Contact
Company Name: Millennial News Feed
Contact Person: Korey Andersen
Email: Send Email
Country: United States
Website: https://leberrybakery.com