In a society where our nation's heroes are often looked at with disdain and misunderstanding, "We Are Human Too: The Blueline Stories from DC" gives a look into the lives of police officers and their families.
Washington, DC, USA – June 11, 2020 – Given the tension throughout our country and the senseless death of George Floyd, the recent protests, the riots and the attack on police officers, Carmelo Rodriguez, author of "We are Human Too: The Blueline Stories From DC" shares his experience as a police officer. Rodriquez says, "There are more good cops than bad ones and I wanted to show a different side of police officers in our communities." Published by Absolute Author Publishing House, editor and publisher Dr. Melissa Caudle says, "This book is amazing. I think we often forget that every day men and women across our nation risk their lives to serve and protect us. I think it is important for all of us to realize that and recognize the good works these officers do."
Rodriguez says, "I hope this book can bring healing in our communities and around the world. We all have the ability to recognize each other as humans." As a police officer in Washing DC, Rodriguez sees it all. "I'm particularly concerned about the riots that are occurring in our cities across America. I think we need to take a look at ourselves and ask what difference you can make in your community and then take positive action."
When not serving his community as a police officer, Rodriguez volunteers by serving the homeless community meals, and presents motivational speeches. He is available for public appearances, news interviews, and book signings.
ABOUT THE AUTHOR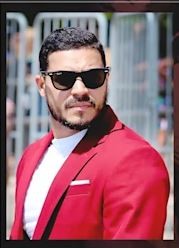 Carmelo Rodriguez is an author, a veteran, and a father who learned early in his life, that life is never easy. When an error by the Veterans Administration declared him 'Dead,' he lost all of his benefits and found himself in a battle with the US Government bombarded with bureaucracy and repercussions. Agency after agency followed suit and declared him dead as well, sending him into a spiraling effort to claim his identity and to be reported alive. To bring light to his case and to help others who may be going through the same thing, he started a Vlog which ultimately gained him national attention. He fights for justice for other veterans and finds the time to feed the homeless. Rodriguez lives with Diana in DC and currently works as a police officer.
TO CONTACT CARMELO FOR INTERVIEWS CALL THE NUMBER LISTED BELOW:
1-610-914-3296
For more information, visit:
https://www.carmelorodriguez-author.com/
https://www.facebook.com/VetDocSeriesCEO/
Media Contact
Company Name: Absolute Author Publishing House
Contact Person: Dr. Melissa Caudle
Email: Send Email
Phone: 504.467.7181
Address:1123 Williams Blvd
City: Kenner
State: LA
Country: United States
Website: www.absoluteauthor.com