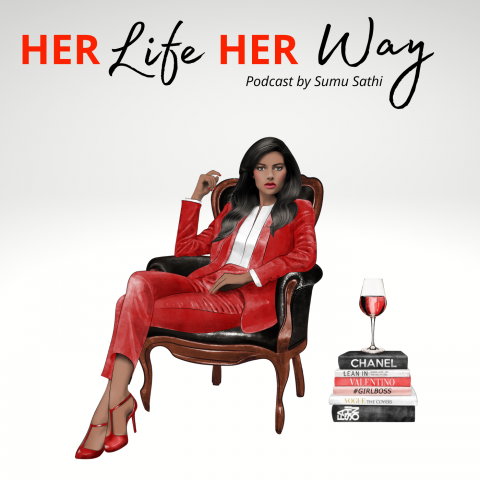 If you are tired of being told 'you can't do this' or 'women are not meant to work in this field' then "Her Life Her Way" is the right podcast for you. If you plan on listening to just one podcast in your life, make sure it is this one. It is for all the women who want to break the glass ceilings and excel in your profession.
Hosted by Sumu Sathi, "Her Life Her Way" is all about honest and direct conversations on paving your way to success in the corporate or business world. With 15 years of experience in community leadership and public speaking, Sumu Sathi is a front-line worker with the Canadian government with a keen interest in helping women build their personal brands. She is also the founder of Ms. Brown Plus, which is a body-positive movement for women. Some of Sumu Sathi's achievements include interviewing politicians like Canadian Prime Minister Justin Trudeau, Ontario Premier Kathleen Wynn, Toronto Mayor John Tory, and many other community change-makers. Because of her amazing work, she was nominated for the 2019 Waterfront Awards under the 'Outstanding Innovator' category.
As for now, there are 4 episodes to the podcast "Her Life Her Way" with the first two episodes being aired on May 21, 2020. In the first two episodes, Sumu Sathi tells about the reason behind launching her podcast, followed by the discussion on personal brand building and how many celebrities and politicians such as Michelle Obama and Oprah Winfrey have personal brands. In the episode released on May 25, 2020, Sumu Sathi addresses how our past shouldn't hold us back from determining our present success and also mentions the systemic barriers women face.
The latest episode of the podcast "Her Life Her Way" went live on May 30, 2020, featuring Shelley Jarrett, multi-award-winning entrepreneur, speaker, film producer, and women's advocate. In this episode, the importance of influencing people is explored.
This podcast can be considered as an important tool for self-discovery and motivation. It will help all the ambitious women out there to not only realize their potential but also use it to the fullest.
Listen to "Her Life Her Way" now on this Link.
Linkedin: https://www.linkedin.com/in/sumusathi/
Media Contact
Company Name: HER Life HER Way
Contact Person: Sumu Sathi
Email: Send Email
Country: Canada
Website: herlifeherway.captivate.fm