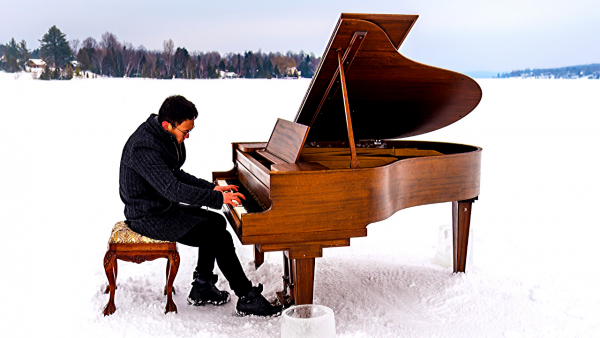 Born in South Korea, YoungMin You is a self-taught pianist and composer, now living in Michigan. YoungMin is the epitome of hard work and dedication, as, despite a lack of professional training, he got accepted to the Wheaton College Conservatory to study music composition. When applying for college, YoungMin was auditioning alongside students who had experience of 7 or more years in music, but his passion for music and his talent got him in. Today, YoungMin has a strong online presence and a good fan base with over 20 million views and 100,000 followers on his YouTube channel and social media platforms.
The saying, 'Where there is a will, there is a way', perfectly fits YoungMin You. A self-taught pianist, YoungMin grew up watching his sister take piano lessons, which made him want to learn to play piano too. But because he couldn't afford to take lessons, he started teaching himself how to play by watching YouTube videos. After a lot of hard work and training, YoungMin You is now well known, established, and keenly loved by his fans all over the world.
YoungMin You has written a lot of amazing compositions, but his album "Walk On Water" is winning over listeners' hearts on another level, especially the tracks "Oceans", "God Only Knows", and "Reckless Love". All three tracks have a wide viewership on his YouTube channel, as well as other leading music platforms. For the "Oceans" music video, YoungMin You came up with the idea of putting a grand piano in the middle of a frozen lake. As absurd as the idea may sound, the outcome of the music video was worth all the effort and frozen fingers.
When asked about his music style, YoungMin You says, "I mainly write for piano, but sometimes my pieces also feature orchestra or drum beats. I compose in a lot of different styles, but people often describe my music as emotional, dramatic, and uplifting. Some pieces are quite easy, but others are pretty advanced since I love playing with irregular meters."
Over the years, YoungMin You has witnessed the positive impact music can bring to other people's lives, and this is what has led him to create music that is inspiring and brightens up people's day. When you are in search of calmness, energy, and motivation, take a listen to YoungMin You's music.
Listen to YoungMin You's music now on YouTube.com and all other streaming platforms.
Media Contact
Company Name: YoungMin You
Contact Person: Media Relations
Email: Send Email
Country: United States
Website: www.youngminyou.com