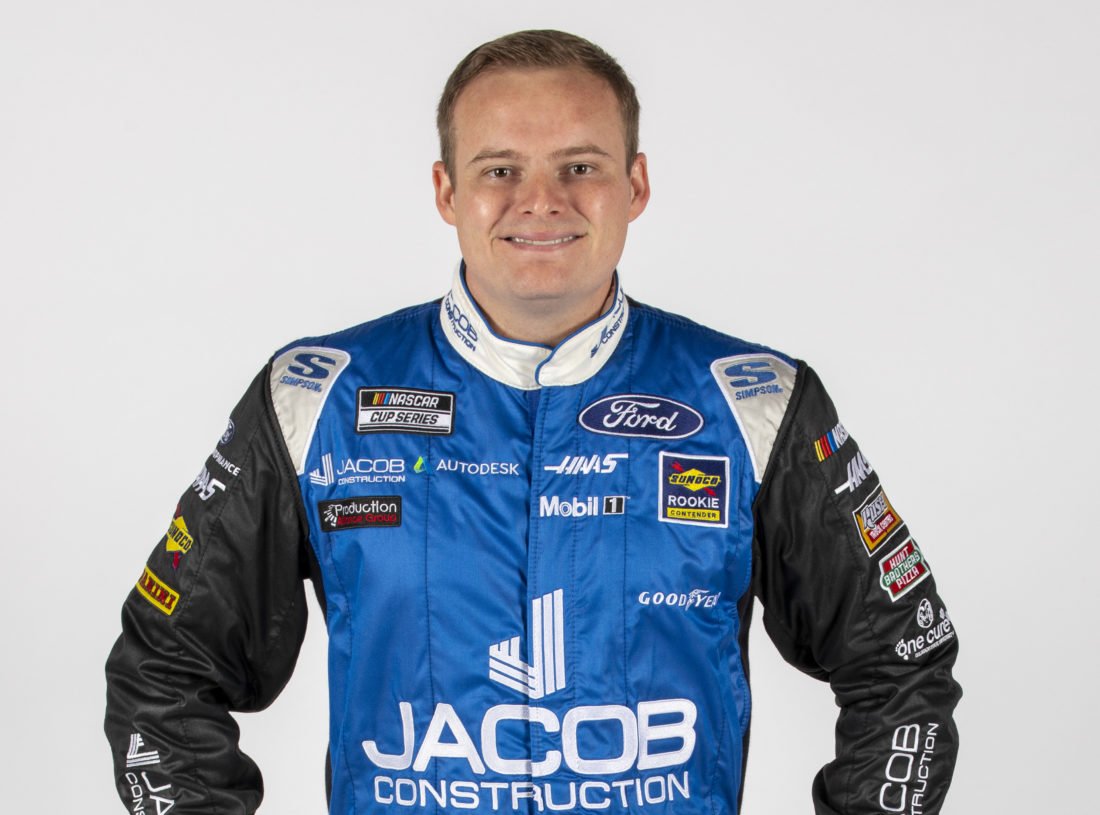 June 12, 2020 – Cole Custer and the No. 41 Jacob Construction/HaasTooling.com Ford Mustang team head to Homestead-Miami Speedway for Sunday's Homestead 400. Custer will make his first Cup Series start at the mile-and-a-half track and his 15th career Cup Series start.
This weekend, the No. 41 machine will once again sport a Jacob Construction livery in conjunction with HaasTooling.com. Homestead marks the second time this season Jacob Construction has adorned the No. 41 Mustang. Jacob Construction is a multifaceted construction firm with a focus on construction, development, design and technology services. Jacob provides clients with a wide range of services in the design build and construction management sectors of the construction industry. In conjunction with these services, Jacob self performs structural concrete, architectural and structural precast erection.
The most recent Cup Series race was held Wednesday night at Martinsville (Va.) Speedway. Once again, the event was run without practice or qualifying due to the condensed schedule during the COVID-19 pandemic. Custer fought a tight-handling No. 41 Ford Mustang throughout the race, which made for a challenging night. After starting 27th, Custer finished the night 29th in the HaasTooling.com/Jacob Construction Ford Mustang.
Homestead has been a stellar track for Custer in the NASCAR Xfinity Series, in which he has four starts from 2016 through 2019. In his last three outings, he started and finished in the top-two. In November 2017, he captured the victory by a margin of 15.405 seconds. In November 2018, Custer won the pole position with a speed of 165.598 mph and finished runner-up in the Ford EcoBoost 300. In November 2019, he started and finished second. Overall at Homestead, Custer has an average Xfinity Series start of 5.8 and an average finish of 5.5, along with 292 laps led while completing 100 percent of the laps available.
In the NASCAR Gander RV & Outdoors Truck Series, the young driver has one appearance at the South Florida track. He started second and finished 10th in November 2016.
The No. 41 Ford Mustang will once again share the colors of co-owner Gene Haas' newest holding, HaasTooling.com, for Sunday's 400-mile event. Haas Tooling was launched last month as a way for CNC machinists to purchase high quality cutting tools at great prices. Haas' cutting tools are sold exclusively online at HaasTooling.com and shipped directly to end users.
At mile-and-a-half tracks this season, Custer has finishes of 19th at Las Vegas Motor Speedway and Atlanta Motor Speedway, and 12th and 18th at Charlotte (N.C.) Motor Speedway. Homestead will be the fifth intermediate oval the series has run on this year.
One thing that makes this weekend even more unique is that a select group of fans will be able to attend. The track will host 1,000 military members, first responders and their household members in the first step to allowing fans back to a racing venue. Next weekend at Talladega (Ala.) Superspeedway, 5,000 fans will be allowed in the grandstands, along with select camping spots outside of the facility. All fans will be required to follow all health and safety protocols and procedures.
About JACOB Companies
JACOB Construction is a multifaceted construction firm with a focus on construction, development, design and technology services. JACOB provides clients with a wide range of services in the design build and construction management sectors of the construction industry. In conjunction with these services, Jacob self performs structural concrete, architectural and structural precast erection: www.jacobcompanies.com
Media Contact
Company Name: JACOB Companies
Contact Person: Michael Dagen – President | Business Development
Email: Send Email
Phone: 888-80- JACOB
Country: United States
Website: www.jacobcompanies.com