On August 26, 2019, Blizzard released World of Warcraft Classic, recreating the state of the first expansion: The Burning Crusade over ten years ago, and when there was a trillion people overcrowding it every hour of every day during the servers. They had to wait for long queue, and it even takes a few hours to complete simple quests, but the unstoppable login confirms that this is a game that meets the public's preferences.
The popularity of WOW Classic can't be copied, compared with any other retail game, it may not be too smooth or refined, because some game content imitated the "old" game, but the Classic version has a lower level cap, that is, the overall difficulty of the game is much greater, you have to make more efforts to play, and accordingly, when you complete these tasks, the sense of accomplishment will double.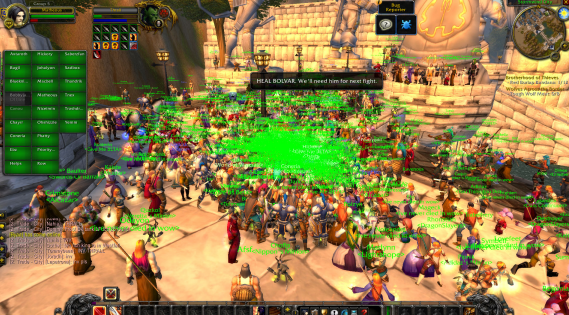 Moreover, WOW Classic provides more social opportunities among players, because it encourages teams to fight in order to complete challenges faster, you have to interact with others to expand your friend circle.
WOW Classic is described as a slow-paced game by many players, and the specific performance is that you even need to spend several hours or even a day to upgrade a level, this is more difficult to get rapid progress in this game. On the contrary, it is more suitable for someone who wants to play games slowly, seeing their progress every day, and even rest while playing.
The entire WOW Classic content is split into six phases, and each is released at different times, bringing new events, regions, quests and loot tables.
Until September 2020, WOW Classic may release the final phase, introducing the highest-level events in the game, along with many newly added items, but it is possible to delay a bit affected by the ongoing coronavirus.
Apart from these, the Classic version hardly develops other events or games until its first Esports event, Summer Bowl, a PVP tournament to hold online. The following is about the participation method and holding time of Summer Bowl.
Summer Bowl is a 10v10 Warsong Gulch tournament, requiring a 60-level character and 10-people team to participate.
Summer Bowl will be divided into two regions, North America and Europe, all games will be on live server of WOW Classic, including two stages, qualifiers and finals, the top six teams of each region selected in the qualifiers can participate in the next finals.
The European tournament qualifiers will open on June 20 and 21, and the finals will take place on July 4, while the North American qualifiers will open on June 27 and 28, the finals is set on July 5.
The top six teams of each region will compete in the finals for $4000 in prize pool, as well as the first WOW Classic PVP tournament champions.
Starting from now, you could sign up for these two regional qualifiers and create your 10-player team. It can be showed that Blizzard plans to extend this game to more aspects before WOW Classic reveals all the content to keep existing players from leaving. As everyone seems to be pursuing something fresh, and not playing the changeless game for a long time.
When it comes to WOW Classic Gold, it seems to be a hot topic to discuss, because players are always looking for various ways to farming gold, no matter which update is in progress.
Regarding Gold, it is always inseparable from farming and grinding, this is also the most common method used by most players in WOW Classic. To be honest, for low-level players, you are recommended to do so because you are not able to experience more game content. But for high-level players, although you can complete various hard challenges to get gold, but it is very time-consuming and can't get more XP to level up. So this is a huge loss if you only rely on farming to make money.
Therefore, the best solution we can provide you is to buy WOW Classic Gold so that you can completely get rid of repeated labor. As there is a huge demand for gold in Classic, why not use a more convenient way to get them?
On MMOWTS, it provides a safe, reliable and convenient platform for you to get cheap WOW Classic Gold. Like other marketplaces, it is committed to providing virtual currency and peripheral services related to WOW, serving every consumer well within its ability, personally, it is the most trustworthy one.
You are suggested to visit the store in person, it will give you the greatest help to play WOW Classic better, and it can also give you 8% extra gold for you to use in the game, cheap and high-quality.
Media Contact
Company Name: MMOWTS
Contact Person: Media Relations
Email: Send Email
Phone: (+1)-315-636-5275 (USA)
Country: American Samoa
Website: https://www.mmowts.com/