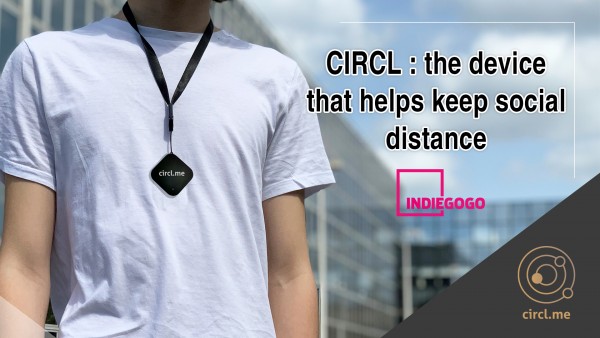 Despite being overwhelmed for months by the on-going pandemic, people are still not used to the idea of social distancing. We just can't keep ourselves away from our loved ones the moment we come face-to-face with them. The constant urge to reach out and touch them gives in, and the whole idea of maintaining the social distance is ruined. This is where CIRCL comes to your rescue. This is a device created to help people maintain social distancing.
CIRCL uses low energy Bluetooth technology to have a long life that detects other devices that comes within a range of 6 feet of each other. Each CIRCL warns the user by emitting sound when it comes in proximity to another person. And the best part about the device is that once taken out of the box, it works immediately without any configuration or synchronization requirement. CIRCL comes with a 3 months battery life and uses a singular button to switch on, which makes it easier to access.
CIRCL provides both, personal and professional uses. Professionally, CIRCL can be used to protect employees in offices and warehouses, and. other places where it can be used include Retirement homes, laboratories, town halls, building sites, factories, and company restaurants. CIRCL can also be used for children who go to school or play with other kids. Everyone is very peculiar for the safety of their loved ones and this device is best suited for it. Now the children can enjoy with their friends while maintaining social distancing.
The device also allows the user to set up a family member list, which helps in disabling the ringing sound on the device when family members get close to each other. "For the good integration of CIRCL in our daily newspapers, it seemed important to us to make it a tool adapted to everyone. It is, therefore, possible to wear it around your neck with the strap provided, but you can also put it in your pocket", says the creator of CIRCL, enlightening people on how to wear the device. The contents inside the box of CIRCL include a battery and a lanyard for making the device wearable.
CIRCL is currently running a crowdfunding campaign on Indiegogo.com intending to raise $10,000 by the mid of July 2020. With early bird reward, you can get 2 CIRCL devices at a discount of 35%. The product is shipped to the European Union and the US, and the estimated delivery is in July 2020.
More information on CIRCL and other rewards can be found on its Indiegogo page.
Media Contact
Company Name: ACOBA
Contact Person: Kenneth THOMAS
Email: Send Email
Phone: 612-310-6546
Country: United States
Website: www.circl.me