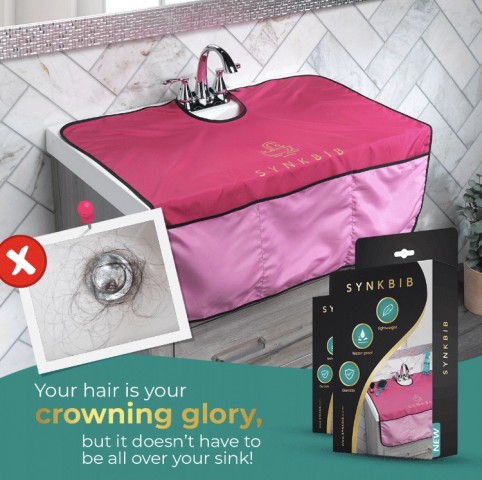 The strands of hair falling in the sink are, no doubt, exceptionally annoying, especially while styling your hair. Get rid of this exasperating problem with "SYNKBIB". A Chicago-based business, SYNKBIB has created innovative new "SYNKBIB"- the stylish sink cover along with other hair styling accessories and tools to make styling your hair convenient and 'mess-free'.
"SYNKBIB" is meticulously designed to cover your sink completely, and not just your drain. It is created by Stephanie Womack, a Chicago-based project manager and entrepreneur. She specializes in solving problems related to everyday household issues. After facing the problem of scattered hair strands in the sink herself, Stephanie Womack decided to find a long-lasting, eco-friendly solution. This is how she came up with the idea of "SYNKBIB".
"SYNKBIB" is a result of extensive research and various development processes, making the quality of the product, unmatched. "SYNKBIB" is completely waterproof, and is made of a material that is fire retardant, which protects it from styling tools that produce heat. Even after covering your sink with "SYNKBIB", the water faucet can easily be accessed. It is made with long-lasting material and comes with pockets on the front to keep your styling tools secure and easily accessible. In short, this product is going to be your new best friend if you are someone who enjoys styling hair, without creating a mess.
Through its campaign on Kickstarter, "SYNKBIB" aims to raise $2500, by July 10, 2020. The project has received a great response from the backers in less than a week of its launch on June 10, 2020. Those who want to support the campaign without buying the product can contribute $15 or more and get a personalized 'THANK YOU' note from the founder. You can pledge $25 or more and get your own "SYNKBIB" at a 30% discount through the Super Early Bird Kickstarter Special reward. The product is currently only shipped in the United States and the estimated delivery is in August 2020.
More information about the product can be found on its Kickstarter page.
Media Contact
Company Name: SYNKBIB Company, LLC
Contact Person: Stephanie Womack
Email: Send Email
Phone: 773-231-8136
Country: United States
Website: www.synkbib.com