Innovative hip hop jeweler, Helloice, helps people celebrate father's day in an unconventional way with fantastic ideas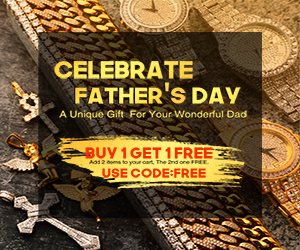 Helloice has announced the launch of a special sales offer for the celebration of 2020 father's day. The brand is known as a leading provider of premium quality yet affordable men's fashion solutions, with a focus on hip hop jewelry. The store has a wide range of Hip Hop jewelry and has launched a BUY 1 get 1 Free offer to customers, helping them to celebrate their special heroes.
Father's Day is a special day set aside to honor fatherhood and paternal bonds, while also appreciating the importance and contributions of fathers in society. Several days have been dedicated to celebrating Father's day in different parts of the world. In America, Father's Day was founded by Sonora Smart Dodd and celebrated on the third Sunday of June for the first time in 1910. Over the years, people have come up with a plethora of gift ideas to celebrate their heroes. Helloice is looking to show unique love to all fathers by ensuring that all dads get a gift that will resonate with them and their personality.
In line with the platform's goal of ensuring easy accessibility to quality jewelry, Helloice has launched a fantastic offer that provides them with quality hip hop-centric gifts for their dads. The buy 1 get 1 free offer is available on a wide range of jewelry collections featured on the website. Customers can enjoy the offer by using the code – FREE on checkout.
The categories of Helloice hip hop jewelry currently available include chains, watches, bracelets, pendants, earrings, and rings. The platform also allows people to customize jewelry for that special someone.
For more information about Helloice and the father's day offer, please visit – https://www.helloice.com/. Helloice can also be found across several social media platforms, including Facebook and Instagram.
About Helloice
Helloice was founded in 2017 as a brand that echoes class and luxury to the world, whilst being at the epicenter of men's fashion. Owned and operated by Gnoce Trading Co., Limited, the company aims to provide customers with a wide range of jewelry pieces made with quality materials. They will NEVER compromise quality for price.
Media Contact
Company Name: Gnoce Trading Co., Limited
Contact Person: Marry
Email: Send Email
Phone: 1-877-716-5888
City: Miami
State: Florida
Country: United States
Website: www.helloice.com/