Baltimore, MD – June 18, 2020 – MindStand is releasing an AI product for company leaders and executives to help prevent employee lawsuits and promote inclusive cultures. The COVID-19 pandemic has caused a paradigm shift in the way we live and work. As the world shifts online, MindStand Technologies has created an opportunity for business owners to be data-driven and thoughtful when addressing their workplace.
"In the customer interviews/conversations MindStand conducted, we realized that little to no business owners utilize Slack/Microsoft Teams/G-suite activity statistics to make decisions around employee experience and culture," said Michael Ogunsanya, MindStand CEO & Co-founder.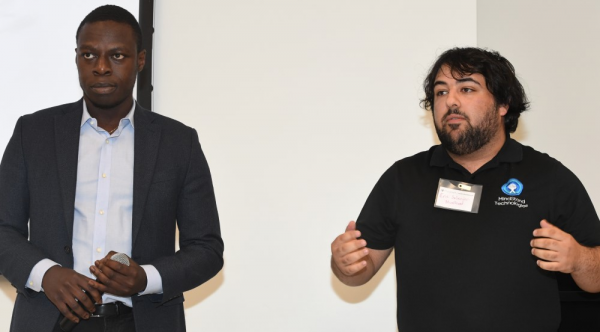 CEO, Michael Ogunsanya, and CTO, Eric Solender speaking at the 2019/20 Social Innovation Lab Kickoff
Ogunsanya was inspired to create MindStand after experiencing harassment while interning at a white-collar corporation in 2017. Interns there generally sported button-up shirts and slacks. Then one day, Ogunsanya wore a polo shirt and didn't wear his glasses, much to the dismay of one of his superiors. Seeing him, his supervisor said, "I would've thought you were a thug the way you're dressed." Ogunsanya said. "That firsthand experience of what it's like to be isolated in the workplace — I understood what that meant."
MindStand began with a long-standing goal to foster healthier online communities. At BitCamp 2018, technical founders Eric Solender and Nikita Wootten submitted a "hate speech identifier" as an entry. With this submission, MindStand placed second for the Bloomberg Most Philanthropic Hack Award. With an eagerness to innovate, MindStand's team scrapped their original hackathon code and began technical development in July 2018.
Experiencing bias in the workplace is not a new topic. According to the Society of Human Resources Management, "$223 billion was lost due to workplace culture over the past 5 years." Companies/Tech giants like Zillow, Shopify, and Twitter have moved to remote work entirely and trends show that will only increase over time. More businesses will become reliant on their digital strategy, and this would be a determinant of whether they succeed or not.
Whether online or offline, no employee wants to be in a toxic workplace. To help create a safer workplace for all to thrive, MindStand developed an AI. MindStand utilizes AI to detect workplace harassment and provide personalized insights on workplace inclusion. MindStand AI integrates with Slack, Microsoft Teams, and more to keep business leaders in tune with their culture and community. A safe workplace encourages productivity, prevents lawsuits and boosts revenue for business owners.
MindStand Team (Left to Right): Steve Byerly, Blessing Aodu, Nikita Wootten, Eric Solender, Michael Ogunsanya, Taylor Odenath, Sam Byerly
MindStand's team are always working hard to ensure the success of their innovative product and ensuring a great workplace for all. The product is available to all business owners for purchase. MindStand is open to partnership with HR firms and raising a seed round.
To learn more about MindStand and their upcoming release, check them out at www.mindstand.com!
About MindStand AI
Since founding the company in 2018, MindStand has secured early adopters, pressed funding, and spotlight recognition. Their goal is to keep the workplace inclusive and foster healthy online communities, one post at a time.
Media Contact
Company Name: MindStand Technologies/MindStand
Contact Person: Michael Ogunsanya
Email: Send Email
Phone: 301-448-5439
Address:5520 Research Park Dr Suite 100
City: Baltimore
State: MD 21228
Country: United States
Website: www.mindstand.com/