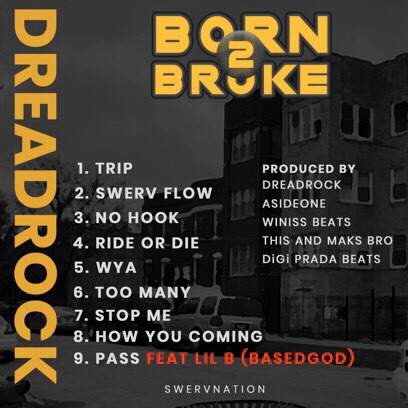 The launch of the album was announced on the 15th of June, 2020. It was also announced, that BornBroke2 will be a follow-up of Dreadrock's 2018 record called 'BornBroke'.
Chicago, Illinois – Swervnation is thrilled to announce the release of label artist Dreadrock´s new album titled BornBroke2. The announcement which was made on the 15th of June, 2020 revealed that the album will be hitting digital platforms in no time, with a promise to make waves, and blow the minds of an ever-loving audience.
'BornBroke2' will be a follow-up of artist Dreadrock's 2018 hit song 'BornBroke'. The album would help launch Dreadrock's new songs and showcase his creativity and immense talents. Every song on the album were produced by Winiss Beats and DiGi Prada beats. The album also stars popular music giant Lil B.
Dreadrock's last album came in the year 2019, and was a huge success. The album titled 'SwervingLanes 2' had hit tracks such as 'Lies', 'Talk', 'Pain', 'Big Check', 'My Life', 'Long Nights', and 'Downfall'.
The track listing for 'BornBroke2' has not yet been revealed, but promises to be fire.
Watch this space!
Video Link: https://www.youtube.com/embed/RpYIOPuyGu8
About Dreadrock
Dreadrock, whose legal name is James Samuels, grew up on the hard city streets of Chicago westside. Overcoming life on the streets contributed to his love and engagement for music, bringing the trials and tribulations from his life to paper and the stage.
You can enjoy Dreadrock's Playlist using the links below:
YouTube: https://bit.ly/39KjZvq
Spotify: https://spoti.fi/38NOBL7
Media Contact
Company Name: Swervnation LLC
Contact Person: James Samuels Jr
Email: Send Email
Phone: 5753765211
Address:5563 w Adams
City: Chicago
State: Illinois 60645
Country: United States
Website: Swervnation.com