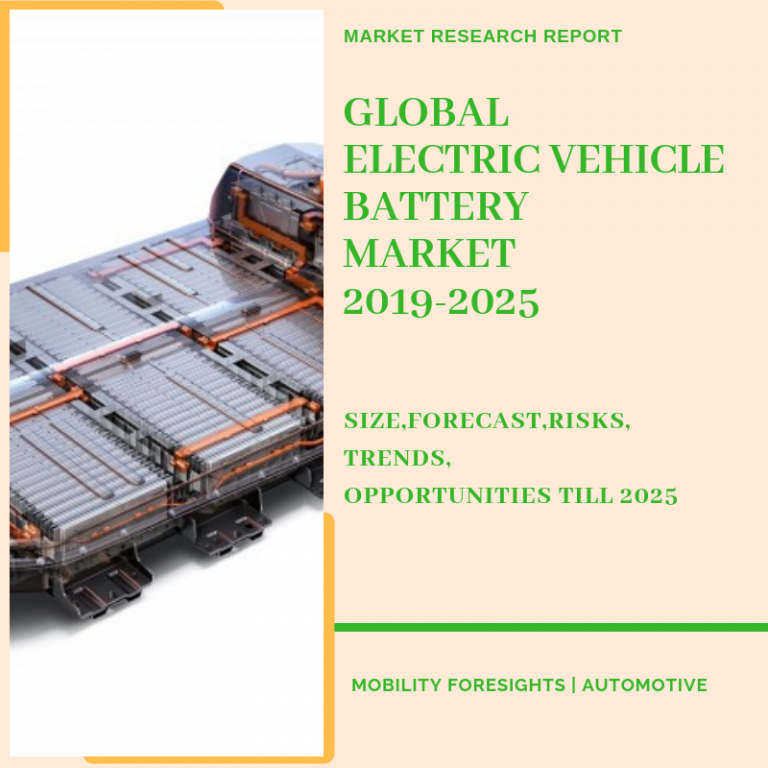 The global Electric vehicle battery market will remain relatively unaffected from COVID-19 impact on the back of strong demand from Europe. In Jan-May 2020, the EV sales were down just 8% YOY as compared to 26% for overall auto industry. The consistent rise in BEV share and growing average battery capacity per vehicle is a major growth driver.
Key contents of the Global Electric Vehicle Battery Market report include
Market size & Forecast segmented by region, Battery pack size, Sub-component and OEM
Technology trends in EV Battery, average B-2-B price by region
Important technology developments
OE-supplier alignment, by region
Competitive landscape, market share and growth strategy of leading vendors
KEY FINDINGS
The global electric vehicle battery deployment was 108 GWh in 2019 and will rise to 434 GWh in 2025. China is the global leader followed by Europe and USA. This trend will carry on till 2025
The market growth will be dependent on EV consumer adoption across both passenger vehicles and commercial vehicles. BEVs will be the growth driver as they have larger battery packs but PHEV adoption will grow at the highest rate in Europe
In China, Despite COVID-19, in May 2020, VW has gone ahead with its $2.3 Billion deal to buy 50% stake in JAC(domestic OEM) and 26.5% stake in EV battery maker Guoxuan High-tech. This shows that the #1 Foreign OEM in China is willing to make serious long term commitment to Chinese EV market
In US, Tesla accounted for 80% of batteries in GWh used in EVs in 2019. Li ion NCA (Nickel Cobalt Aluminium) chemistry is used with research on decreasing the amount of Cobalt used. Since Tesla deploys bigger battery packs than average and were also responsible for 60% of the electric vehicle sales they held 80% of the batteries deployed in terms of capacity
In Europe, the suppliers include CATL,BYD,LG Chem, Samsung SDI, SK Innovation, Farasis and NorthVolt. All of them are establishing factories in various parts of Europe to supply to all the OEMs conveniently and without delays
In Commercial vehicles, electric vans in Europe and Electric buses in China are the biggest volume drivers. Vans comprise almost 90% of Europe`s LCV market (2.2 Million units per annum), highest globally and Electric van share in 2019 was just 1%. In China Electric bus share in new car sales was 15% in 2019
Download sample- http://bit.ly/evbaty
GLOBAL ELECTRIC VEHICLE BATTERY MARKET TRENDS
The battery manufacturers have set up joint ventures with various OEMs and other firms to supply batteries for automobiles and also for battery recycling to be used later after refurbishing. CATL, Panasonic have tie ups with Tesla, Changan and other OEMs. BYD has its own battery manufacturing unit to supply to their own vehicles and also to supply to other OEMs
Battery plants being set up close to the automobile plant is the current trend. Li ion batteries will be used for the next decade as no other technology is mature yet. Batteries with increased energy density is also on the rise. OEMs will also look into developing their own battery manufacturing plants.
Suppliers will look to establish a robust supply chain with increased manufacturing to decease the unit price Concerns regarding origin of raw material will also have to be addressed by the suppliers thereby bringing about transparency in the supply chain
The price of the Li and Carbon have increased over the last 10 years. The battery pricing is subject to the raw material supply too. If the raw material supply reaches bottleneck and cannot keep up with the demand the battery prices will rise disrupting the industry
Current growth is in NMC technology which is growing market share among EV batteries. This isn't as mature as the lead acid battery market and is currently subject to changes as development takes place
Download sample- http://bit.ly/evbaty
COMPANY PROFILES
LG Chem, Ltd
Contemporary Amperex Technology Co. Ltd (CATL)
BYD Company Limited
SK Innovation Co., Ltd
Panasonic Corporation
Microvast Power Systems Co. Ltd
Envision Group
Automotive Energy Supply Corporation
Funeng Industrial (Ganzhou) Co., Ltd
Tianjin Lishen Battery Joint-Stock Co., Ltd
Samsung SDI Co., Ltd
Guoxuan High-Tech Co., Ltd
THIS ELECTRIC VEHICLE BATTERY MARKET REPORT WILL ANSWER FOLLOWING QUESTIONS
Electric Vehicle battery Market size and Forecast (kWh and $Million), by region, by vehicle type and vehicle segment
Average B-2-B price for Electric Vehicle battery market, by region, by vehicle type
Technology trends and related opportunity for EV battery manufacturers
Electric Vehicle battery market share of leading vendors, by region, by product segment
OE-supplier alignment in Electric Vehicle Battery Market, by region
Media Contact
Company Name: Mobility Foresights
Contact Person: Kunal Roy
Email: Send Email
Phone: +1-315-675-4056
Address:P3 & P4, HAL 3rd Stage 204,56/2
City: Bangalore
State: Karnataka
Country: India
Website: https://mobilityforesights.com/