De Mel lawyer firm in Melbourne is still working remotely even after the announcement of the CO-VID 19 pandemic, to ensure their clients a better service for all their immigration necessities.
Now De Mel lawyers are allowing their clients a claim to their rights, and give more assistance to those in need of visas and important legal activities regarding visa applications.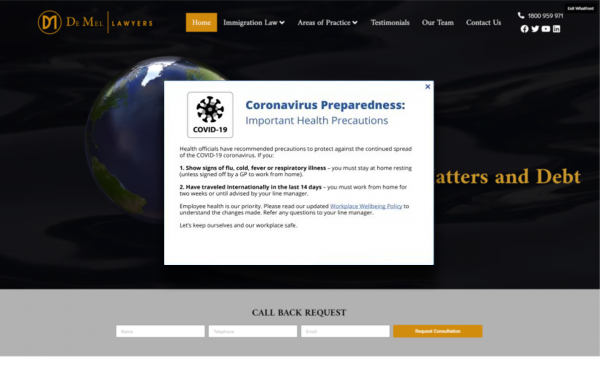 Due to the whole pandemic, immigration lawyers in Melbourne have been trying newer and better ways to assist and guide a lot of stressed-out citizens, in terms of work visas, student visas and visitor visa even matters like citizenship.
They offer consultations for industrial solutions which are safe and sustainable to their clients and are reliable in all their proposals.
A satisfactory statement was given by one of their clients with whom De Mel Lawyers worked closely – Russel J Painter says:
"I have known Malintha De Mel for a number of years now both as a friend and in his capacity as a solicitor. He acted for me in a migration matter and during that time, he was always very careful to ensure that I knew what he was doing, the risks and possible outcomes of his actions and any delays that may occur. The work was completed effectively and with a positive outcome. I have no hesitation at all in recommending him to a client. On a personal basis, he is a man of integrity and honour and I value the friendship of both himself and his family. I wish him well in his future activities."
De Mel Lawyers are committed to helping with legal solutions to those who are wanting to migrate to Australia. They also offer pro bono services which can help those struggling in terms of monetary issues.
Immigration law, here at De Mel Lawyers cover a wide range of different facilities which allow clients to choose from working visas, visitor visas, skilled visas, student visas, family visas, visa cancellation, citizenship matters, corporate migration, resident return visas ministerial intervention requests, business visas, humanitarian visas, distinguished talent visas and many more…
To visit an immigration lawyer for all your legal advice and activities that you need to sort out. Now you can log on to their website – https://www.demellawyers.com.au/
Hurry for more information you can contact them on 1800 959 971
Media Contact
Company Name: De Mel Lawyers
Contact Person: Malintha De Mel
Email: Send Email
Phone: 1800 959 971
Address:Suite 504, No: 434 St Kilda Road
City: Melbourne
State: Victoria 3004
Country: Australia
Website: https://www.demellawyers.com.au/