Talented singer and guitarist, Chris Ruben, regroups The Chris Ruben Band, a funk/rock band that is poised with disrupting the music scene with their unique style of music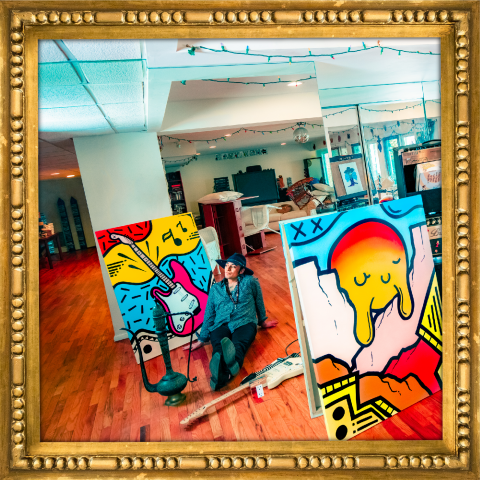 It is looking like the dawn of a new beginning for lovers of rock and music enthusiasts across the globe, as the multifaceted entertainer, Chris Ruben regroups The Chris Ruben Band. The Long Island funk/rock band consists of five talented acts committed to disrupting the status quo and providing fans with banging tunes as psychedelic/funk-rock hits the forefront.
The music industry has seemingly spearheaded the series of evolutions witnessed in the world of entertainment in recent times. Different stakeholders have used their creativity and ingenuity to provide amazing songs to quench the thirst of music lovers worldwide. One music genre that seems to have been affected negatively by the revolution is rock. Over the years, the popularity of rock music seems to have diminished, with other music genres taking over the music scene. However, the beauty of rock music cannot be overemphasized even with the somewhat domination of the likes of urban hip-hop and other such music genres. One band that is looking to bring back the lost glory of the music genre, thanks to their originality, is The Chris Ruben Band.
"This is just the beginning of much more to come, and it's coming very soon," said Chris Ruben.
The new front can be likened to a rebirth of the group that was originally put together in 2014 by Ruben. Over the years, Chris Ruben has rejigged the composition of the band, adding and replacing the members to get the best possible lineup. The band is already making waves across the globe, with their singles titled "Cold Shoulder" and "Stomach Coil" giving music lovers the fusion of funk and rock that has helped The Chris Ruben Band carve a niche in the industry.
The Chris Ruben Band currently consists of Chris Ruben, a singer, songwriter, and guitarist, Brendan Allan, a talented bassist, and the extraordinary Russ Benjamin, a super-duper drummer who feeds off an eclectic mix of metal, prog rock, and jazz fusion influences to deliver his unique style. Other members of the family are the Iovine twins, Eugene and Frank, who play a big part in modernizing the band's sound with their amazing talent on the keyboard.
For more information about The Chris Ruben Band and their fantastic songs, please visit – www.thechrisrubenband.com. The band also has a relatively strong presence on social media and can be found on Facebook and Instagram.
Media Contact
Company Name: The Chris Ruben Band
Contact Person: Christopher David Ruben
Email: Send Email
Country: United States
Website: www.thechrisrubenband.com