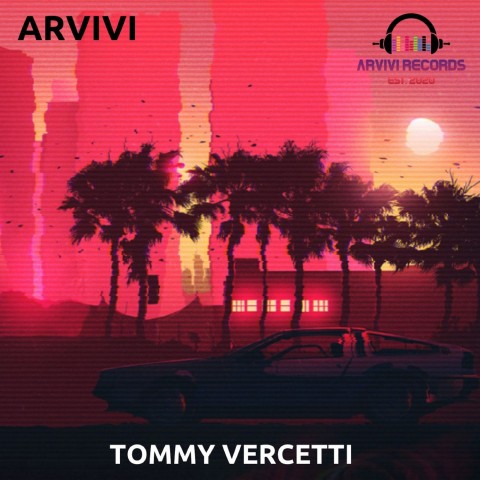 Arvivi is a melophile and a multifaceted artist who creates astounding music. Inspired by watching musicians on the internet in 2017, Arvivi decided to give music a try. To him, making music to which he can connect first is important, the rest just follows. Arvivi recently released his latest single titled "Tommy Vercetti", which has received widespread love and appreciation from people across the globe. His music is the kind you would want to hear on loop without getting bored of it. This is the magic of Arvivi's music that no one can stay away from for too long.
Interviewer: What made you enter the music industry and how did you do so?
Arvivi: In 2017, I watched a lot of musicians on YouTube, remaking original songs with synthesizers. Inspired by that, I bought my own little synthesizer back then. It was a Novation MiniNova, and it taught me how synthesizers & music works. Later, I felt the need for a big studio synthesizer but realized that they were very expensive, so I instead searched for emulators or Vst plugins that sounds the same. I eventually found Analog Lab 4 FromArturia, on which I to date create all my music, with a midi keyboard and a gaming laptop.
Interviewer: Tell us about the artists that inspire you the most
Arvivi: I am mostly inspired by 3 artists in particular- Michael Jackson, because of his all-round performance, lyrics, and beats that are from another planet; Dr. Dre, because of his legendary beats and lyrics; and lastly, Giorgio Moroder, because I love synthesizers, and he is the king of it. I am also fond of hip-hop group N.W.A., and the Dutch rapper Lijpe.
Interviewer: Have you ever been played live on a musical platform?
Arvivi: Yes, in fact, a few times on iheart Radio.
Interviewer: Why did you choose to make music in the genre you are currently in?
Arvivi: I wanted to make music that I would want to hear and feel and my current genre is doing justice to it. The Bassline to me is very important which is evident in the music I create. It sets the vibe of the song.
Interviewer: Tell our readers more about your latest project "Tommy Vercetti"
Arvivi: My latest project called "Tommy Vercetti" is inspired by GTA Vice City. I wanted to make a record I believe will fit in the gaming atmosphere.
Interviewer: Describe your music-making process for our readers.
Arvivi: It's a crazy thing. I work mostly with a keyboard and my laptop, and every time I think of a melody, I make a sample of it. After some time, probably hours or days, I measure the bpm and look for drums, leads, keys to combine them to one song. Sometimes, I just ask some friends to make weird noises and I put them through a compressor, or edit the background sounds and play them through a synthesizer on my laptop to create new sounds. There is no limit to what you can do with music.
Interviewer: How has your music evolved since you first started making it?
Arvivi: It has improved dramatically. The first few songs I've created were not as fine as they are now because I had just started, but after months of questioning people on how to improve my style, I finally think I've found what I like and now I'm pleased with the outcome.
Interviewer: What do you want to achieve as an artist?
Arvivi: I want to grow my record label and myself as an artist and become a source for other musicians to start their careers, to help them grow and reach to whatever place they want to with their music.
Media Contact
Company Name: Arvivi Records UK LTD.
Contact Person: R.V.V.
Email: Send Email
Country: United Kingdom
Website: ditto.fm/tommy-vercetti