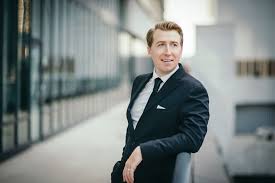 Gifted international opera singer, Joshua Dennis, is set to release a book as well as a new voice lesson program called the "21 Day Sing Every Day Challenge". The book, which is yet to be published, is titled: "How To Get High: The key to escaping vocal prison and making singing your happiness again".
The book—which is a precursor to the 21 Day Sing Every Day Challenge—is about Joshua's journey from losing his voice on the biggest opera stages to finding vocal freedom again and saving his singing career.
Reminiscing on the events that inspired the book and the voice lesson program , Joshua recalled: "You see, when I started in the opera world, I was at the top of my game. I worked so hard that I had a vocal crisis and lost my high notes. But then I met up with a mentor who taught me basic singing fundamentals in a way I had never heard of before. He laid out precisely what to do to not only get my voice back into shape but to sing better than I ever thought I could!
What Happened Next Blew My Mind!! I went from not being able to sing high notes any more to singing this high C in front of thousands and thousands of people".
With commitment, the technique worked for Joshua Dennis, so much so that he performed the national anthem at the Spurs Playoff game in front of 18,000 people! This is why Joshua created the 21 Day Sing Every Day Challenge, to impact what worked for him on others.
According to Joshua: "This voice lesson program is a proven process to singing higher notes, more vocal control, better breath support, without spending thousands on voice teachers (even if you've studied with the best) all just for $99".
Interested participants will look forward to:
21 Days of step by step action plans.
No Confusion ever. Just the exact plan they need to follow.
Support and accountability.
Proven to work for Opera Singers and Musical Theater Singers.
The secret position needed to sing better in 21 days (this never fails)
Joshua Dennis revealed he'll teach the course LIVE because he plans on selling it as an on-demand digital course in the future.
Joshua has sung on some of the world's biggest stages, and his performances have attracted rave reviews from notable brands and personalities. According to a review by Opera News: "Dennis sang with voluptuous, elegant tone in the tradition of Fritz Wunderlich, negotiating Tamino's occasionally perilous tessitura without any loss of warmth or grace."
Media Contact
Company Name: Voice Lesson
Contact Person: Joshua Dennis
Email: Send Email
Phone: 469-400-0780
Country: United States
Website: www.joshuadennisvoice.com