DelveInsight's "Sjogren's Syndrome Market Insights, Epidemiology, and Market Forecast-2030" report delivers an in-depth understanding of the Sjogren's Syndrome, historical and forecasted epidemiology as well as the Sjogren's Syndrome market trends in the United States, EU5 (Germany, Spain, Italy, France, and United Kingdom) and Japan.
Sjogren's syndrome (SS) is a chronic autoimmune rheumatic disease with specific predisposition for causing inflammation of the exocrine glands, predominantly the salivary and lacrimal glands, including the nose, upper respiratory tract, oropharynx and the vagina in women.
Some of the key facts of the report:-
* As per DelveInsight estimates, total cases of Sjogren's syndrome (SS) in the 7MM was found to be 3,270,396 in 2017.
* Among all the countries, the United States accounts for higher population of Sjogren's syndrome (SS) with 1,676,238 cases in 2017.
* Among the EU5 countries, UK had the highest diagnosed prevalent population of Sjögren's syndrome followed by Germany. On the other hand, Spain had the lowest prevalent population.
* As per DelveInsight estimates, among the 7MM, Japan had the lowest diagnosed prevalent population of Sjögren's syndrome in 2017.
* Females are more prone to SS than males in all countries. In 2017, there were 167,624 prevalent cases of Sjögren's syndrome in males and 1,508,614 prevalent cases in females.
Scope of the Sjogren's syndrome Market Report
The report covers the descriptive overview of Sjogren's Syndrome, explaining its causes, signs and symptoms, pathophysiology, diagnosis and currently available therapies
Comprehensive insight has been provided into the Sjogren's Syndrome epidemiology and treatment in the 7MM
Additionally, an all-inclusive account of both the current and emerging therapies for Sjogren's Syndrome are provided, along with the assessment of new therapies, which will have an impact on the current treatment landscape
A detailed review of Sjogren's Syndrome market; historical and forecasted is included in the report, covering drug outreach in the 7MM
The report provides an edge while developing business strategies, by understanding trends shaping and driving the global Sjogren's Syndrome market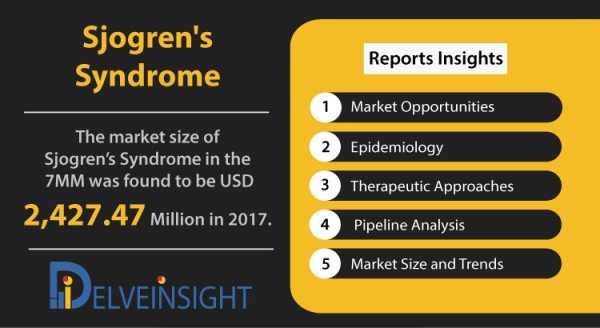 Currently, the therapeutic market size of Sjögren's syndrome is mainly accounted by symptomatic treatment using the local therapies like pilocarpine, cevimeline, topical fluoride, topical cyclosporine, autologous serum eye drops, and, systemic therapies like corticosteroids, hydroxychloroquine, immunosuppressants (Methotrexate (MTX), Cyclosporine A, Azathioprine, Leflunomide, and Mycophenolic acid). Moreover, biological therapy with Rituximab is in extensive use for the US market.
Local therapy generally includes the treatment of sicca symptoms. For the treatment of dry eyes, tear substitution therapy consisting of high-viscosity eye drops and gels, in combination with oral mucolytic agents to dissolve mucus, is the mainstay treatment. Patients with Sjögren's syndrome associated severe or refractory keratoconjunctivitis sicca might require a short-term course of topical anti-inflammatory agents such as topical cyclosporine. In most refractory cases, autologous serum eye drops, and temporary occlusion of the puncta are used.
Table of contents
1. Key Insights
2. Executive Summary of Sjogren's Syndrome
3. Competitive Intelligence Analysis for Sjogren's Syndrome
4. Sjogren's Syndrome: Market Overview at a Glance
5. Sjogren's Syndrome: Disease Background and Overview
6. Patient Journey
7. Sjogren's Syndrome Epidemiology and Patient Population
8. Treatment Algorithm, Current Treatment, and Medical Practices
8.1. Sjogren's Syndrome Treatment and Management
8.2. Sjogren's Syndrome Treatment Algorithm
9. Unmet Needs
10. Key Endpoints of Sjogren's Syndrome Treatment
11. Marketed Products
12. Emerging Therapies
13. Sjogren's Syndrome: Seven Major Market Analysis
14. Attribute analysis
15. 7MM: Market Outlook
15.1. United States: Market Size
15.1.1. Sjogren's Syndrome Total Market Size in the United States
15.1.2. Sjogren's Syndrome Market Size by Therapies in the United States
15.2. EU-5 countries: Market Size and Outlook
15.3. Germany Market Size
15.3.1. Sjogren's Syndrome Total Market Size in Germany
15.3.2. Sjogren's Syndrome Market Size by Therapies in Germany
15.4. France Market Size
15.4.1. Sjogren's Syndrome Total Market Size in France
15.4.2. Sjogren's Syndrome Market Size by Therapies in France
15.5. Italy Market Size
15.5.1. Sjogren's Syndrome Total Market Size in Italy
15.5.2. Sjogren's Syndrome Market Size by Therapies in Italy
15.6. Spain Market Size
15.6.1. Sjogren's Syndrome Total Market Size in Spain
15.6.2. Sjogren's Syndrome Market Size by Therapies in Spain
15.7. United Kingdom Market Size
15.7.1. Sjogren's Syndrome Total Market Size in the United Kingdom
15.7.2. Sjogren's Syndrome Market Size by Therapies in the United Kingdom
15.8. Japan Market Outlook
15.8.1. Japan Market Size
15.8.2. Sjogren's Syndrome Total Market Size in Japan
15.8.3. Sjogren's Syndrome Market Size by Therapies in Japan
16. Access and Reimbursement Overview of Sjogren's Syndrome
17. KOL Views
18. Market Drivers
19. Market Barriers
20. Appendix
21. DelveInsight Capabilities
22. Disclaimer
23. About DelveInsight
Media Contact
Company Name: DelveInsight
Contact Person: Priya Maurya
Email: Send Email
Phone: +919650213330
City: Albany
State: New York
Country: United States
Website: https://www.delveinsight.com/