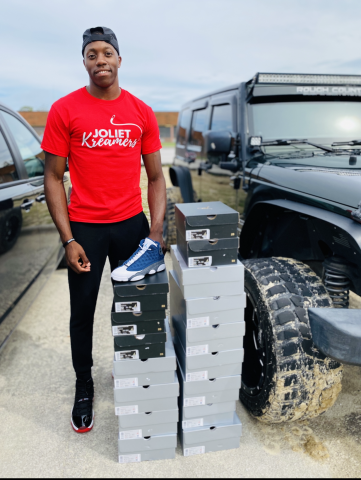 Meet Tyrell Hundley a 21 years old marine and entrepreneur, who is also the author of the amazing book called "A kid with sneakers and a dream". This enthusiastic young man owns an outstanding brand, Joliet Kreamers, and his mission is to inspire others to become their better selves. Both of his story and his personality are truly unique and in this article we want to share his biography in order to set a great example to everyone who has been dreaming of becoming an entrepreneur and want to live a better and more independent life. His motto is "Be An Inspiration" and we can honestly say that he is already an inspiration for many people and this is just the beginning.
From a Facebook Group To A $ 34,000 Business – The Story Of Joliet Kreamers
Tyrell Hundley was only 14 years old when he decided that he will make his dream come true and will create a brand called Joliet Kreamers.
How did this start? He has always been in love with sneakers and he always wanted to connect his passion with business. When he realized that he is able to do that he did not hesitate and created a Facebook group for sneaker enthusiasts with his friend John Pizano. This was the moment when his brand Joliet Kramers was born.
His Facebook group was created in 2014 in order to collect those sneaker owners and sneaker lovers who wanted to exchange or sell their specific shoes, or who were looking for a specific type of sneaker. What is more, he also collected some unique pieces and sold them to their audience, but most importantly they created a community with an active target audience who was ready to buy and sell. Furthermore, they were able to share their knowledge, for instance, shoe cleaning tips with each other.
Nowadays, most of the brands are not able to maintain an active and caring target audience, moreover, they are not able to maintain a real community that cares. But Tyrell proved that with a huge amount of empathy and a great business sense he was able to do that, although he was only 14 years old.
Their Facebook group, Joliet Kreamers (Official Group), is rocking since then and has around 5000 active members and this number is growing constantly. Additionally, they have an Instagram account, called @jolietkreamers, for years now where they post the latest news about their brand.

Last year, Joliet Kreamers social media sites became extremely popular and Tyrell decided to take the next step and he created a website for his brand. Now the brand extended its services to buying, selling, and trading sneakers. What is more, the sneaker enthusiasts can not only find those pair of shoes which are on the market, but they are also informed about the new releases of a specific type of shoe.
This amazing brand had a specific journey and we did not even mention that they have their own clothing line and shoe cleaning products too. All of these and their currently available sneakers can be found and can be purchased on their website jolietkreamers.com.
What will be this brand's next big step or development? We do not know yet, but we are sure that it will be amazing. Until then let's move on to Tyrell Hundley's outstand book while reading the brand's motto which represents its owner clearly:
"Rock What You Like" – Joliet Kreamers
A Kid With Sneakers And A Dream
2018 was an exciting and also a special year for Tyrell. He was driving from his hometown Joliet, IL to go back to his military base in North Carolina when he decided to write a book that inspires others to become better versions of themselves and helps them achieve their goals even if nobody believes that they are capable of that.
"I kept asking myself, what else can I do, I feel as if there's more that I need to do. I felt as if God grabbed me and said write a book and inspire everyone." – says Tyrell.
He wrote his book with true passion and with a very specific purpose: he wanted to help people to become entrepreneurs. In his book, he shares his knowledge with those who have an open heart and who really want to take the necessary steps to change their life. He believes that "Everybody has goals, aspirations, and everybody has been at a point in their life, where nobody believed in them. In the book, you'll understand the importance of setting dreams and goals whether that's a Short-Term or Long-Term. If two kids could do it, anyone can do it."
We must highlight that those lines above are completely honest and true. What is more, in his book Tyrell not only shares his experience in being a successful entrepreneur but we can also feel that he truly beliefs that people are able to achieve their goals and can create a better life for themselves.
With writing this book Tyrell Hundley created an outstanding value that has to be read by every single person who needs daily inspiration or wants to change his or her life.
"A kid with sneakers and a dream" is available on Amazon (both ebook and paperback formats are available), on barnesandnoble.com (only ebook format), and on jolietkreamers.com (only paperback format).
What Is This Successful Entrepreneur's Next Step?
Tyrell is in the military at the moment but will get out of it the next year in July, but he already has plans for that period. With his friend John Pizano, he is planning to build a plaza.
Until then Tyrell continues inspiring others by sharing his amazing thoughts on his social media accounts. His quote is that "God will open doors for me and I will lay that door down as a ramp to allow others to come upon" and we must say that he has been doing this for a long time and will continue in the future.
Media Contact
Company Name: Joliet Kreamers
Contact Person: Tyrell Hundley
Email: Send Email
Phone: 8159991958
Country: United States
Website: https://jolietkreamers.com