(ALBANY, US) Delveinsight has launched a new report on Synovial sarcoma Epidemiology
DelveInsight's 'Synovial sarcoma Epidemiology Forecast to 2030' report delivers an in-depth understanding of the disease, historical and forecasted Synovial sarcoma (SS) epidemiology in the 7MM, i.e., the United States, EU5 (Germany, Spain, Italy, France, and the United Kingdom), and Japan.
Synovial sarcoma (SS) is a rare malignancy of mesenchymal origin, accounting for approximately 8–10% of all soft tissue sarcomas (STS). Despite its name, synovial sarcoma is not related to the synovial tissues that are a part of the joints. The disease starts most commonly in the legs or arms, but can appear in any part of the body. Being a high-grade tumor, it spreads to distant sites in about half of the cases. Synovial sarcoma is generally divided into three histological subtypes: monophasic, biphasic, and poorly differentiated.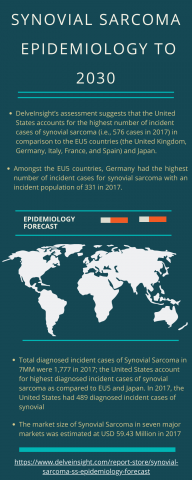 Request for Free Sample Page:- https://www.delveinsight.com/sample-request/synovial-sarcoma-ss-epidemiology-forecast
The exact underlying cause of synovial sarcoma is poorly understood. However, studies indicate that translocation between chromosome X and chromosome 18 appears to play a role in the development of synovial sarcoma. This translocation is specific to synovial sarcoma and is often used to diagnose the condition. In the early stages of the condition, synovial sarcoma may cause no noticeable signs or symptoms but as the tumor grows larger, affected people may notice a lump or swelling. In some cases, the tumor can limit the range of motion or cause numbness and/or pain if it presses on nearby nerves.
Key facts of the report
Delveinsight's assessment suggest that the United States accounts for the highest number of incident cases of Synovial Sarcoma(i.e. 576 cases in 2017) in comparison to the EU5 countries (the United Kingdom, Germany, Italy, France and Spain) and Japan
Amongst the EU5 countries, Germany had the highest number of incident cases for synovial Sarcoma with an incident population of 331 in 2017]
The United states account for highest diagnosed incident cases of synovial sarcoma as compared to EU5 and Japan in 2017, the United States had 489 diagnosed incident cases of synovial sarcoma
Scope of the Report
The report covers the descriptive overview of Synovial Sarcoma , explaining its causes, signs and symptoms, pathophysiology, diagnosis and currently available therapies
Comprehensive insight has been provided into the Synovial Sarcoma epidemiology and treatment in the 7MM
Additionally, an all-inclusive account of both the current and emerging therapies for Synovial Sarcoma are provided, along with the assessment of new therapies, which will have an impact on the current treatment landscape
A detailed review of Synovial Sarcoma market; historical and forecasted is included in the report, covering drug outreach in the 7MM
The report provides an edge while developing business strategies, by understanding trends shaping and driving the global Synovial Sarcoma market
Table of content
1. Key Insights
2. Executive Summary of Synovial sarcoma (SS)
3. Synovial sarcoma (SS): Disease Background and Overview
4. Patient Journey
5. Epidemiology and Patient Population
6. Treatment Algorithm, Current Treatment, and Medical Practices
7. KOL Views
8. Unmet Needs
9. Appendix
10. DelveInsight Capabilities
11. Disclaimer
12. About DelveInsight
Related Reports
Synovial Sarcoma Market Insight, Epidemiology and Market Forecast -2030
Synovial Sarcoma – Pipeline Insights, 2020
Media Contact
Company Name: DelveInsight Business Research LLP
Contact Person: Yash Bhardwaj
Email: Send Email
Phone: +919650213330
Address:304 S. Jones Blvd #2432
City: Las Vegas
State: NV
Country: United States
Website: https://www.delveinsight.com/