July 18, 2020 – "Excuse Me 2: A Roller Coaster Journey of my Life", with over 500 stories and photographs, is a five-star read, a five-star piece of history. Norris Allen Sr. has been in the thick of the Black movement for decades and has now penned down all of the action and experiences, the highs and the lows, in this extraordinary tale that would become a valuable historical document in the times to come.
The origins of the title "Excuse Me" are interesting. When he was a little kid, Norris' mother, Annie Mae Allen, saved him from being crushed under an upcoming car, and keeping her hand on the car's hood, said, "Excuse me," before walking back across the road with Norris.
By twelve, Norris had become outspoken, and his mother feared for him. A few days before Rosa Parks made history by sitting on the front row of a bus in 1955, Norris had retaliated against a white boy who had dropped the 'N' word.
"I am a person that has presented myself to the call of serving others in their community. My main focus and goal were to encourage the youth to prepare for the future. Don't let your past kill your future. When someone gets in your way, just say to them "excuse me" and stay focused on your mission," says Norris Allen Sr.
"Excuse Me 2" has the first National Holiday of Dr. Martin Luther King, Jr. It also covers the entire civil rights movements across five decades, along with 50 icons, pictures, and stories of people involved. In all, there are over 500 stories, all true and real. Several pages are devoted to the first Martin Luther King, Jr. National Holiday and there are pictures of Daddy King and others at the first celebration in Atlanta, GA, in January 1986. In terms of geography, the book spans two continents and six countries. Not to be missed are the details of the late Michael Jackson and his European tour.
Norris has been an innovator, a hard-working entrepreneur, community leader, and a church leader. In the book, he talks about the three powers that rule the world. The work is also a great Black and diversity legacy history book. Perhaps its most important part is the story of Emmitt Till's life that was cut short.
Norris Allen, Sr. has accumulated many rewards and recognitions. He received a Congressional Record in 2012. He has served over fifty years as Marshal on the MLK National Holiday parades. A lifetime member of the Southern Christian Leadership Conference, he has served over thirty years as a security cadre for Mrs. Coretta Scott King under the leadership of the top security person, the late Rev. James Owens. He was also on CBS News with Barack Obama on his campaign trail.
"Jesus Christ and my wife, Gladys, are the best things that ever happened to me on this extraordinary journey. If you don't think so, excuse me. I do."
"Excuse Me 2: A Roller Coaster Journey of my Life" by Norris Allen Sr. is available from Amazon.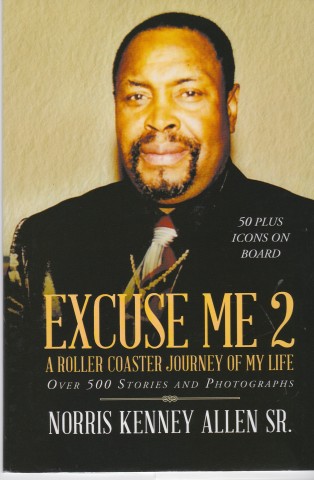 Media Contact
Company Name: Global Summit House
Contact Person: Anna Reid
Email: Send Email
Country: United States
Website: https://www.amazon.com/Excuse-Me-Coaster-Journey-Photographs-ebook/dp/B07R3FJTJB/ref=sr_1_1?dchild=1&keywords=norris+allen+sr+Excuse+Me+2%3A+A+Roller+Coaster+Journey+of+my+Life+over+500+Stories+and+Photographs&qid=1591804513&s=books&sr=1-1