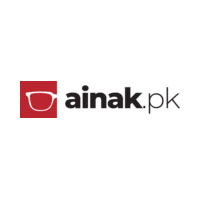 High quality glasses, sunglasses and eyewear are often hard to come by. While looking for luxury designs, customers often feel like they need to pay more than they can afford. This is why Ainak.pk has become such a rising option lately in Pakistan. The online store has been providing high quality and luxury designs at highly affordable rates and prices.
Offering everything from eyeglasses frames for men and women, regular to prescription sunglasses, contact lenses and eye lenses travel kits, the store's collection of eyewear is nothing short of vibrant. The online store is often the place to go to, for any of one's eyeglasses or sunglasses needs. Over a few years, their hard work has yielded them a consistent and loyal base of customers in Pakistan and all over the world who consider them to be the premier choice for eyeglasses, sunglasses and contact lenses.
Due to the recent restrictions imposed as a result of COVID-19, many businesses have had to temporarily shut down in Pakistan. However, Ainak.pk is now pleased to state that their services are continuing and will do so for the foreseeable future.
Despite some minor disturbances in delivery timings, the company has been soaring through their orders, and providing on their known high standard. It is because of this consistency and dedication that Ainak.pk has become one of Pakistan's leading online stores for eye wear and prescription lenses. The store has consistently put a focus on high-quality goods and services. This is what has allowed them to operate with such finesse in difficult circumstances like the ones right now.
As such, Ainak.pk has kept offering customers with the utmost convenience and quality even during lockdowns. With an ever-expanding collection of high quality goods, they are now among the leading Pakistani online stores to offer such affordable rates and convenience for eyeglasses, frames, sunglasses and contact lenses. Hoping to continue providing on the same standard, they are closely monitoring their services during this period to avoid any issues.
About Ainak.pk:
This is an online store based in Pakistan that sells high-quality eye wear and contact lenses. The store has a vibrant collection of Sunglasses in Pakistan for both men and women. In addition to this, they have contact lenses by various companies and best-selling brands. Ainak.pk has become a consistent seller of high-quality goods. The prices are also affordable, especially when compared to alternatives. The convenience they offer to their customers has put them on top countless times and continues to make them the go-to option for many people.
For more information: https://ainak.pk/
Media Contact
Company Name: Ainak.pk
Contact Person: Usman Jalal
Email: Send Email
Phone: +92 322 570 5757
Address:(Wholesale Outlet) Amir Opticals – Shop # 1, Al-Masoom Center Ainak Market, Shah Alam
City: Lahore
State: Punjab
Country: Pakistan
Website: https://ainak.pk/