HealthLynked Corp. (OTCQB: HLYK) has officially launched its educational website, HealthLynked University, to provide a wide range of informative content for both healthcare providers and patients. The site contains educational videos covering topics such as asthma, measles, nephrotic syndrome, lymphoma, hypertension, and diabetic ketoacidosis, as well as over 90 videos on COVID-19 alone.
Once physicians have claimed their free HealthLynked profile they will have access to the educational video library. Additional content and continuing medical education credits (CMEs) will be available to all in-network and preferred providers. Patient members can access educational content once they have created a free account, connecting them with content on a wide range of medical conditions and prescription medications.
The HealthLynked University has formed a partnership with MedCram, an online educational service for healthcare providers that provides unique videos on complex medical subjects in concise, easy-to-understand lectures. The company noted substantial interest from fellow healthcare providers wishing to create original and informative educational content for both patients and healthcare providers. The partnership with MedCram provides HealthLynked with a considerable library of educational material.
The HealthLynked University educational library can be viewed at www.education.healthlynked.com.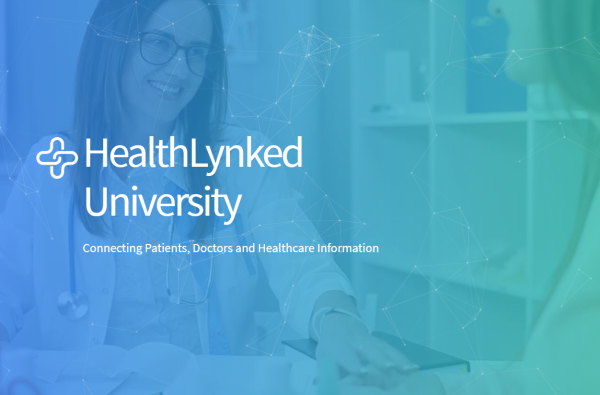 An Expanding HealthLynked Data And Information Universe
HealthLynked is a global healthcare network focused on member care management while providing healthcare technologies that connects doctors, patients, and medical data. It The network also facilitates a patient-centered healthcare medical record system and platform that provides personalized medical recommendations using artificial intelligence (AI).
Specifically, HealthLynked helps users tackle some of the biggest problems in the healthcare system. By identifying existing limitations in the doctor-patient relationships, HealthLynked provides a more efficient way to find appropriate healthcare providers, schedule appointments, and improve slow check-in times. It also provides record mobility and access, management of other family members healthcare, and efficient marketing of healthcare-related services. HealthLynked believes that the company's improvements in these areas will lead to revolutionary changes in how healthcare is delivered, ultimately benefiting us all.
At its core, the HealthLynked Network is an encrypted, cloud-based healthcare network that offers features, resources, and services to both doctors and patients. It allows both groups to create and sign in to their personal health account via the company's website at healthlynked.com or by using the HealthLynked mobile application.
Once an account is established, users can search for healthcare providers by location and specialization. More than 800,000 healthcare providers in the US and roughly 7,000 hospitals are part of the HealthLynked network directory, allowing patients to research, find and decide which provider they will see. If the physician is a HealthLynked In-Network Provider, patient members can "lynk" to those providers, request an appointment (or see available booking times if the doctor has enabled that feature), and share their personal medical records.
The HealthLynked platform is different from other online services in that patients can share Personal Health Records (PHR) with the doctors (or friends or family members) of their choosing over the encrypted network. Medical records kept by healthcare providers are protected under the Health Insurance Portability and Accountability Act of 1996 (HIPAA), and files can only be shared at the written request of a patient to do so. Such approvals and procedural safeguards patient privacy, but they also add a lot of time that can cause long delays in medical treatment.
However, Personal Health Records (PHR) are not governed by HIPAA regulations. They are owned by the patient, who can freely decide what to do with them. HealthLynked provides a solution to sharing limitations by allowing patient members to store their Personal Health Records and share them over the HealthLynked Network with a provider, or other person, of their choosing.
By making the transfer and sharing of medical records quick, legal, and secure, while still keeping them protected, patients will be able to receive emergency care immediately and without potential complications. Also, efficient data sharing leads to less wait times, a better experience with improved outcomes, and increased access to quality healthcare professionals.
Annual Summit Planned
HealthLynked announced an annual healthcare summit to take place in Naples, Florida. The three-day event will feature informative lectures by healthcare providers from around the country that will be recorded and the videos added to the HealthLynked University Website. Non-healthcare professionals will be invited to attend specified lectures on the changing landscape of healthcare.
The event will feature innovative thought leaders in healthcare that will participate in a series of lectures and lead the discussion on the future of healthcare. It will also highlight the benefits of how preferred providers can utilize HealthLynked's marketing tools to connect with both active and inactive patients to improve patient retention. Additionally, they will learn how to access more accurate and current patient information, provide more efficient online scheduling and to fill last-minute cancellations using "real-time appointment scheduling" all within the company's mobile application.
A New Generation Of Medical Records Solutions
HealthLynked is seizing upon a significant opportunity, noting that 30% of physician practices in the US still do not use an electronic health record system. Also, with more than 500 different electronic health records systems in the US and connectivity among these systems non-existent, HealthLynked is building once network to connect them all. The HealthLynked Network allows for patients and doctors to have a place to share medical records and related data is quick and efficient way.
Also, the HealthLynked Network has the ability to revolutionize the healthcare industry's economics and efficiencies by offering a modern, accessible, and cost-effective system. As a result, better health will become an attainable reality for individual patients and, by extension, the population at large.
Heading into the back half of 2020, the company is growing its revenue base and is projecting that the HealthLynked Network will increase by thousands of physicians and millions of patients by the end of 2020. The company also has plans to up-list to NASDAQ by late 2020.
The dividends from building a thriving platform take time. But, once the pieces are in place, the results can cause a dramatic and powerful shift in company momentum. At HealthLynked, the past two years have positioned the company for a transformative change. The next few quarters may be the most powerful in the company's history.
Disclaimer
This communication was produced by PCG Digital Holdings, LLC, and affiliate of PCG Advisory Inc., (together "PCG"). PCG is an integrated investor relations, communications and strategic advisory firm. The information contained on this may be 'Paid Advertising' for purposes of Section 17(b) of the Securities Act of 1933, as amended (together with the rules and regulations there under, the "Securities Act"). PCG may be compensated by respective clients for publicizing information relating to its client's securities. For more information in terms of compensation received for services provided by PCG, see the pertinent advertising materials relating to the respective client. By accessing this Site and any pages thereof, you agree to be bound by the Terms of Use and Privacy Policy.
PCG is not a registered or licensed broker, dealer, broker-dealer, investment adviser nor investment manager, nor does PCG engage in any activities that would require such registrations. PCG does not provide investment advice, endorsement, analysis or recommendations with respect to any securities, and its services to or statements about its clients should never be construed as any endorsement of or opinion about any security of any client. No information contained in this communication constitutes an offer to sell, a solicitation of an offer to buy, or a recommendation of any security or any other similar product or service regardless of whether such security, product, or service is referenced in this communication. Further, nothing in this communication is intended to provide tax, legal, or investment advice and nothing in this communication should be construed as a recommendation to buy, sell or hold any investment or security or to engage in any investment strategy or transaction. For full disclaimers, including compensation received for professional services, please visit www.pcgadvisory.com/disclosures
Media Contact
Company Name: PCG Digital Holdings
Contact Person: Kenny Ellis
Email: Send Email
City: New York
State: New York
Country: United States
Website: https://pcgadvisory.com/