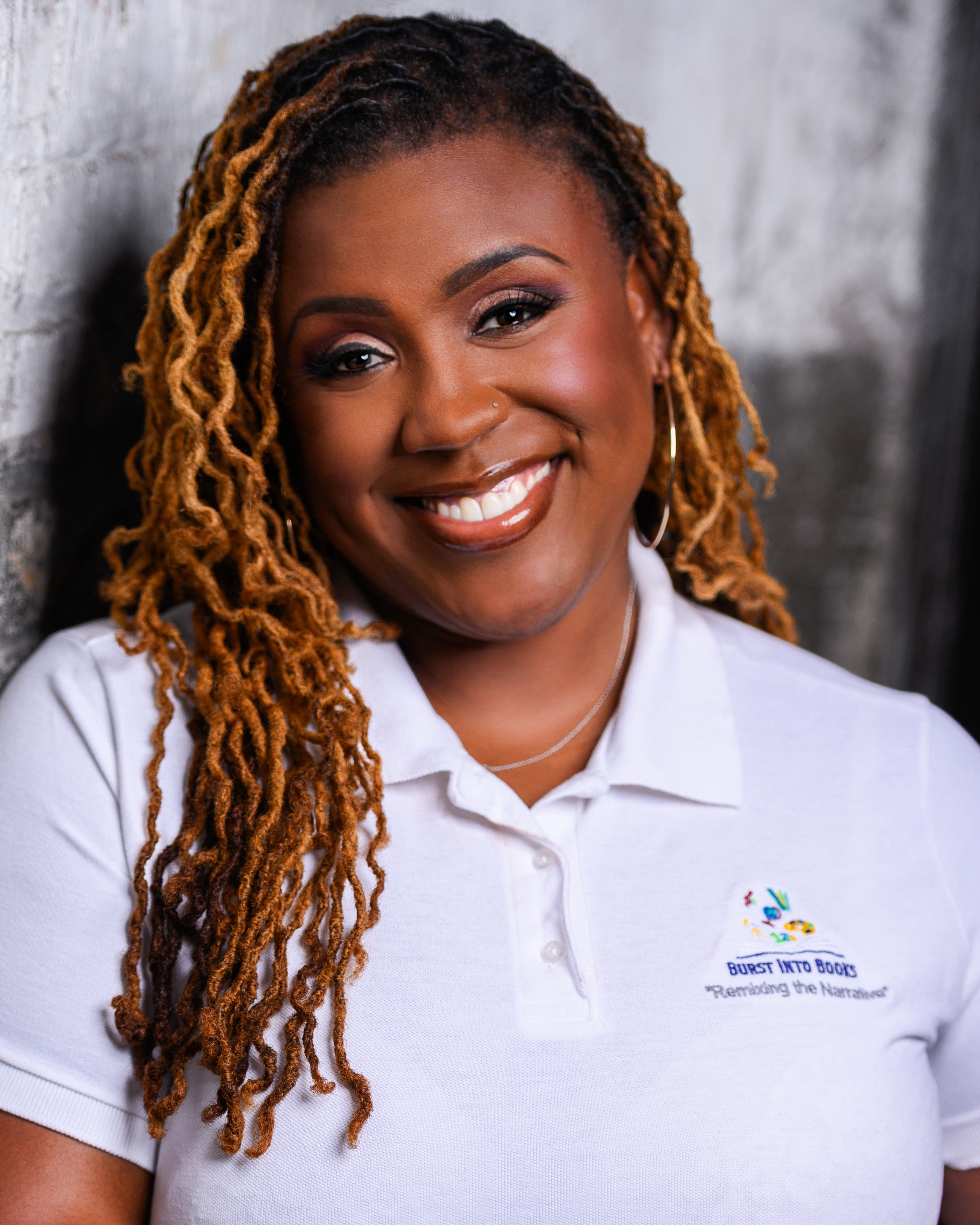 "When asked about the importance of the "village" Jurema shared that "Our goal is to create a space where parents will be empowered, gain knowledge, be challenged,have authentic conversations and leave inspired!""
Burst Into Books is an organization focused on rebuilding our village through advocacy, the arts, educational and family programming. Our mission is to use literacy as a tool to help develop a love for literature and provide safe spaces to explore topics that impact the whole family. Programs include author story times, book clubs, writing workshops, online workshops, annual conferences, educational services and family-centered events.
Chicago, IL – JUREMA GORHAM is an innovator, educator, community activist, and Founder and Executive Director of Burst Into Books.
As a 9th grade Physical Science instructor, Jurema teaches over 100 students the principles of Physics and Chemistry. Through science exploration, analyzing case studies, project based learning and labs, students are able to use critical thinking to understand connections across disciplines. Also, through integrating the arts, they are able to create new ways to demonstrate mastery of the material. Jurema believes it is truly important to help her students to be innovators and seek to be change agents in the world.
Prior to joining Noble, Jurema taught at the elementary school level ranging from kindergarten to middle school. Her diverse instructional experience aided her in being able to provide differentiated lessons that met all students' needs. Through data tracking, she was able to address misconceptions students had about the content. Also, challenge their problem solving and critical thinking skills.
In 2018, Jurema founded Burst Into Books NFP. Burst Into Books is a leveled reading organization that is geared towards children from ages 6 months to 18 years old. Our mission is to help children develop a love for literature through reading circles, book clubs, writing workshops, online workshops, educational services and family centered events.
EDUCATION
Master of Arts Degree in Educational Leadership with Type 75 Certification 2013
Master of Arts Degree in Differentiated Instruction 2017
Doctoral Candidate Majoring in Curriculum and Instruction 2021
Current programming:
– Online story times broadcasted live on Facebook live and YouTube: Mondays & and Wednesdays at 7 pm CST; Tuesdays & Thursdays at 12 pm CST
– Online Summer Intensive Tutoring Program (July 6th to August 15th)
*We raised a little over $11,000 to be able to offer one hour of free tutoring a week to 53 students between the grades Kindergarten to 12th grade.
– Online Community Town halls
*Discuss issues and solutions that will help rebuild our village (i.e. 2020 census, youth programming, fight against senseless killings, community organizing, mental health, etc.)
Upcoming programming:
– Virtual Book Clubs (Ages 6 months to high school – 18 years old)
– "The Front Row" Virtual Author Story times
*Interviews, storytelling, and Q & A
– Community Book Giveaways
*Set days for community to get new and gently used books
– "Lit Talk" Online Educational Workshops
*Various topics discussed to help improve academics at home and at school
About Burst Into Books:
Burst Into Books is a 501(c)(3) nonprofit focused on helping the youth deepen their love of reading by integrating the arts, providing opportunities for them to engage with literary experts and authors, providing a space for self-expression.
Our staple program is our monthly book club sessions in which we support the entire spectrum of the development of the child, from 6 months of age to 18 years old. Each group has been carefully created with curriculum that is age-appropriate, culturally relevant and academic driven. A reading guide/group leader and literacy expert guest is selected by the founder and executive director, Jurema Gorham.
Collaboration requests should be emailed to burstintobooks@gmail.com or to Whit at info@whitdevereaux.com
Media Contact
Company Name: Whit Devereaux Enterprises
Contact Person: Whit Devereaux
Email: Send Email
Phone: 8722210397
Address:1507 East 53rd Street Suite 508
City: Chicago
State: Illinois
Country: United States
Website: whitdevereaux.com